The '12 Days of Christmas' is a classic holiday song first published in its current form in 1908. In a nod to the classic carol, join The Hockey Writers as we count down the 12 Days of Hockeymas. Each day, we will provide you with a piece of hockey history as we eagerly await the start of the 2020-21 NHL season.
Related: Canucks 12 Days of Hockeymas: 8 Coaches in the 200-Game Club
The Vancouver Canucks 50-season history is chocked full of special players that deserve recognition. The act of retiring a number is seen as the biggest honour a team could give a player, and it's usually reserved for the most iconic.
So the Canucks decided to create the Ring of Honour (ROH) to recognize the players that have made an impact on the franchise and have been valuable members of the team over the years. Its debut was part of the 40th-anniversary festivities during the 2010-11 season and has been a significant event every time a new player has been inducted. To date, seven players are currently immortalized on the walls of Rogers Arena.
Orland Kurtenbach
Inducted: Oct 26, 2010
All-Time Stats: 229 GP – 62 G – 101 A – 163 PTS
Orland Kurtenbach was the first captain of the Canucks and fittingly the first player inducted into the ROH. He played only four seasons in Vancouver but his presence was felt in every single game on and off the ice. He played his best hockey on the West Coast and became a fan favourite for his personality and workmen-like attitude that he approached the game with.
Kurtenbach was forced to retire in 1974 at the age of 37 because of a chronic knee issue, but transitioned to coaching instead of walking away from hockey. He was named coach of the Canucks in 1976 and stood behind for two seasons until he retired for good in 1978. He has been part of the Canucks Alumni for almost 50 years and is now 84-years-old. His leadership and attitude were the bedrock of the Canucks franchise from the minute they were established and it has stood up for almost five decades.
Kirk McLean
Inducted: Nov 24, 2010
All-Time Stats: 516 GP – 211 W – 3.28 GAA – .887 SV% – 20 SO
A little over a month later, Kirk McLean became the second member of the ROH. Next to Roberto Luongo, he is arguably one of the Canucks' most iconic and celebrated goaltenders of all-time. I don't think general manager Pat Quinn knew he was getting a future all-star when he acquired him from the New Jersey Devils in 1987, but that's exactly what he became. Before Luongo came along, he held almost every franchise record for goaltending, and will probably continue to hold down second place for at least the next decade, given that Thatcher Demko is just starting out in the NHL.
Related: Vancouver Canucks All-Time Team
McLean wasn't a premier goaltender in the NHL, but he got the job done. Like many Canucks from the 90s, his legacy was created during the 1994 Stanley Cup run. Every fan, young and old, remembers The Save, even if they never witnessed it first-hand.
That ridiculous display of athleticism has gone down as one of the biggest saves in Canucks history, not just for its brilliance, but for its timing as well. Similar to when Luongo saved the day in overtime against Chicago Blackhawks' sniper Patrick Sharp in 2011, McLean made sure the legendary 1994 run continued.
Even though McLean never retired in a Canucks jersey, he has remained around the team as part of the Alumni and even adds his voice to the broadcasts from time to time.
Thomas Gradin
Inducted: Jan 24, 2011
All-Time Stats: 613 GP – 197 G – 353 A – 550 PTS
Two months later, Thomas Gradin joined Kurtenbach and McLean in the newly minted ROH. Just like his fellow inductees, Gradin has not left the team to this day. He is currently the associate chief amateur scout and has been the architect of many Swedish draft picks over the years, including Daniel and Henrik Sedin, Alex Edler, Mattias Ohlund, and most recently Elias Pettersson. His legacy is not only from his playing days but his scouting days as well.
Related: Canucks' Top-20 Goal Scorers All-Time
Gradin, like many of his Swedish countrymen, was a hard-working two-way pivot with a creative and slick skillset. He was the top-line center for many seasons, teaming up with Stan Smyl and Curt Fraser on one of the most dominant lines of the 70s and 80s. Jim Robson, long-time broadcaster of the Canucks, even called him the best the Canucks ever had. Currently, he ranks eighth in all-time goals scored, sixth in points, and 13th in games played.
Harold Snepsts
Inducted: Mar 14, 2011
All-Time Stats: 781 GP – 35 G – 160 A – 195 PTS
Rounding out the four during the 2010-11 season was gritty defenceman Harold Snepsts. To this day, he continues to rank eighth in games played with 781 and fourth in penalty minutes with 1446. No one would mistake him for an offensive defenceman, he was a physical stay-at-home blueliner with a mean streak.
Keeping with the theme of the ROH so far, Snepsts was a fan-favourite, not only for his physical play and agitation on the ice but for his humorous and up-beat personality off of it as well. He became so popular that a chant of Har-old rang out every time he touched the puck. He also was a key member of the 1982 Stanley Cup run where he had four assists in 17 games while providing his usual physicality and nastiness in the defensive zone.
Pat Quinn
Inducted: Apr 13, 2014
All-Time Coaching Record: 141-111-28
After four former Canucks made their way into the ROH in one season, they did not immortalize another until legendary coach Pat Quinn was inducted during the 2013-14 season. It was a long-time coming for the man they called the Big Irishman, and he got quite the sendoff too.
Quinn got the usual video tribute which recited a poem dubbed "The Mighty Quinn". He was that and more for the Canucks over the years, as he not only coached the team for five seasons but also took on the dual role of coach and general manager for several of those too. He drafted future legends in Trevor Linden and Pavel Bure, acquired long-time Canucks Kirk McLean, Cliff Ronning, Greg Adams, and Bret Hedican, and even led them to their second Stanley Cup Final in 1994.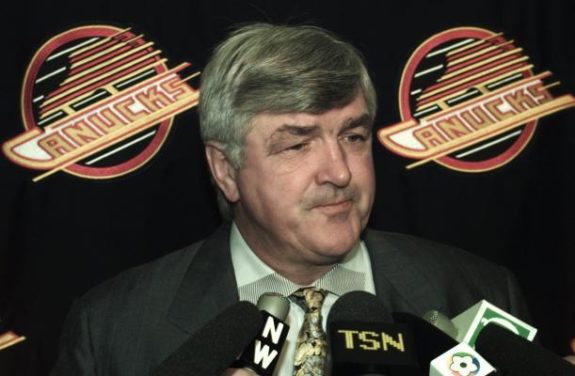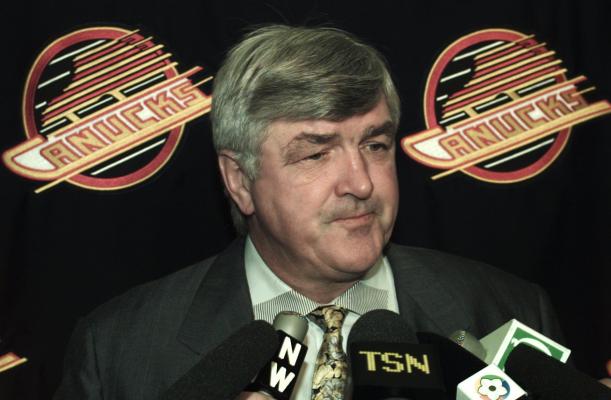 Jim Robson led the proceedings for the man that was larger than life, going through many of his accolades including the way he turned the Canucks around and mentored many of its young stars. Of all the GMs and coaches the Canucks have had over the years, he was definitely the most influential. Without him, the team would not be what it is today. In fact, it may not be around at all, since he brought it back to respectability in the early 90s.
Mattias Ohlund
Inducted: Dec 16, 2016
All-Time Stats: 909 GP – 93 G – 250 A – 343 PTS
Two seasons later, another legendary Swede made his way into the ROH. Mattias Ohlund was the Canucks leading goal-scorer on defence for many years, before Edler passed him during the 2018-19 season, and was their best defenceman during the West Coast Express era when Markus Naslund and Todd Bertuzzi were in their prime.
Related: The Vancouver Canucks' Top Three Defensemen of All-Time
After Ohlund was drafted 13th overall during the 1994 NHL Draft, his combination of power, finesse, and hockey IQ got him into the NHL as a 21-year-old. The minute he pulled a Canucks jersey over his head, everyone knew he was going to be special. He finished his rookie season with 30 points (7 G, 23 A) in 77 games and was a runner-up for the Calder Trophy. If not for Boston Bruins rookie Sergei Samsonov's 22 goal season, he probably would have won it.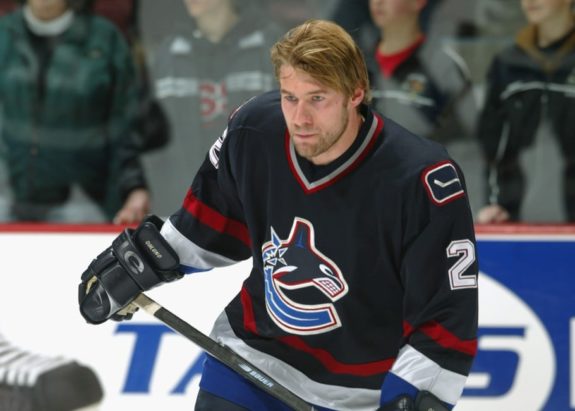 Ohlund went on to play ten more seasons with the Canucks, but not without injury problems. After badly injuring his right eye during the 1999-00 season, he had to have surgery that restricted his vision for the rest of his career. Despite that, he still put up four more seasons with 30 or more points and led the defence in scoring for many of those campaigns too.
Alex Burrows
Inducted: Dec 3, 2019
All-Time Stats: 822 GP – 193 G – 191 A – 384 PTS
Three more seasons went by until the Canucks decided to put their Dragon Slayer into the ROH. Alex Burrows had many special moments in the blue and green including the goal that exorcised the demons of the Chicago Blackhawks and the countless times he practiced magic with the Sedin twins. He was an unlikely candidate to play with the two future Hall of Famers but ended up being just what they needed to reach even higher levels of stardom. Next to the West Coast Express, they were one of the best lines of all-time, not just in Canucks history but in the NHL as well.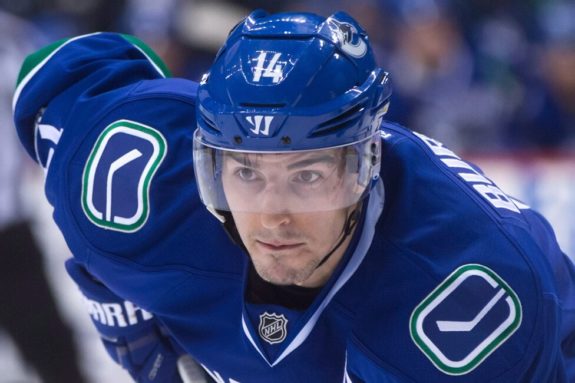 As it is with all of the members of the ROH, he was a fan favourite for his personality and big game moments. Fans always love a story of an underdog making it big, and Burrows did that and more by becoming one of the biggest heroes the Canucks have ever seen. Here's to hoping he comes back to Vancouver one day as an assistant coach to continue his legacy of greatness.
Who Will Be Inducted Into The Ring of Honour Next?
The Canucks will one day continue to add to their Ring of Honour with another hero from their 50-year history. The debates have already started across social media with names like Ryan Kesler, Roberto Luongo, Gino Odjick, Kevin Bieksa, and Tony Tanti being discussed. If it was up to me I would have Odjick and Bieksa included because they embody all the traits an ROH inductee possesses: character, heart, and a big game personality. They also had various moments throughout their career that made them fan favourites.
So, as we wrap up Day 7 of the 12 Days of Hockeymas, who do you think should be added to the ROH next? Sound off in the comments below!
Catch Up on All 12 Days of Hockeymas:
Day 12: Successful History With Undrafted Players
Day 11: Burrows & Tanev Love the Number 11
Day 10: 10 Hall of Famers
Day 9: Nine 40-Goal Scorers
Day 8: 8 Coaches in the 200-Game Club
---
---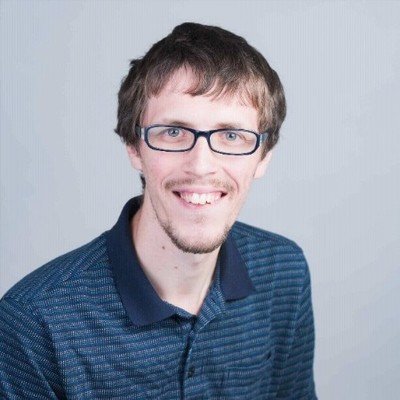 Matthew Zator is the assistant managing editor at THW and a writer who lives and breathes Vancouver Canucks hockey, the NHL Draft, and prospects in general. He loves talking about young players and their potential. Matthew is a must-read for Canucks fans and fans of the NHL Draft and its prospects. For interview requests or content information, you can follow Matthew through his social media accounts which are listed under his photo at the conclusion of articles like this one about Tyler Motte.
Matthew also hosts The Hockey Writers Prospect Corner on YouTube and is the co-host of The Hockey Writers Podcast & Western Centric Podcast.