The teams are now in Edmonton and the excitement is starting to build as the World Junior Championship is nearly a week away. The Los Angeles Kings lead the way in number of prospects competing in the tournament with a total of nine. Next in line, the Detroit Red Wings, have seven prospects participating in the annual Christmas classic. Now that the rosters are finalized (for now anyway), it is a good time to outline the players and corresponding schedules for Red Wings fans to track accordingly.  
Positive Tests
It should be noted that if every Red Wing prospect were available, then they would have led the league in prospects playing in this event. Unfortunately, three Red Wing prospects were sidelined as a result of positive COVID-19 tests while completing pre-tournament protocols:
Robert Mastrosimone (LW) – 2019, 2nd round – 54th overall / Boston University / United States
Albin Grewe (LW) – 2019, 3rd round – 66th overall / Djurgårdens IF / Sweden
William Wallinder (LD) 2020, 2nd round – 32nd overall / MODO Örnsköldsvik/ Sweden
Very unfortunate for these players, but especially Albin Grewe who is in his last year of eligibility for this tournament. Further, he is familiar with Rogers Place where he had a great Hlinka Gretzky Cup back in 2018. Having seen this group of Swedish players at several different events, I can confidently say that Grewe is one of my favorites.
To me, he is a Darren Helm or Justin Abdelkader comparable — skates well, intelligent, some touch around the net, good shot, has some sandpaper, and a heart of gold. It is usually not hard to notice Grewe during live game action — he definitely hits above his weight class!
Wishing Mastrosimone, Grewe and Wallinder a quick and full recovery.
The Attendees
Amongst the eligible prospects, Red Wings fans will want to focus on three teams — Czech Republic, Finland, and Sweden. Without further adieu, the breakdown by player, country, and team schedule.
Czech Republic – Jan Bednář (G) – 2020, 4th Round – 107th Overall / Karlovy Vary HC
The lone goaltending selection from the 2020 Draft, Jan Bednář has a big frame at approximately 6-foot-4 and 190 pounds. He has competed internationally for his country prior to this event at the U-17 tournament in 2017, and U-18's in 2019. He plays for his hometown club in the northwestern city of Karlovy Vary in the Czech Extraliiga. His numbers this season have not been very sharp thus far with a 4.16 goals against average and .867 save percentage during his five games of action.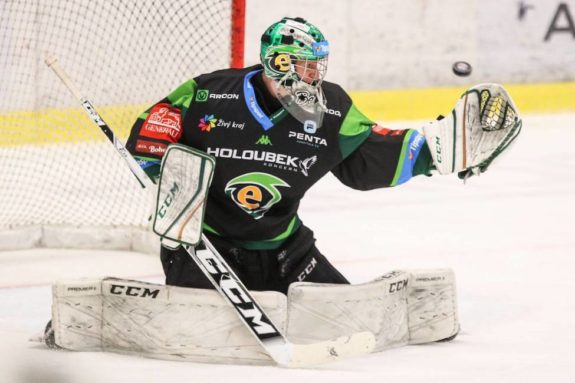 Hopefully, he will get an opportunity to regain his form against peers in Group B of the event. To find out, the Czech team's round robin schedule is as follows (all times are MST/Edmonton time):
Dec. 26 vs Sweden – Noon
Dec. 27 vs Russia – 7:30 p.m.
Dec. 29 vs USA – Noon
Dec. 31 vs Austria – Noon
Finland – Eemil Viro (LD) – 2020, 3rd Round – 70th Overall / TPS Turku
The native of Vantaa (same hometown as Valtteri Filppula) plays for the TPS or Turun Palloseura club in Turku of the Finnish elite league. Over 16 games this season, the smooth-skating Eemil Viro has a goal and six helpers. Like Bednář, Viro has also represented his country at both the U-17 and U-18 events during the same years.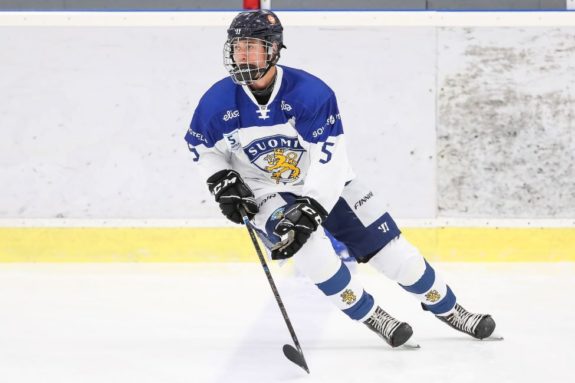 Team Finland will battle in Group A and their round robin schedule is as follows:
Dec. 25 vs Germany – 4 p.m. (MST/Edmonton time)
Dec. 27 vs Switzerland – Noon
Dec. 30 vs Slovakia – Noon
Dec. 31 vs Canada – 4 p.m.
Team Sweden
Gustav Berglund (RD) – 2019, 6th Round – 177th Overall / Vasteras IK
In his last year of eligibility for this tournament, Gustav Berglund has made the most of his 2020. Unlike Viro and Bednář, this will be his first international experience.
The Red Wings are hoping that the right-handed defender will grow into his 6-foot-2 frame and continue to get better over time. In the second Swedish division, the Huskvarna-native has three assists in 17 games.
Albert Johansson (LD) – 2019, 2nd Round – 60th Overall / Färjestad BK
Albert Johansson is an elite defender and has plenty of international experience including two Hlinka Gretzky tournaments in 2018 and 2019. The native of Karlstad is playing for his hometown Färjestad club where he has contributed three goals and four assists over 20 games to start the 2020-21 Swedish league season.
Detroit signed Johansson to his entry-level contract in May of 2018. That contract is set to expire in 2021 when he reaches restricted free agent status. This tournament should provide a long-term glimpse of what Red Wings can expect from this player as he will likely be playing top-pairing minutes for Sweden. Should be really fun to watch.
Theodor Niederbach (C) – 2020, 2nd Round – 51st Overall / Frölunda HC
This is also a player I am very excited to watch as he has been labelled as both a highly skilled and intelligent pivot. Theodor Niederbach is a native of Bjästa and is playing for the mighty Frölunda club where he has managed a goal in 11 games so far this season.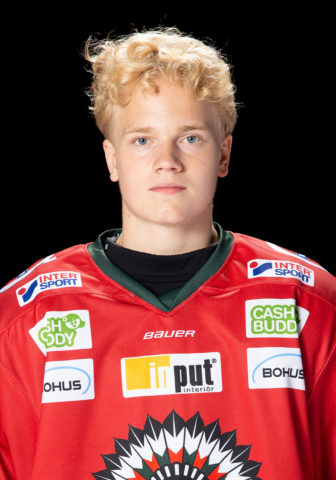 Of course, this is also the club where Lucas Raymond and Elmer Söderblom belong. Might these three have enough familiarity to form a line during a short-term event? Either way, I will be personally interested to see how Niederbach can perform against his peers as opposed to the grown men he has to face in the Swedish elite league.
Lucas Raymond (LW) – 2020, 1st Round – 4th Overall / Frölunda HC
There's not much else to say about this young man. Again, I have seen this player live and in color and he is nothing short of electric. The Frölunda product has already put up five goals and seven assists in 22 games within the top national league.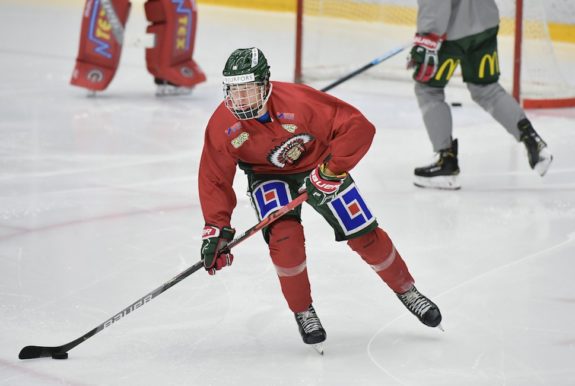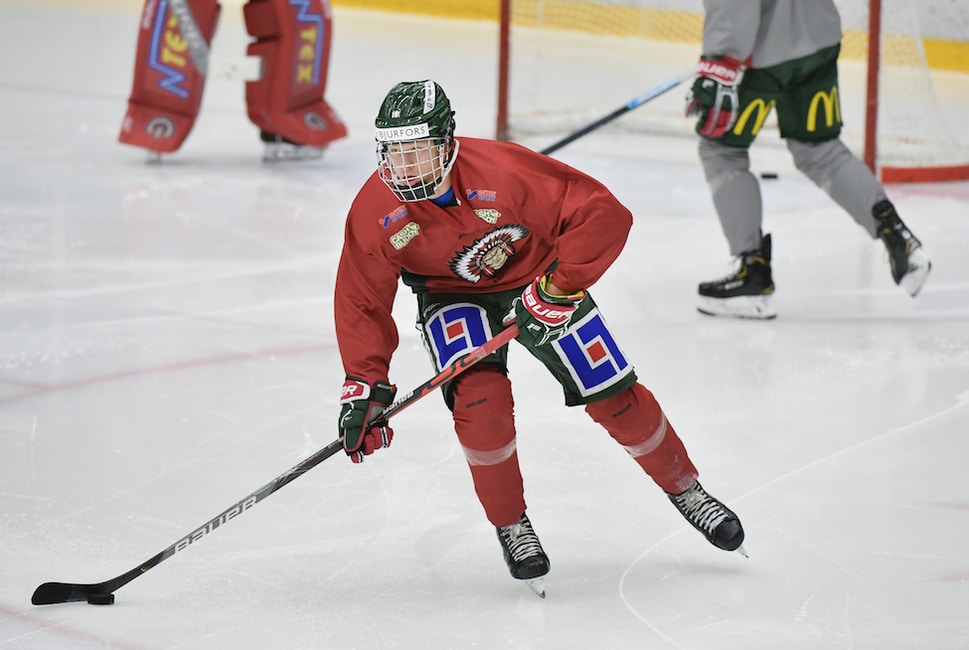 The right-shot, left winger has dynamic speed and skill along with a natural sense for the game. Although he only stands 5-foot-10 and weighs around 180 pounds, he is sturdy on his feet and excellent on his edges. Red Wings fans should be very excited about this young man and I would not be surprise if tries to put on a show during his second World Junior Championship.
Elmer Söderblom (LW) – 2019, 6th Round – 159th Overall / Frölunda HC
The third Frölunda product, Elmer Söderblom is hard to miss at over 6-foot-6 and 220 pounds. The big man is no stranger to representing his country internationally, having previously represented Sweden in the U-17, Hlinka Gretzky U-18, and a U-19 event last season.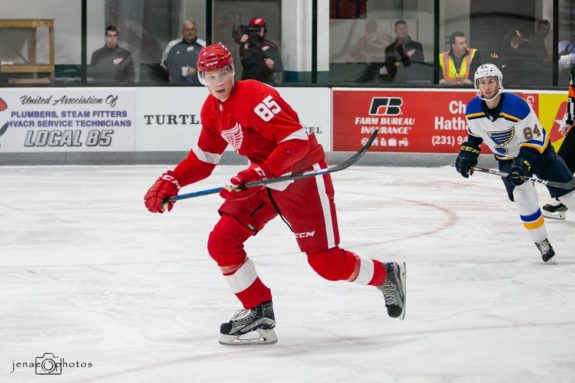 The Göteborg native adds a different dimension in comparison to other smaller, zippier Red Wings prospects up front. He and his Swedish teammates will compete in Group B:
Dec. 26 vs Czech Republic – Noon (MST/Edmonton)
Dec. 28 vs Austria – 4 p.m.
Dec. 30 vs Russia – 7:30 p.m.
Dec. 31 vs USA – 7:30 p.m.
This should be an exciting tournament for Red Wings fans to track some of the organization's most exciting young prospects. The event will also feature the 2nd and 3rd overall selections from 2020 — Quinton Byfield (Canada) and Tim Stuetzle (Germany), respectively.
Personally speaking, I am just happy to have a real, solid fix for a near-desperate case of hockey withdrawal!
For full event details, readers can click here.
All the 2021 World Junior Championship Team Information:
Austria — Team Preview — Roster
Canada — Team Preview — Roster
Czech Republic — Team Preview — Roster
Finland — Team Preview — Roster
Germany — Team Preview — Roster
Russia — Team Preview — Roster
Slovakia — Team Preview — Roster
Sweden — Team Preview — Roster
Switzerland — Team Preview — Roster
USA — Team Preview — Roster
Selection Camp Invites by NHL Team
Draft Eligible Players to Watch
One Player to Watch for Each World Junior Team
7 Predictions for the 2021 World Junior Championship
---
---
Saskatchewan born, Alberta raised / Former dual sport collegiate athlete / Jack of all trades – master of none, but a Masters degree / Junior Hockey Scout / Most importantly, a Father.
Detroit Red Wings Coverage