For the first time since Cory Schneider and Roberto Luongo manned the crease, the Vancouver Canucks will have an accomplished goaltender paired with an up and coming one. This season, those roles will be filled by a sophomore in Thatcher Demko and a veteran in Braden Holtby. If they can have a similar partnership, the Canucks will have something very special on their hands.
Watch as Sportsnet's Iain MacIntyre and Dan Murphy get together in the following video to discuss who could take over the starting goaltender position and if Demko's performance in the playoffs gives him an extra advantage going into the 2020-21 season.
McIntyre recently had a conversation with Demko about his performance and discovered that it had a positive effect on his confidence and mental game. He felt uncomfortable when he finished with an underwhelming 3.10 GAA and .901 SV% in what turned out to be his final ten regular season games, so it was a blessing to have an opportunity to bounce back in the playoffs.
Related: Vancouver Canucks News & Rumors: Demko, Podkolzin & Hoglander
McIntyre and Murphy went on to discuss Satiar Shah's assessment that Holtby has the inside track on the starting job. McIntyre agreed that he will probably get the job because of his track record as a starter, but that it won't be a 70/30 split, but rather a 1a/1b scenario.
Demko had quite the coming-out party in the playoffs when he finished with a 0.64 goals against average (GAA), .985 save percentage (SV%), and a shutout in four games against the Vegas Golden Knights. He almost single-handedly brought the Canucks back from a 3-1 series deficit and put himself on the map as one of the best young goaltenders in the NHL today.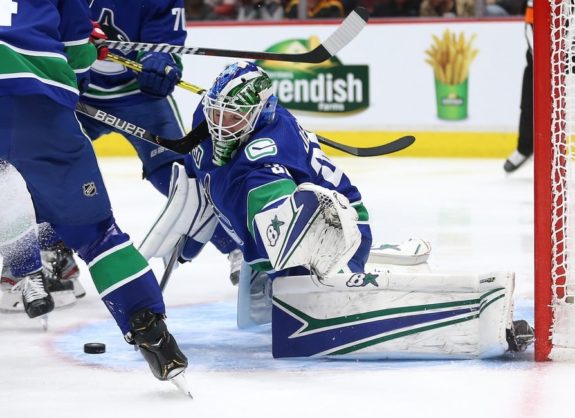 Demko will give Holtby a run for his money, especially if he continues the meteoric rise he started just a few months ago. In the end, I think Demko will win the job outright by the end of the season, but Holtby won't go down without a fight. He had a career-worst 3.11 GAA and .897 SV% last season, so he will be looking to prove that his best days are not behind him.
Related: Canucks: Getting Braden Holtby Back on Track
Combine those two things together, and the Canucks could have the perfect storm when it comes to the potential success of their goaltending tandem next season. In fact, they could turn out to be the best tandem in the Western Conference when all is said and done.