There was quite a goaltending carousel this offseason with several teams heading into this upcoming season with a new look in-between the pipes, and the Minnesota Wild are one of them.
This Offseason
After six seasons in the state of hockey, the Wild were clearly ready to move on from Devin Dubnyk. After posting a .913 save percentage (SV%) in 2018-19, he dropped all the way down to .890 this past season. His goals-against average (GAA) also skyrocketed to 3.35, as it's never been above 2.54 in any season prior while with the Wild.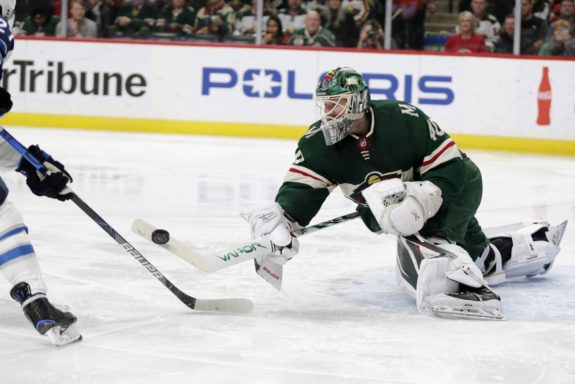 Guerin shipped Dubnyk and a seventh-round pick in 2022 to the San Jose Sharks in exchange for a fifth-round pick in 2022. The Wild did retain $2.16 million of Dubnyk's $4.33 million cap hit, saving over $2 million in cap space next season.
There were a number of quality goaltenders who hit the free-agent market this offseason including Jacob Markstrom, Braden Holtby, and Corey Crawford. However, the Wild landed on a goaltender who enjoyed an awe-inspiring bounce-back season in 2019-20.
On October 9th, free agency's opening day, the Wild inked goaltender Cam Talbot to a three-year contract worth an AAV of $3.66 million. With Talbot in and Dubnyk out, let's take an overall look at where the Wild stand at the goaltending position.
Next Season
It's safe to say the Wild will be entering the upcoming season with a tandem of Talbot and Alex Stalock. Despite Stalock taking over as the primary option in net last season, it's hard to imagine the Wild giving Talbot that type of money without the plan being to have him be their starter.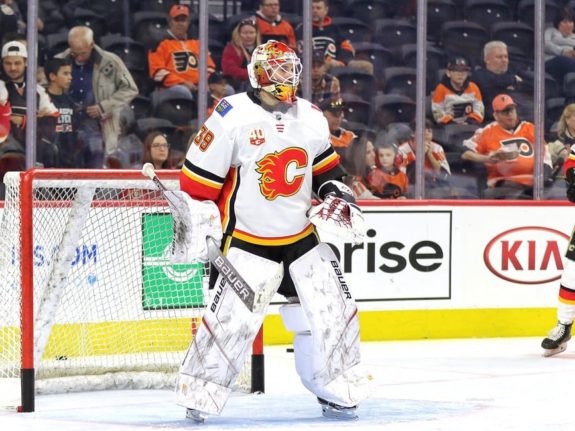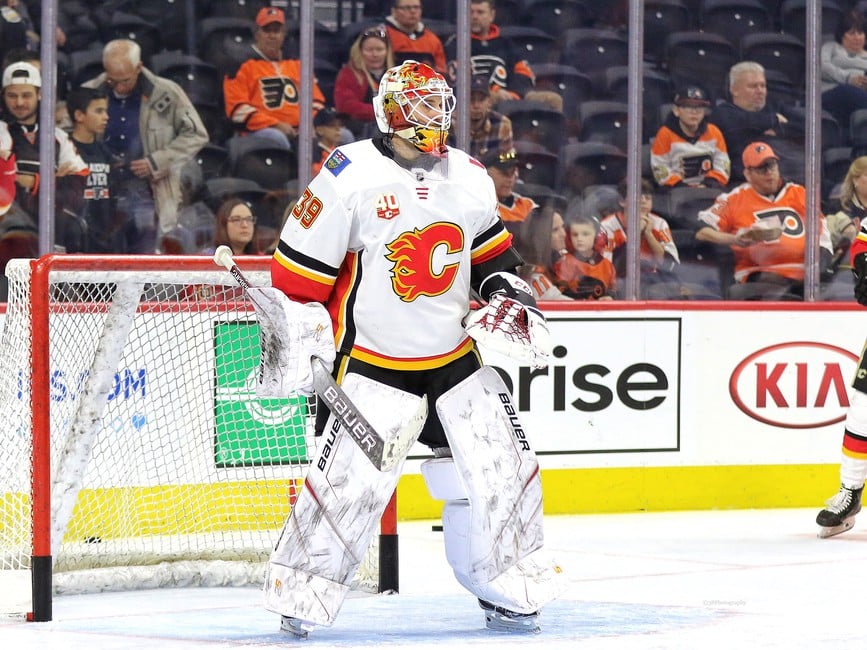 Talbot has had some great success as a starter in his career. After serving as a backup with the New York Rangers despite owning some extremely impressive numbers, he finally got a chance to be a starter with the Edmonton Oilers in the 2015-16 season. He took full advantage of the opportunity, putting up .917 and .919 SV% in his first two seasons. He also proved he could perform come playoff time, having a .924 SV% in 13 playoff games in 2017 as the Oilers made it to the second round.
He then saw a drop in his numbers over the next two seasons, including a .893 SV% and a 3.36 GAA in 2018-19, splitting time between Edmonton and the Philadelphia Flyers. That led to the Flames signing him to a one-year, prove-it contract last season.
It's fair to say Talbot certainly proved he's not done just yet. It might be a small sample size, as he played in only 26 games last year, 22 of which he started, but his numbers spoke volumes. He posted some of his career's best numbers, getting back to the .919 SV% he once had in Edmonton. Those are the numbers Guerin and the rest of the Wild organization hope that his can continue to provide.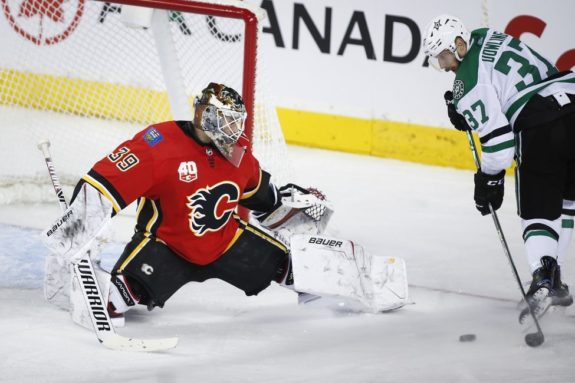 Although, what Stalock gave to the Wild last season as Dubnyk struggled should not be quickly brushed aside. He was a significant reason why the Wild went on a late-season push for the playoffs, winning 12 out of their last 19 games before the season was put on pause due to the Covid-19 pandemic.
Making only $785,000 this season, Stalock might be one of the best bargain goaltenders in the NHL. A .910 SV% for a goaltender making close to league minimum is something just about every team would love to have. He might start the season as the backup to Talbot, but his role doesn't feel set in stone. If he gets off to an incredible start, especially in what will undoubtedly be a shortened NHL season, the Wild could choose to ride the hot hand as their starter.
If Talbot plays as he is capable of, he will get the majority of the starts. However, this tandem could end up resembling more of a 1A-1B situation rather than a traditional starter and backup system. Either way, the Wild should feel more confident about their goaltenders this year than they did throughout last season.
Beyond Next Season
Stalock's contract with an AAV of $785,000 runs through the 2021-22 season, after which he will become a UFA. If he can continue the play of last season, his contract is one of value, and it would be tough to imagine the Wild making changes to this tandem before he becomes a UFA.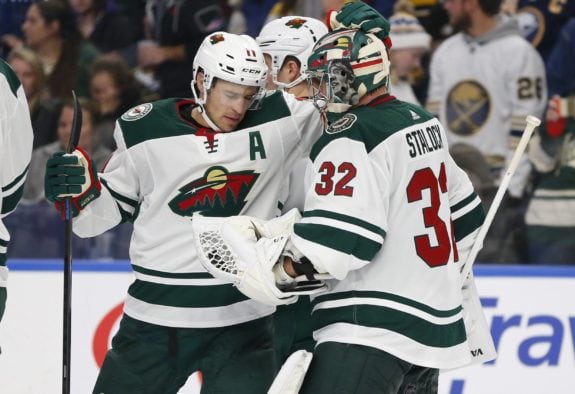 Once he is though, the Wild will have to decide to bring him back or not. Unless a massive drop-off in performance happens, he will almost certainly want a raise, and the Wild will have to see if he's worth that raise.
Talbot will still be making a bit over $3.6 million for the 2022-23 season, so it could lead the way to the promotion of goaltending prospect Kaapo Kähkönen. The former fourth-round draft pick has only five NHL games under his belt but has a .913 SV% in those contests. Kähkönen is already 24 and might not want to wait until the 2022-23 season for his first full-time shot in the NHL. If he does, though, it could give him a year to ease into the NHL splitting time between him and Talbot, and if he performs could then take over at the new number one in Minnesota.
Kähkönen played exceptionally well in the AHL last season, and if he puts up another season with Iowa in the range of a .927 SV% and a 2.06 GAA, it might force the Wild to promote him sooner than the 2022-23 season. (from 'Kaapo Kahkonen awaits next opportunity to stop shots for Wild,' Star Tribune, 07/27/2020) Having three NHL caliber goaltenders is an excellent problem, but if he forces his way into the lineup in 2021-22, Guerin will likely have to move one of Talbot or Stalock to make it work. Due to Talbot's contract, Stalock might be the player easiest of the two to move.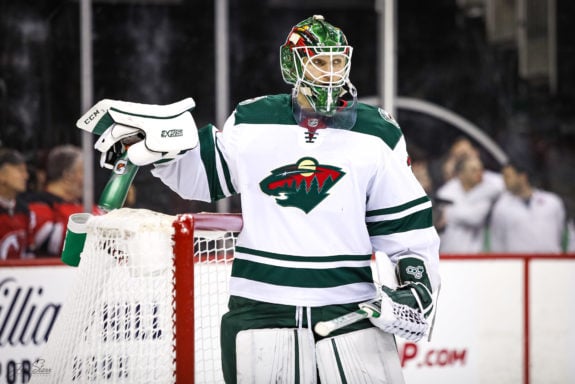 Overall, the addition of Talbot gives the Wild more stability in net next season. Can he do enough to get the Wild into the playoffs and past the first round? That might depend on which version shows up to play, but he has the track record to show he is capable of it.
In terms of the future, a lot of it lies in how dominant Kähköken is in the minors and how fast the Wild are forced to make room for him on the NHL roster. Regardless, the Wild should feel better about their overall outlook in net today than when they were eliminated from the playoff bubble in August.
---
---