The Washington Capitals have the eighth overall selection at the 2023 NHL Entry Draft after a season they'd love to forget, and I would fully expect them to be taking a defenseman that has a chance to make their roster out of training camp next season. One player that could slip to them at the No. 8 spot could be Axel Sandin Pellikka from Sweden, who is arguably the best defenseman in this entire stacked draft class.
Related: Axel Sandin-Pellikka – 2023 NHL Draft Prospect Profile
While there are a few other solid names expected to be taken around that spot, Sandin Pellikka stands out to me as the ideal choice for the team. His play at both ends of the ice is dominant, and he seems close to ready to make an impact on an NHL roster.
"Mobile, offensive-minded blueliner who likes to activate into the offensive zone. Plays with energy on both sides of the puck and has the potential to become a top-four defenseman in the NHL"

– DobberProspects (Axel Sandin Pellikka Draft Profile – 2023)
With the amount of skill in the upcoming draft, it's still hard to imagine a world where Sandin Pellikka doesn't eventually become one of the stronger players from the draft class. Caleb Kerney of The Hockey Writers called him "one of the most offensively gifted defenders in the 2023 Draft" and rightfully so, his stats over the past couple of seasons as a defenseman have been extremely impressive.
Who is Sandin Pellikka & How Does He Fit with the Capitals?
Sandin Pellikka is an 18-year-old top-ranked prospect for the upcoming 2023 NHL Entry Draft from Gallivare, Sweden having most recently played in the Swedish Hockey League (SHL) with Skelleftea AIK. In 22 games, he scored two goals and added three assists for five points. He also played for the J20 Skelleftea squad, scoring 16 goals and adding 20 assists for 36 points through 31 games.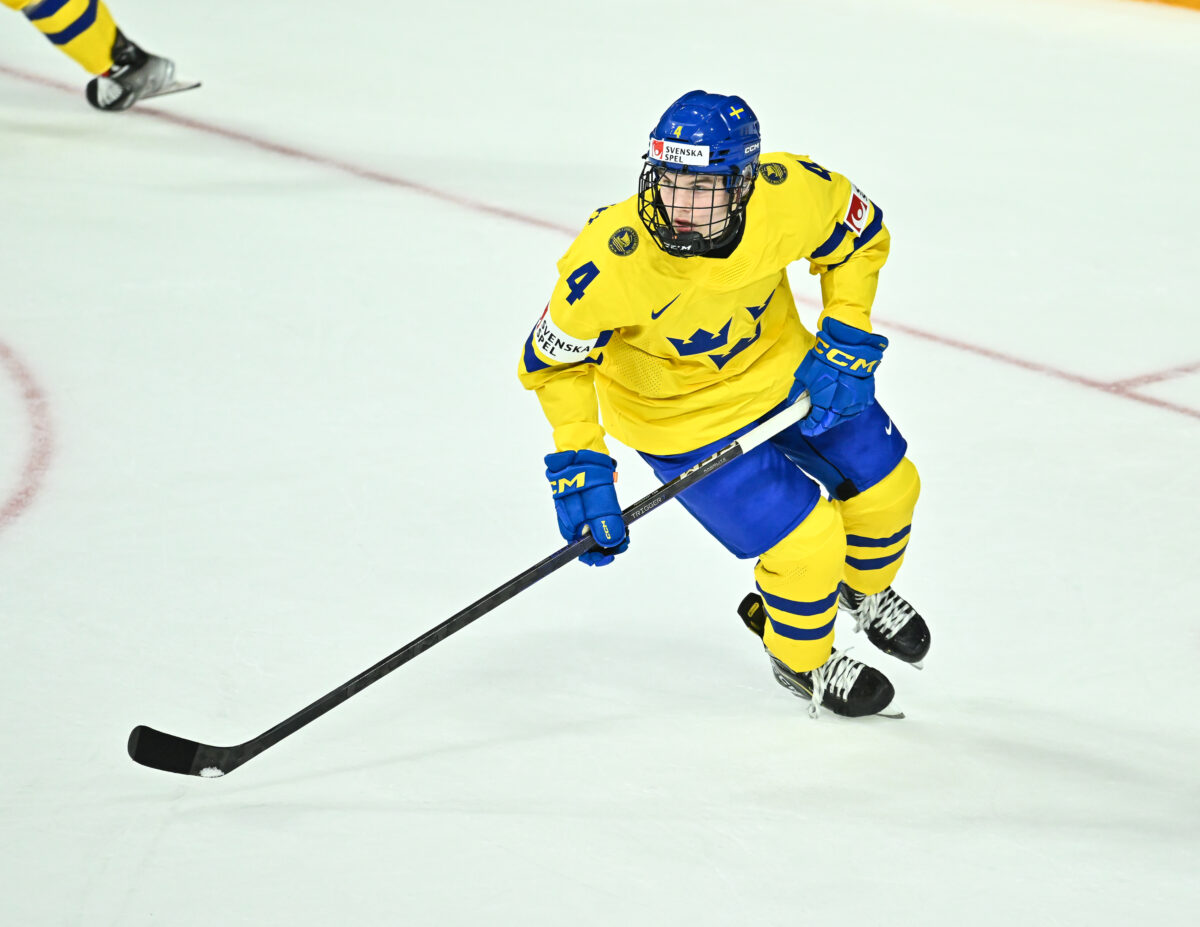 Sandin Pellikka said he has heard his name compared to Dallas Stars defender Nils Lundkvist, which makes sense when you consider their similarities in offensive abilities and willingness to shoot and move the puck with confidence and aggression.
"Sandin-Pellikka can get his shot off from anywhere on the ice and does well to shoot whilst in stride with little tell on when he is releasing his shot. Although, sometimes when attacking with speed, his accuracy can be slightly wild but with age I believe this will rectify itself"

– Joe Maciag (Recruit Scouting 2023 NHL Draft Profile: Axel Sandin Pellikka)
The Capitals haven't selected a defenseman in the first round since Alexander Alexeyev in 2018 and while he has been a solid player, he isn't expected to be franchise-altering. Selecting Sandin Pellikka would be the perfect fit as the team is looking to find a new power play quarterback for when John Carlson eventually moves on or slows down, and if Rasmus Sandin doesn't happen to continue his hot streak.
---
Latest News & Highlights
---
Sandin Pellikka is easily one of, if not the best defenseman in this draft class. Adding him to a group of Carlson, Alexeyev, Martin Fehevary, Sandin and Nick Jensen would put him in the top four almost immediately. The Capitals need help on the right side after lackluster seasons from Jensen and Trevor van Riemsdyk. He is the perfect selection for the eighth overall pick if the Capitals are lucky enough that he drops that far.
Strengths & Improvement Areas
Scouts love Sandin Pellikka for his outstanding offensive ability. His skating, shot, and playmaking, as well as his transition game, are all huge strengths in his game.

Scouts will be picky about his areas outside of the offensive zone. He plays a really solid game with the puck on his stick but doesn't defend as strongly as some would like, and he could also improve his physical game. Both small items, both will improve as he develops.
Should The Capitals Take Him?
Sandin Pellikka should absolutely be taken eighth overall by the Capitals if they're lucky enough to select him there. He is a year away from being ready to push for an NHL roster spot, and he has the potential to become a top-four defenseman in the NHL at some point in his career.
He'll have to continue making improvements to his defensive game as a whole, but he has the skills to make an impact sooner rather than later. He's personally my favorite target for the Caps in this draft, so I hope they jump on him if he's available.