After a strong performance in Game 1, Washington Capitals winger Andre Burakovsky's playoff push could be derailed against the Columbus Blue Jackets.
The 23-year-old forward suffered an upper-body injury after Boone Jenner sent him into the boards late in the first period, and he appeared to injure his left shoulder. Burakovsky, who was visibly uncomfortable, then headed to the dressing room and did not return.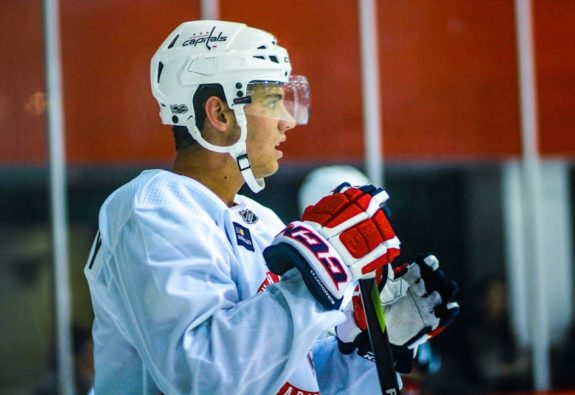 Head coach Barry Trotz said Monday that Burakovsky has an upper-body injury and won't be traveling with the team for Game 3 and Game 4.
"He's going to miss some time here," Trotz said.
Burakovsky Had Bounced Back
Early in the season, the Swedish winger suffered a broken thumb, keeping him out of the lineup for 20 games. Upon his return in December, he couldn't quite find his rhythm, posting just two goals and four points through 10 games before being scratched.
"I get real hard on myself to create something and get going. When you start thinking about mistakes and what you're doing, it's tough to go out on the next shift and do something good, that's just how it works," Burakovsky said. "As soon as I get some confidence back and do something good, I'm gonna take off."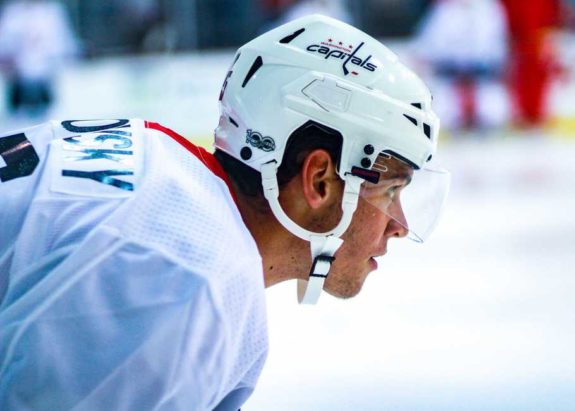 When he returned to the lineup, Burakovsky found the confidence he'd been searching for to turn his game around and make a strong push in the second half of the season before finally finishing with 12 goals and 25 points.
"I'm just trying to play simple," Burakovsky said. "I'm just trying to take it wide and use my speed and obviously just handling the puck a bit more."
Is Burakovsky's Playoff Push Over?
Burakovsky had a strong performance in Game 1, using his speed and ability to not only create scoring chances but to be one of the driving forces on the top-six. Despite a late third-period tripping penalty, that led to a game-tying, power-play goal for Seth Jones that sent the game to overtime, Trotz said he still played a pretty solid game.
"I thought Andre was dangerous, he was skating, he was doing all of that," Trotz said. "All of those are real positives for us and for him."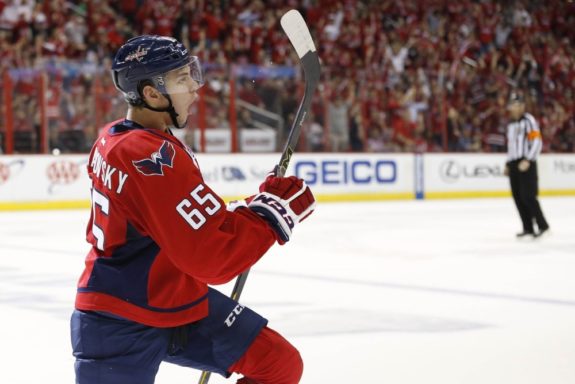 As Burakovsky draws out of the lineup, Jakub Vrana, who was a healthy scratch in Game 2 when Jay Beagle drew back in, will fill in for him. Despite some "jitters" in Game 1, Trotz said he has faith that Vrana will capitalize on his opportunity.
"Jake is going to be fine," Trotz said.
What Does This Mean for Washington?
Ultimately, it's not clear how severe the injury is yet, but if it's serious enough, Burakovsky's playoff push, as well as his season, could come to an end. Right now, it's only the next two games but losing a young, top-6 forward who showed a lot of upside and effort in Washington's 2018 postseason debut will be a tough blow.
Through Washington's two playoff games, the power play has struggled greatly, going 5-for-13. And, despite over 50 shots in Game 2, the Capitals couldn't find a way past Sergei Bobrovsky. To win, Washington needs more production, especially from their top-six forwards, and losing Burakovsky takes away significant depth on that front.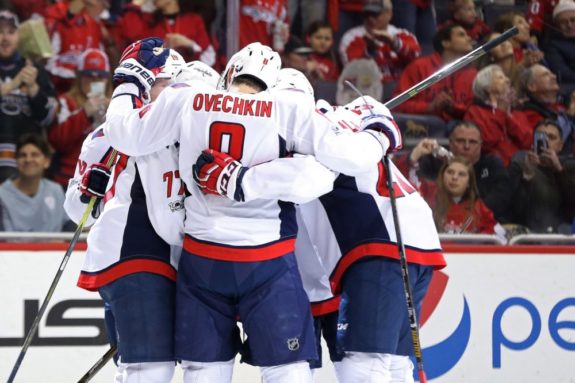 According to defenseman John Carlson, the team needs to focus on capitalizing on their opportunities to score and taking advantage of multiple scoring chances such as power plays.
"I think we haven't maybe beared down on the chances that we do get offensively," Carlson said.
At the end of the day, the Capitals are staying positive. The team found themselves in similar position last season, down 2-0 to the Penguins in their second round series, but came back to tie the series. Washington will play in Game 3 Tuesday in Columbus, looking to move closer to evening up the series.