A Feb. 25 regulation win at home against the Pittsburgh Penguins was just what the doctor ordered for the Washington Capitals. That win became a turning point moment for the team. Prior to this game, the Capitals had taken a nosedive in the month of February. Their 3-5-1 record through nine games to start the month had the team looking like they might be on the verge of squandering their brilliant 6-0-3 start to the season in the month of January. There are still some questions that they are in the process of answering and it's a combination of the usual suspects and some unlikely heroes helping the Capitals stay competitive in the MassMutual East Division standings.
January Vs. February By the Numbers
Their overtime loss against the Penguins on Feb 23 was the ninth game of the month to match the nine games they played in January. The side-by-side comparison of these nine-game stretches painted an unfortunate picture. Winning cures all though, and in their final three games of the month, the Capitals secured three convincing wins to finish out strong.
| | | | |
| --- | --- | --- | --- |
| 2020-21 Washington Capitals | January (9 games) | February First 9 Games | February Final 3 Games |
| Record | 6-0-3 | 3-5-1 | 3-0-0 |
| Total Goals For | 34 | 25 | 13 |
| Total Goals Against | 27 | 34 | 6 |
| 5-on-5 Goals For | 24 | 17 | 9 |
| 5-on-5 Goals Against | 17 | 22 | 4 |
| 5-on-5 Goals For/per game | 2.67 | 1.89 | 3.00 |
| 5-on-5 Goals Against/per game | 1.89 | 2.44 | 1.33 |
| Per game Differential | +0.78 | -0.55 | +1.67 |
Stats Courtesy of Hockey-Reference.com
The final three games of February saw the Capitals get their big win at home against the Penguins and then go on the road and win back-to-back games against the New Jersey Devils. Those three wins took a month that started out poorly and turned it into a 6-5-1 month. It's not an ideal record but juxtaposed against their record after their first nine games of the month, it's enough to completely change what the narrative would have been. Instead of the narrative being about what's wrong with the Capitals, they finish month atop the MassMutual East division standings.
The Power Play Is Clicking
One malady that plagued the Capitals in 2019-20 was their power-play efficiency. The power play had been a major strength of theirs in previous seasons and the ability to convert with regularity allowed them to overcome other shortcomings. So it was surprising that under, former coach, Todd Reirden, the power-play conversion rate slipped to a pedestrian 19.44% which was good enough for 17th in the league. They relied on the first power-play unit almost exclusively, and when they hit a stretch of stagnation, they were unable to make the needed adjustments.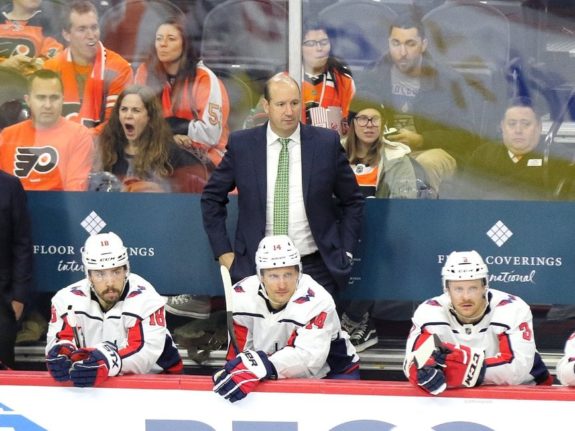 New head coach, Peter Laviolette, has definitely been a catalyst to help turn the power play around. This season's team is converting at a whopping 30%+ making them top five in the league. Of the 72 goals the team has scored, so far this season, 16 have come on the power play. That's 22.2% of their scoring for anybody who's doing the math. Prior to the Devils shutting their power play out in the final weekend of the month, the Capitals had scored 16 power-play goals in 19 games.
RELATED: Capitals Seeing Dividends From Sheary & Schultz Signings
A key component of that power play improvement has been some personnel changes that were made in the offseason. When Alexander Ovechkin, Dmitri Orlov, and Evgeny Kuznetsov were out, the Capitals were able to put 2020 free agent signing, Justin Schultz on the first power-play unit and they didn't miss a beat. 10 different Capitals players have power-play points this season so far. The versatility to make changes here and there and have a capable secondary unit has already paid dividends and will continue to do so going forward.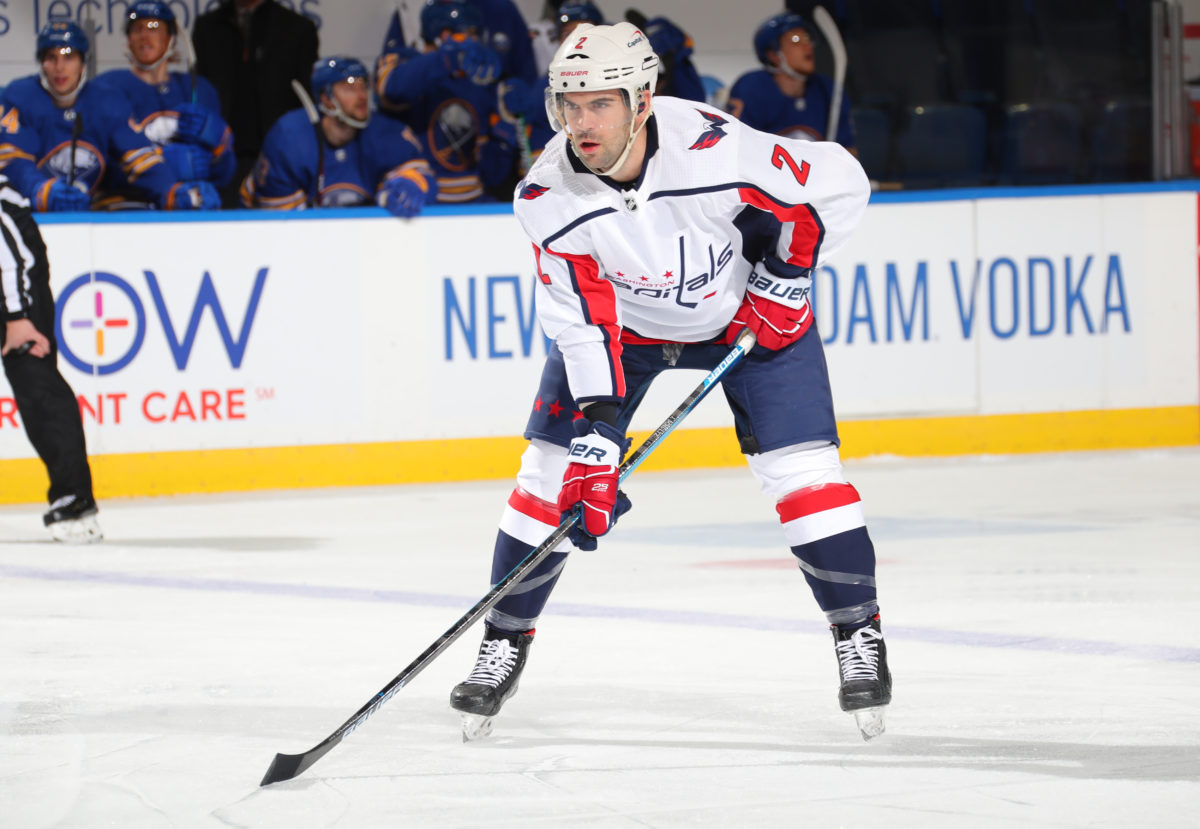 Having a dangerous power play is an important facet of how your team competes. All teams try to avoid penalties, but it puts an extra level of pressure on an opposing team if they know the opposing power play is particularly dangerous. Being less willing to take penalties and more mindful of it can create extra space at even strength. Some penalties are unavoidable though, and it's almost inevitable that opponents will take some. Being able to count on adding those power-play goals during games allows the team to play more confidently. That confidence has a trickle-down effect that shows real results on the ice. Confident, high-morale teams tend to win games.
Unlikely Hero, Conor Sheary Stepping Up
Conor Sheary has had an interesting NHL journey. He went undrafted and was picked up as a free agent by the Penguins after four years at UMass-Amherst. In 2016-17 he took advantage of an opportunity to play big minutes for the Penguins and netted himself 23 goals in 61 games. He was a key playoff contributor for them in both of their back-to-back Stanley Cup runs. That 2016-17 season led to a three-year, $9 million contract for him, but when his production slipped, salary cap attrition saw him traded to the Buffalo Sabres. His tenure with them didn't see him recapture his 20+ goal form and this offseason, the Capitals signed him to a one-year deal for slightly over the league minimum.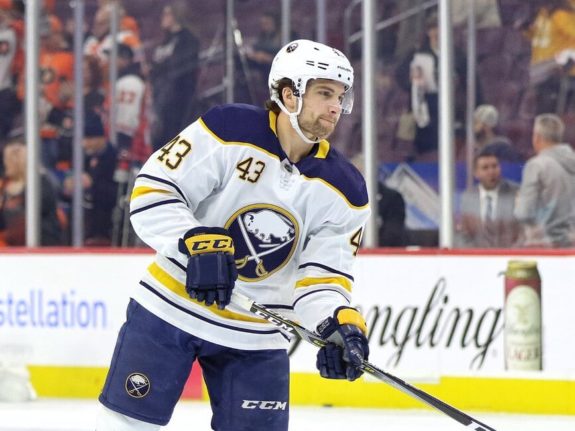 With the Capitals, Sheary has found his scoring touch again and the coaching staff took notice. He started the season in a depth role but a combination of injuries, COVID protocols, and stellar play on his part has seen him moved around as the need dictated. Prior to the Feb. 25 game, he was promoted to the top line.
Capitals lines vs PIT:

Ovechkin-Kuznetsov-Sheary
Vrana-Backstrom-Wilson
Panik-Eller-Oshie
Hagelin-Dowd-Hathaway

Dillon-Carlson
Orlov-Schultz
Chara-Jensen

Vanecek

— Samantha Pell (@SamanthaJPell) February 25, 2021
He was tied for fourth on the team with five goals through 16 games heading into the weekend. All his goals came at even strength. It's more than just the goals for Sheary. His effort level and his work ethic had been excellent and the promotion to the top line was an example of Laviolette rewarding that effort. In a season where some members of the team have seen their effort level questioned, Sheary has been a tone-setter. The coach was clearly trying to send a message to the rest of his lineup. For Sheary, it's an opportunity to show that he's worth signing a multi-year contract with the Capitals or somewhere else. He hasn't scored any additional goals since the promotion, but he did have an assist against the Devils bringing his point total to seven for the season so far.
TJ Oshie: Team MVP
Nicklas Backstrom is on an absolute heater to start the season, with 10 goals and 25 points through 21 games, but for my money, the most valuable player for the Capitals through two months of the season has been TJ Oshie. When the Capitals were in a jam with Lars Eller and Kuznetsov out of the lineup, Oshie stepped in to play center. He performed well enough that when Kuznetsov went out again prior to the back-to-back against the Devils, Laviolette felt confident going back to Oshie to play center minutes.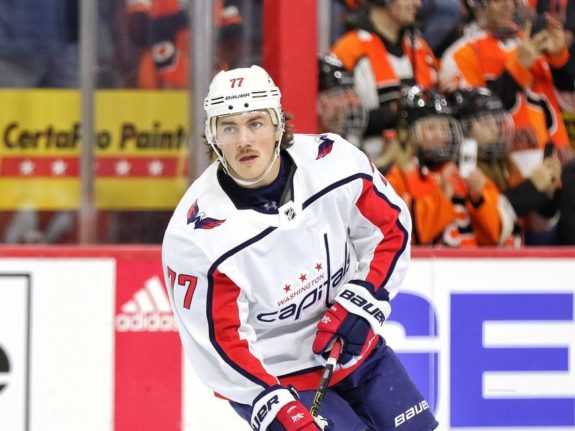 Oshie has always shown himself to be a versatile player, capable of executing whatever role is asked of him and doing it well. Playing center for his team while they're in a jam and doing it at a high level adds a new dimension to his versatility at the age of 34. It wasn't that much of a stretch for Oshie to move to center. In spite of not having officially played the position in the NHL, he often rotates to the center position in the defensive cycle. He has also proven to be a passable faceoff taker during his career. His career faceoff average of 46.6% has been bolstered by his 2020-21 stint at center, which has seen him go 52.1% for the season, so far.
Oshie leads the team in power-play goals with four and hasn't missed a beat regardless of where he plays in the lineup. He's played well and found chemistry no matter whom he is lined up with and is a model of consistency. On Feb. 25, against the Penguins he added his lone 5-on-5 goal of the season.
It's an early contender for the NHL goal of the year, but it might become one of Oshie's signature goals. It really embodies who he is as a player. In spite of the obstacles and challenges before him, he puts his head down and finds a way to get it done. His tenacity and his drive are intangibles that don't always show up on the score sheet. It just so happens that this time, they did and the Capitals got a nice highlight to show for it.
Orlov's "Struggles" & the Expansion Draft
Orlov seems to have had some struggles adapting to the defensive system being employed by the Capitals' coaching staff. The 29-year-old defender is currently averaging 18:33 per game making him fifth in usage among Capitals' defenders. He has been relegated to the third-pairing with Nick Jensen since his return to the lineup from COVID protocol.
It's hard to say whether the "demotion" to third-pair is entirely reflective of Orlov alone. Brendan Dillon and Zdeno Chara have played very well for the Capitals and seem to have developed chemistry with their respective partners: John Carlson and Schultz. It's kind of a funny double-edged sword because in the third-pairing role, with sheltered minutes, Orlov has thrived. The analytics for the Orlov-Jensen pairing is extremely favorable. To wit: they are above 50% in every key percentage-based statistic.
| | | | | | |
| --- | --- | --- | --- | --- | --- |
| Defensive Pairings | Corsi For % | Shots For % | Goals For % | Expected Goals For % | High-Danger Chances For% |
| Dillon – Carlson | 48.09 | 48.73 | 58.82 | 48.76 | 50.94 |
| Chara – Schultz | 52.11% | 45.22 | 72.73 | 50.27 | 55.81 |
| Orlov – Jensen | 55.81% | 64.79 | 66.67 | 65.00 | 70.97 |
50% represents a 1:1 Ratio. Above 50% is good, below 50% is bad. The distance from 50% is how good or bad it is.
Data provided by NaturalStatTrick.com
Along with the individual success in this reduced role, the team as a whole has come out of the month of February to find success. Everything appears to be trending in the correct direction, so what's the problem? Right now, there isn't one. Even though they started the season off winning, defensively things looked shaky. Goaltender Vitek Vanecek kept them in a lot of games in January. Those defensive deficiencies continued through early February and started to cost the team games. As March begins, Laviolette seems to have ironed out some of the kinks in his defense. Their analytics and on-ice production have both begun to trend in a direction that would be expected of a real contender.
The problem arises when we take a look ahead to the offseason. That might seem like a pointless exercise right now, but the tread deadline will be here soon enough. The expansion draft allows a set number of protection slots. Teams are either allowed to protect seven forwards, three defenders, and one goaltender, or eight forwards/defenders and one goaltender. Right now Orlov is playing third-pairing minutes and carries a salary-cap hit of $5.1 million for the next two seasons after this one. That fact alone creates a lot of questions:
Do the Capitals want to protect Schultz, Carlson, and Dillon while leaving Orlov exposed to possibly lose him with nothing in return?
Do they want to expose one of the other three defenders in order to protect Orlov?
Are they willing to protect only four forwards in-order to protect four defenders?
Should they look at trading Orlov before the expansion draft?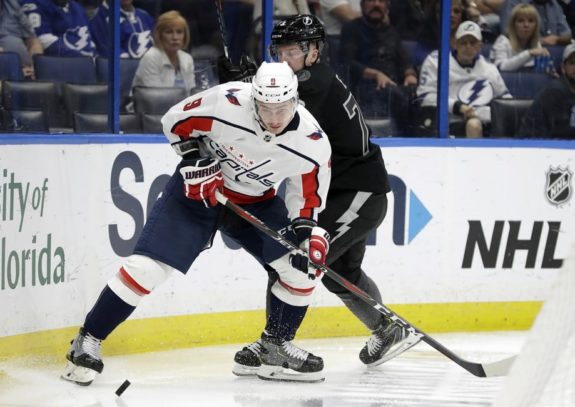 That last question is the one that sticks with me. Orlov has proven that in a different system he can be, at worst, a second-pairing defender and in the right situation he can handle being on the top-pairing. His trade value could, theoretically, be very high to the right team. With a manageable salary number and some term left on it, a team stands a good chance of getting strong value for their investment if they were to try to obtain him. His contract has a modified no-trade clause where he submits a list of five teams he cannot be traded to, so that could be a little bit of a hiccup. It also means that if the Capitals were to start shopping him, it could become public knowledge when they ask him for his five-team list.
If the Capitals were able to sell their current situation with Orlov's place in the lineup as the "square peg/round hole" situation that it is, they might be able to add a piece or two to bolster their forward depth while also getting a high draft pick. It's hard to say no to that kind of return from the Capitals' perspective if all you're giving up is a player whom your current coach sees as a third-pairing defender. Jonas Siegenthaler and Trevor Van Riemsdyk are both perfectly capable of filling that gap and at a fraction of the cost salary-wise. Any trade involving Orlov could also see a capable third-pair defender come back in the deal.
It's possible that general manager Brian MacLellan has a plan up his sleeve to make a trade or deal with Seattle to make the Capitals' expansion draft protection scheme a moot point. Several teams did that with the Vegas Golden Knights with varying degrees of success for their troubles. If he does not have a scheme in mind, and this team expects Laviolette to last through his three-year contract, then at least testing the market for Orlov before the 2020-21 trade deadline makes sense.
Player Milestones Update
Ovechkin scored his 713th goal at the weekend, he's now four behind Phil Esposito for sixth all time
Backstrom did not get his 700th assist yet and still sits at 699. He will be the 54th player to reach 700 assists. Jeremy Roenick is ahead of him in 53rd with 703. He played his 977th game in a Capitals uniform and barring injury he will become the second player all-time to play 1000 games in a Capitals uniform later this season.
Carlson edges closer to 800 games played and 500 points with 778 games played and 497 points currently
Kuznetsov is approaching 500 games played and 400 points with 490 games played and 395 points currently
Looking Ahead
The Capitals have 14 games to play in the month of March. The trade deadline is April 12th. They enter the month of March with a record of 12-5-4 giving them a points percentage of .667. That's good enough for eighth in the entire league. Two of the teams ahead of them though, are the division rival Boston Bruins and Philadelphia Flyers. They open the month with two games against the Bruins and then play the Flyers three times the following week. Those five games are going to be key opportunities to seize points in the standings.
RELATED: Capitals' Iconic Playoff Goals From Joel Ward & Devante Smith-Pelly
February started off rough for the Capitals, but they managed to right the ship and finish the month with a positive record. They have battled through injuries and COVID-related roster attrition. The key for them now will be to stay healthy and build upon the positives from this month, while learning from the negatives.
---
---
Jack Dawkins is a freelance scout, analyst and avid watcher of "way too much hockey." He has joined The Hockey Writers team to cover all things Washington Capitals, New Jersey Devils, Minnesota Wild, Los Angeles Kings, Arizona Coyotes and Florida Panthers. He's an absolute data hound and loves using stats and analytics to calculate and extrapolate data for analysis.