We are seven games into the 2020-21 NHL Season, and the Washington Capitals find themselves atop the MassMutual East Division. With the lack of a preseason, many teams are still finding their legs and working out kinks in their game. The Capitals are no exception to this. There have been both positives and negatives to take away from their first seven games.
Positive: Justin Schultz Signing Paying Dividends
When the Capitals signed Justin Schultz, I thought it was a good signing. Schultz's ability to contribute offensively would be very helpful, but his abilities as a power play specialist were most intriguing. Last season, the Capitals' power play struggled and stagnated at times. Their 19.44% power play percentage was 17th in the league. For the amount of scoring weapons they had, that simply was not good enough. The same top unit also handled the bulk of their power play all season long. The secondary unit never really seemed to get a lot of traction, and it never really felt like the team had the flexibility to make changes to the top unit in attempts to generate some chemistry.
RELATED: Capitals COVID Controversy Could Be Symptom of Bigger Issue
Bringing in Schultz in the offseason seemed like a move to change that. With Alexander Ovechkin, Dmitry Orlov, and Evgeny Kuznetsov all out on COVID-19 protocol, the first power play unit would have to undergo some major adjustments. Schultz has risen to that occasion. Coach Peter Laviolette put Schultz on the power play with fellow right-handed defender John Carlson. Carlson has moved over to the left-side circle where Ovechkin usually operates, and Schultz has been given Carlson's typical duty managing the blue line. You could say it has worked out pretty well.
Of the 218 points Schultz has amassed over the course of his career, 91 have come on the power play. The other 127 have come at even strength. When he's able to stay healthy and is used correctly, he can be a major offensive contributor. He had 51 points in 78 games for the Penguins back in 2016-17. Laviolette seems to understand that well, as Schultz has four points through the first seven games, including a game-winning goal. So far, this contract looks like a brilliant move by general manager Brian MacLellan.
Positive: Vanecek Is Getting it Done
Vitek Vanecek has delivered for the Capitals in their time of need. It's a smaller sample size, but as the season has gone on, his statistics are settling into a mean that looks really good. If he's able to continue to maintain his .918 save percentage, it's going to be very hard for the team to not give him the bulk of the starts. His 2.70 goals against average juxtaposed against the Capitals' 3.57 goals-for-per-game average means that with him in net, on average, the team will win more games than they lose. It's really all you can ask for from a goaltender.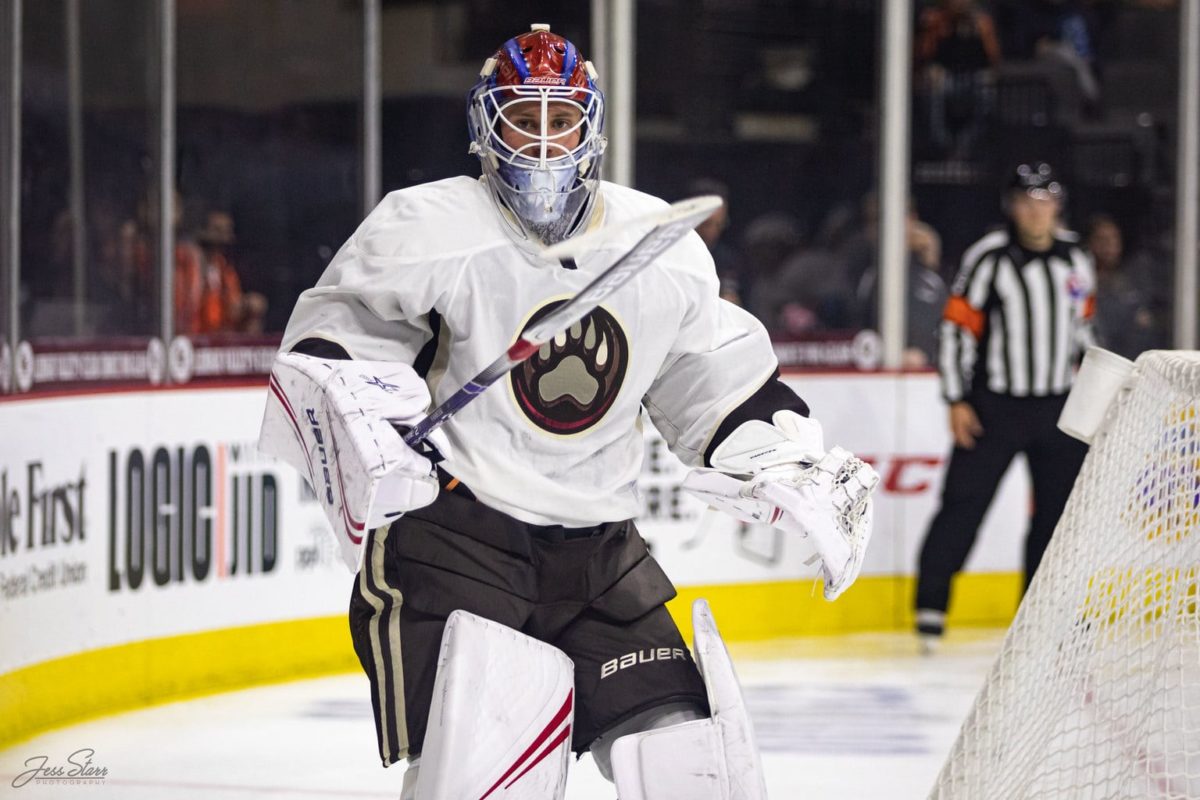 Vanecek has also improved as the season has gone on. He appears to have gotten a better feel for how the team in front of him is going to play, and he seems to be anticipating shots better. His rebound control has improved from game to game, and he really has the look of a goalie who is comfortable in his crease. Even though the Capitals have Craig Anderson ready to step in at any time, Laviolette has decided to continue sending Vanecek out there. Vanecek continues to reward his faith. It's really been nice to see and is one of the great stories in the NHL so far this season. I've said a lot of negative things about his abilities in the past, and I couldn't be happier to see the guy proving me wrong. I hope he continues to do so.
Negative: Penalty Troubles
The Capitals have been taking too many penalties, resulting in giving up more power plays than they are receiving. They've racked up 27 minor penalties over the course of seven games, giving up a total of 26 power play attempts against. In those same games, they've only drawn 14 total power play attempts. The penalty kill has not exactly been a strong point, currently sitting at a 76.92% effectiveness. The 14:26 ratio is just simply unacceptable, and over the course of a season, that will come to bite you. It's still early, and the team can still clean it up, but this has to be an area of focus for Laviolette and his staff.
Negative: Defensive Struggles Continue
Through five games, Vanecek has faced an average of 32.8 shots per 60 minutes. That's a lot, but it's not the only indicator that the Capitals are a bit of an adventure in their own zone to start the season. So far, the Capitals are on the wrong side of just about every major defensive analytic.
| | | | | | | | | |
| --- | --- | --- | --- | --- | --- | --- | --- | --- |
| SF | SA | SF% | SCF | SCA | SCF% | HDCF | HDCA | HDC% |
| 158 | 162 | 49.38 | 118 | 121 | 49.37 | 44 | 55 | 45.54 |
Percentages under 50% mean the team is in the negative percentile
SF=Shots For, SA= Shots Against, SF% = Shots For Percentage
SCF = Scoring Chances For, SCA = Scoring Chances Against, SCF% = Scoring Chance Percentage
HDCF = High-Danger Chances For, HDCA = High-Danger Chances Against, HDC% = High-Danger Chance Percentage
Data provided by NaturalStatTrick.com
A percentage of 50% means they are even split. Percentages below 50% mean they are giving up more than they are getting. All these metrics are under 50%. The Capitals are getting out-shot, out-chanced and are giving up substantially more high-danger chances than they are getting. It wouldn't be wrong to conclude from these metrics that Vanecek has been a big part of keeping this team in hockey games. If these metrics do not turn around, the Capitals will become overly reliant on their young goaltender defying the analytics and keeping them in games. That's not a recipe for sustained success over the course of a season.
Positive: Jakub Vrana, The Slayer of Buffalo
Jakub Vrana has three even-strength goals against the Buffalo Sabres in four games this season. One was a game-winner, and the other two came at key points in the games. The two teams meet four more times this season, and if Vrana keeps this up, Sabres fans are going to have a new enemy to hate.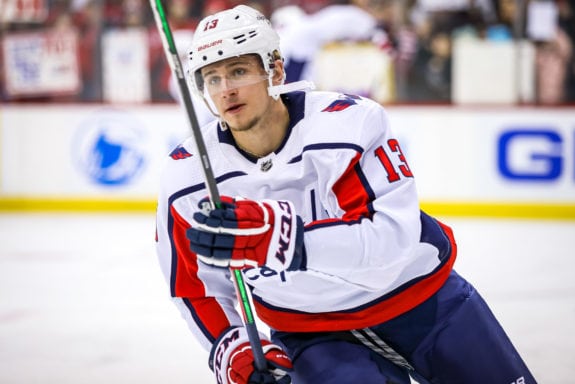 Vrana's goal-scoring pace has ticked up every season that he's been in the league. His 25 goals in 69 games last season topped his previous season's total of 24 goals in 82 games. That put him at 0.36 goals per game last season. That's 30 goals per an 82-game pace. That gets you an All-Star Game invite if you're not on the same team as Ovechkin. If he were to emulate that pace this season, he would be expected to score 20 goals. If Vrana can take his game to an even higher level, his star could be shining brightly as Ovechkin's star dims. That looks good for him, considering he's a restricted free agent at the end of this season. If the Capitals don't find a way to clear some cap space or don't get Vrana an extension before the season ends, expect to hear his name mentioned with the words "offer sheet candidate" by pundits in the offseason.
Negative: Injury Bug Bites
The aforementioned COVID-19 Protocol situation is bad enough. Ovechkin, Orlov, Ilya Samsonov and Kuznetsov are expected to miss at least one more game on top of the three they've already missed. Tom Wilson suffered a lower-body injury in the Jan. 22 game against the Sabres, while Lars Eller suffered an injury in the Jan. 26 contest against the New York Islanders. The lineup projected for their Jan. 28 contest sees T.J. Oshie pressed into service at center. I was surprised to learn that Oshie has taken over 1,700 faceoffs over the course of his 13-year career, winning 46.2% of them. Putting him in at center seems like the best move with Eller and Kuznetsov out. Richard Panik had a strong outing in the last game, so Laviolette might be hoping this line can drive play through sheer work ethic. It's not a bad bet to make, honestly.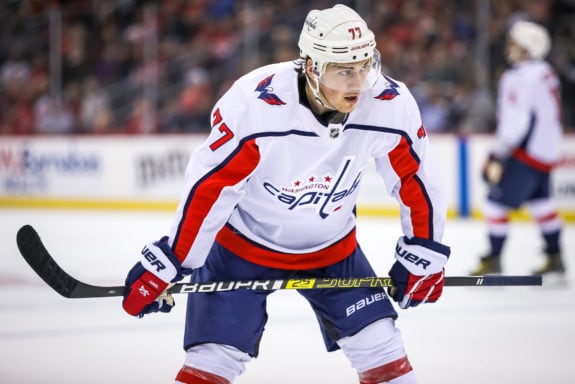 Defensively, their depth has been able to cover for the absence of Orlov. Brenden Dillon has moved up with Carlson to round out the top pairing. Zdeno Chara has proven to be surprisingly spry and has moved up to take on a second-pairing role alongside Schultz, and they've been playing a lot of minutes. Orlov's time away has given Jonas Siegenthaler and Trevor van Riemsdyk opportunities to play. They've been quite good, and in the Jan. 26 game against the Islanders, they each played in excess of four minutes on the penalty kill. If they can continue to handle that special teams work, it softens the blow of losing Orlov.
Daniel Carr, Daniel Sprong and Michael Sgarbossa will likely make up to be the fourth line. Those three players have looked good in their individual outings so far this season, but this will be the first time the three of them are playing together. I don't think the Capitals ever anticipated a scenario that would have these three players in their lineup all at the same time, but the absence of four forwards really taxes a roster. On the bright side, the Capitals are finding out just how good their forward depth is very early in the season. The lessons learned from now may color if and how they decide to add players at the trade deadline.
RELATED: What We Learned From the Capitals' First Two Games
With a record of 4-0-3 through seven games and 11 out of 14 possible points collected, the positives are outweighing the negatives. Injuries will heal, and players will come back from COVID-19 protocol. The key question marks are going to revolve around the team's ability to fix their defensive woes and their penalty ratio problems. If they can do that while getting continued strong performances in net, it will reflect in their record, and they will cruise their way to the playoffs as the MassMutual East Division leader.
---
---
Jack Dawkins is a freelance scout, analyst and avid watcher of "way too much hockey." He has joined The Hockey Writers team to cover all things Washington Capitals, New Jersey Devils, Minnesota Wild, Los Angeles Kings, Arizona Coyotes and Florida Panthers. He's an absolute data hound and loves using stats and analytics to calculate and extrapolate data for analysis.