Nearly a year after shutting down due to the then-new COVID-19 pandemic, the AHL will kick off a new season — their 85th — on Feb. 5.
The Manitoba Moose will play in the Canadian Division, against only the Belleville Senators, Toronto Marlies, Laval Rocket, and Stockton Heat (the Calgary Flames' affiliate will play their home games out of Calgary's Scotiabank Saddledome this season rather than in California due to travel restrictions.)
We don't know exactly what nights the Moose will hit the ice (the AHL unveiled the Atlantic, North, Central and Pacific Division schedules last week but has yet to release the the Canadian Division schedule.)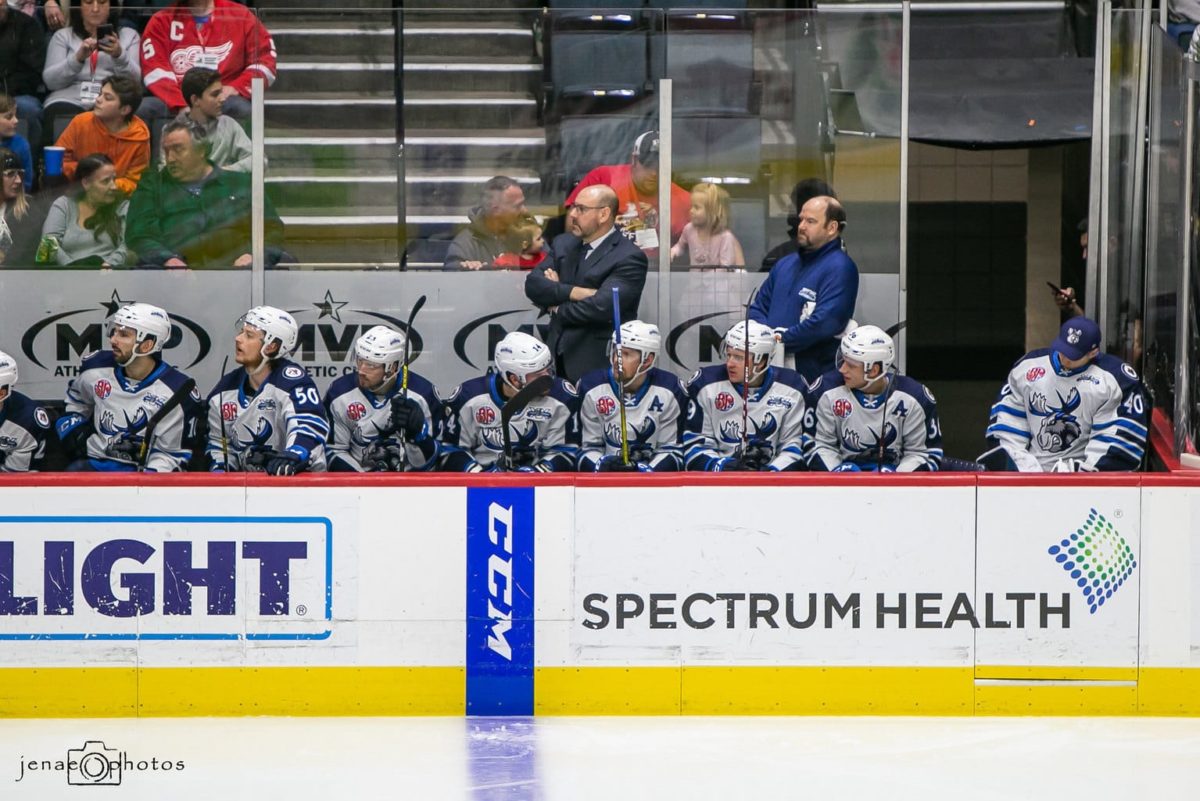 However, when the puck does drop, there will be a number of players to keep an eye on. Some will have big opportunities because of vacancies created by players sitting on NHL taxi squads instead of on AHL rosters (such as CJ Suess and Kristian Vesalainen.)
Without further ado, here are three Manitoba Moose to watch this season.
1) Cole Perfetti
Since there's no firm date as to when the Ontario Hockey League season might start (if at all), the Jets' top prospect will have a chance to skate for the Moose this season.
Related: Jets Get Their Future Top-Six Forward with Perfetti Draft Pick
Perfetti normally wouldn't be eligible to play in the AHL but concessions have been made so players on junior teams impacted by COVID-19 shutdowns don't miss an entire year of development.
Perfetti — who scored 37 goals and added 74 assists for 111 points in just 61 games with the Saginaw Spirit in 2019-20 — will start the season at centre, Moose head coach Pascal Vincent confirmed after day one of Moose training camp, which began on Jan. 25.
Perfetti can also play wing, which he did at the 2021 World Juniors in Edmonton, where he recorded two goals and four assists for the silver-medal-winning Canadians.
The biggest challenge for Perfetti — 19-years-old and slight at 5-foot-11, 177 pounds — will be adjusting to the size and speed of his older opponents. "Here, we have men," Vincent said.
Perfetti certainly has skill in spades but needs to work on his defensive game and overall strength.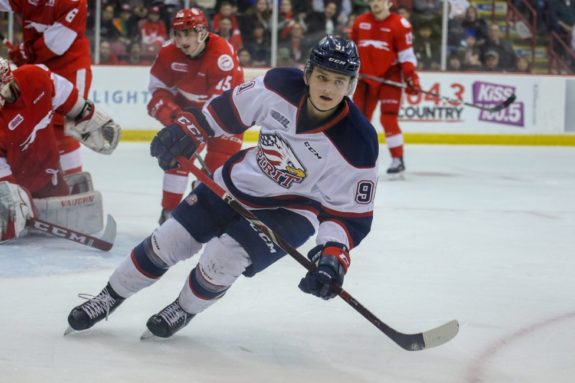 Having Perfetti working with the organization's coaches from the get-go will be to his benefit, even if the best-case scenario would be for him to go back to juniors, Vincent said after day one.
"I think this is great for him," he said. "He's understanding more, he's learning about the language that we use and the components of our systems. He's understanding the kind of practices we're gonna run. He's exposed to pro players. He had some battles today against bigger guy I think it's huge for him."

Pascal Vincent on Cole Perfetti being with the Moose
"For him to be exposed to our language and the way we do things here and the way we run our team… I think it's a real good understanding of what it's going to take down the line and in the future to be a Jets' player," Vincent continued.
Perfetti, meanwhile, sounds highly motivated to make a good impression and ensure his NHL debut is sooner rather than later. He said he hopes the learning he'll do this season paves the way for a Jets roster spot next season.
"I'm fortunate and lucky to get this opportunity," Perfetti said after day one. "Normally there's only a handful of guys, one or two guys, that make the NHL out of their draft year as an 18-year-old… the opportunity I'm getting this year to play pro hockey, I'm very fortunate for that."
"This is going to prepare me best for my end goal of making the NHL. Playing a year of pro is going to be extremely beneficial and helpful in my development."
2) Declan Chisholm
Vincent says defenseman Declan Chisholm has taken big strides since in the past year.
"We know he's got skills and can move the puck, he's got quick feet, very agile in changing of directions on the ice, being able to elude forecheckers when he first touches the puck," Vincent said after day two.
"We know all of that but now his stick is a little bit better. He's a little bit stronger. he's able to contain players one-on-one. I see a guy who took the summer really seriously to train… he's asking good questions, he wants to learn the systems now. he's trying to execute what we've talked about."

Pascal Vincent on Declan Chisholm's improvements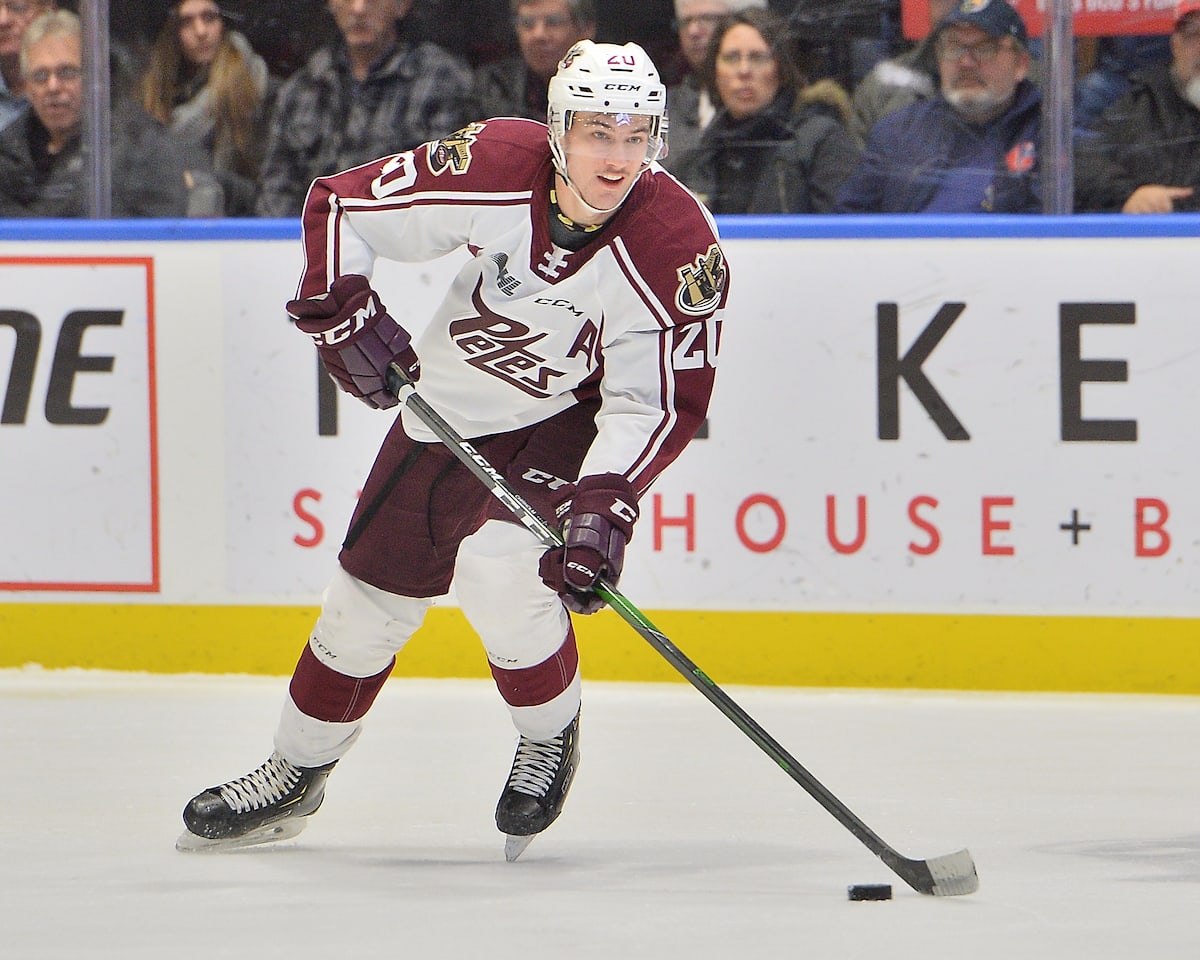 Chisholm, 21-years-old and selected in the fifth round of the 2018 NHL Entry Draft, is an offensive threat from the left side of the blue line. He recorded a high 69 points (13 goals, 56 assists) for the Peterborough Petes last season and was named an OHL all-star.
"I'm just really excited to get into the American Hockey League here," he said during virtual interviews. "It's a big jump: guys are faster, stronger. But I think my style of game — a smooth-skating defenceman who can move the puck well, jump up in the play, and be relied in the d-zone also — I'm looking to kill penalties, gap up on guys, and just be a smart all-around player out there."
Chisholm says he's faster and stronger than when he was drafted, and that he can battle with the "big guys" now. He acknowledged that the Moose have rotated their new blue-liners in years past, but said "I'm just going to do whatever I can, try and prove myself day-in and day-out, and hopefully that will pay off… I'm going to try and seize every opportunity that comes my way and hopefully my game will just speak for itself."
3) Leon Gawanke
From a healthy scratch for some games at the beginning of the 2019-20 season to quarterbacking the Moose's top power play unit by the end of it, Leon Gawanke had quite the rookie campaign.
Related: Jets' Top 10 Prospects for 2020-21
Turning pro after a strong, 57-point 2018-19 with the QMJHL's Cape Breton Screaming Eagles, the 2017 fifth-rounder saw his role exponentially increase as many other Moose defensemen either hit the shelf or were called up.
The German-born Gawanke was one of many Jets who played in Europe on an overseas loan while the NHL was working out logistics for the 2020-21 season. He suited up for six games for his hometown DEL club, Eisbären Berlin, and recorded two assists before returning to North America in mid-January.
In November, prior to the delayed start of the DEL season, he played for Germany in the Deutschland Cup 2020, recording two assists in three games.
Gawanke, 21 years old, will be given a bigger role this season. While such a short campaign obviously isn't ideal for player development, he could very well turn out to be another late-round steal for GM Kevin Cheveldayoff.
Who Will Be Next?
The Jets' organization's patient "draft and develop" strategy has paid off nicely for them. 13 of the players on their active roster have spent time with the Moose at some point, including Andrew Copp, Kyle Connor, Connor Hellebuyck, and Josh Morrissey.
Will these three players be Jets stars in seasons to come? It's worth watching them to find out.
---
---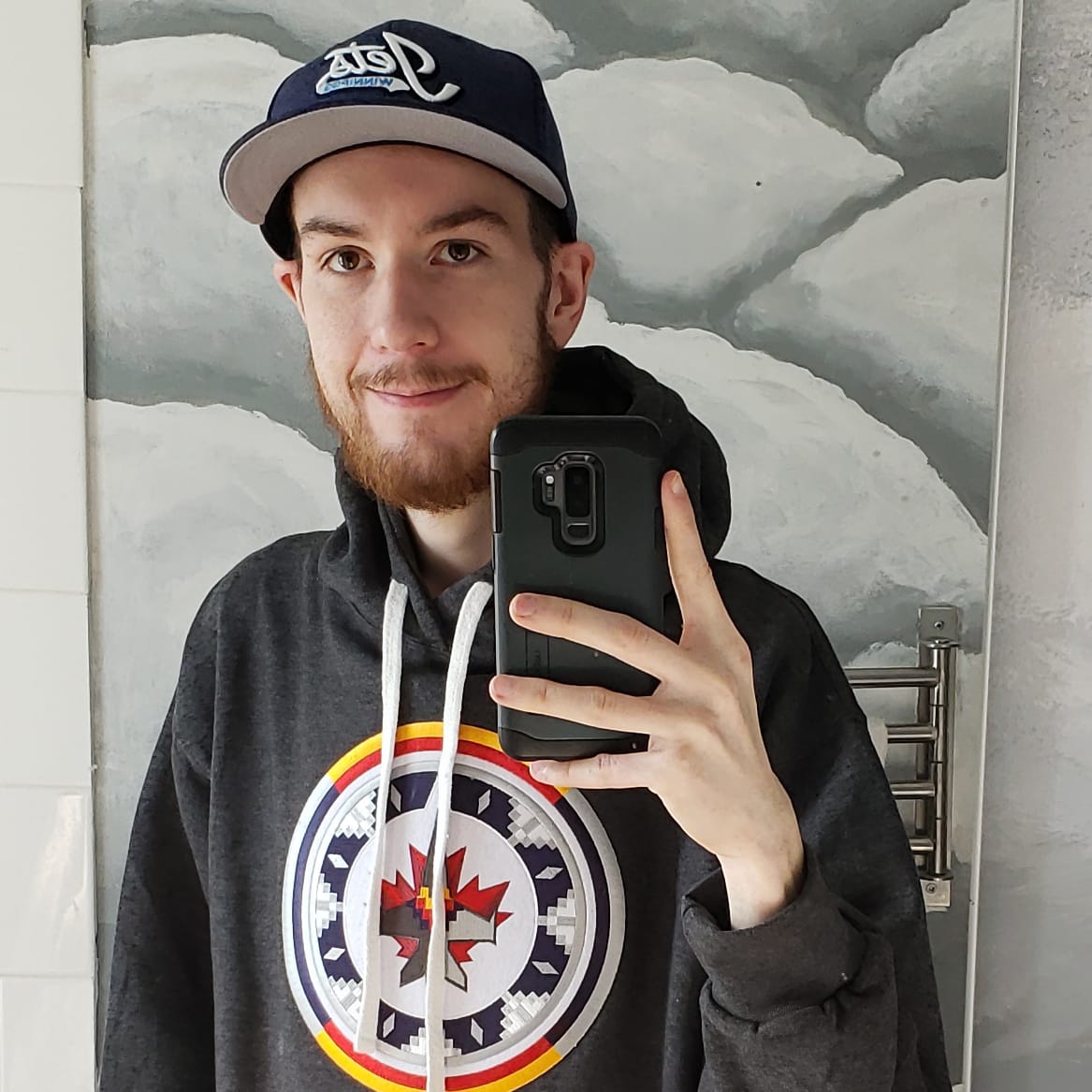 Declan Schroeder is a 27-year-old communications specialist and freelance journalist in Winnipeg, Manitoba. He holds a diploma in Creative Communications with a major in journalism from Red River College and a bachelors in Rhetoric and Communications from the University of Winnipeg.
Deeply rooted in the city's hockey culture, the original Jets skipped town when he was two and the 2.0 version came onto the scene when he was 17.