The Winnipeg Jets' prospect pool is not as deep as it used to be. Many of their "first wave" of draftees now comprise the highly-productive core of their team, such as Kyle Connor, Andrew Copp, Nikolaj Ehlers, Connor Hellebuyck, Patrik Laine, Adam Lowry, Josh Morrissey, and Mark Scheifele.
Related: Jets NHL Draft Days Ranked
However, that doesn't mean they don't have some quality players in their system nowadays, especially given their prowess in finding value in late rounds.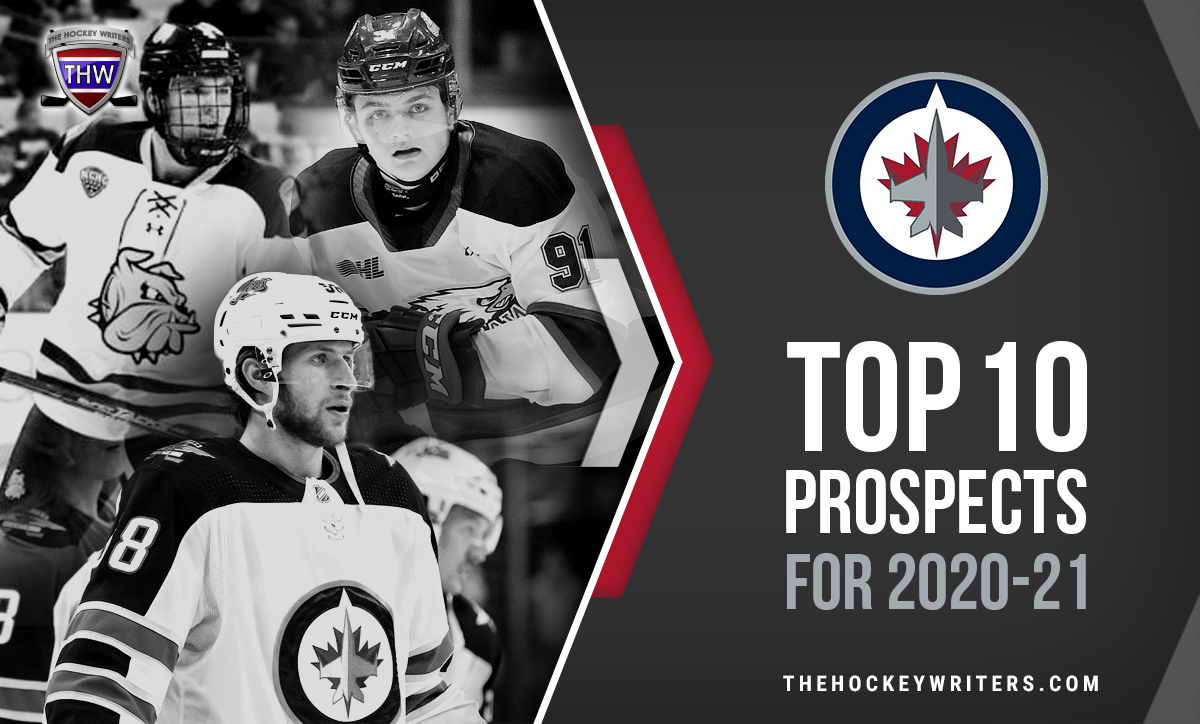 The Jets' top ten prospects have changed quite a bit since former THW Jets contributor Ryan Goethals ranked them in summer, 2019. For this list, we will stick with his rules: the players must have appeared in fewer than 30 games at the NHL level, or be under the age of 26.
10 — Kristian Vesalainen (LW)
2019-20 Team: Manitoba Moose (AHL)
At one point, Vesalainen would have been considered by most to be one of the top-three — if not the very top — prospect in the entire Jets organization. However, he keeps falling down the rankings as he is developing much slower than the Jets expected or hoped.
Selected 24th overall in 2017, Vesalainen's 2019-20 season with the Manitoba Moose was a mixed bag. He recorded 12 goals and 18 assists for 30 points in 60 games and at times looked dangerous, especially on the power play. However, he was often invisible and tentative at even strength and was unwilling to shoot or use his size to his advantage.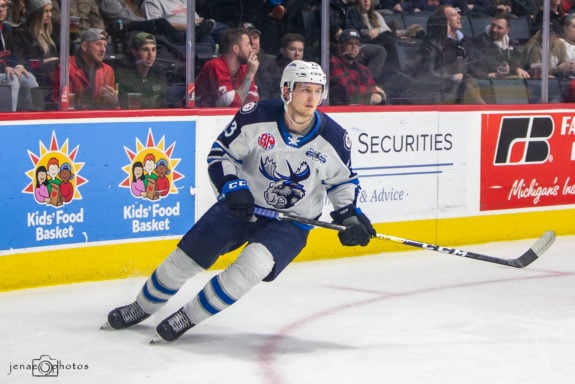 The reason the Finn was so up and down last season is that he had to do the learning he should have done a season prior. He chose old comforts over new challenges in 2018-19 when he decided to go back to the KHL's Jokerit in his Helsinki hometown rather than play for the Moose and adapt to the North American style of game.
Related: Jets to Jokerit: Did Kristian Vesalainen Make the Right Choice?
It is becoming more and more difficult with each passing season to see Vesalainen as having a future on the Jets' top-six given their depth in that regard.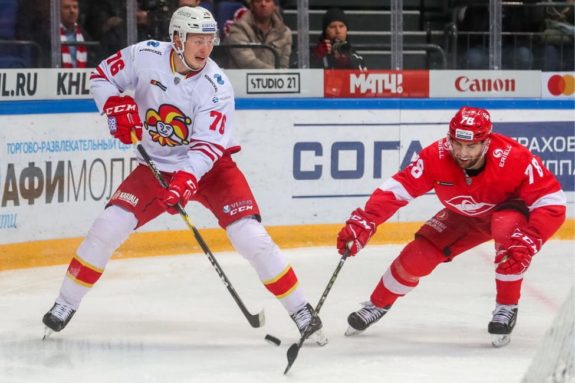 He has played just five NHL games in his career and was passed over multiple times when the Jets needed call–ups last season. He has two more years on his ELC but could become trade bait sooner than later.
9 — Simon Lundmark (D)
2019-20 Teams: Linkoping HC (SweHL), Linkoping HC J20 (J20 Nationell), Team Sweden (2020 World Junior Championship)
2020-21 Team: Linkoping HC
If you're expecting Simon Lundmark's point totals to jump off the page, you'd be sorely disappointed: in 2019-20, the right-hander recorded just three assists in 40 games with Linkopings HC and two goals and six assists in 15 games for the Linkoping HC under-20 squad. Producing offence is not his primary strength.
Where the 6-foot-1, 200-pound Lundmark's true strengths lie are in his defensive capabilities. He is known as a player whose exceptional skating ability is the foundation for all his other assets, such as his outstanding positioning and two-way ability.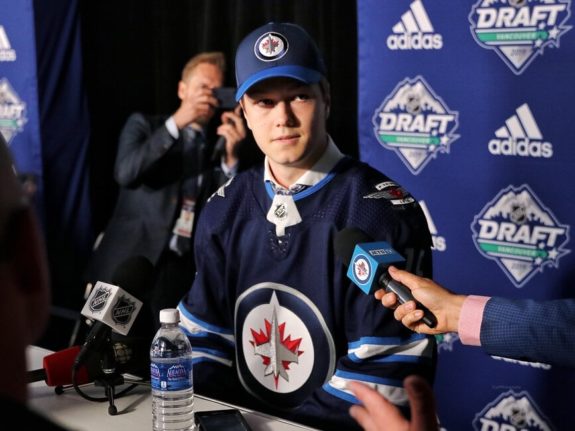 Chosen #51st overall by the Jets in the 2019 NHL Entry Draft, Lundmark will spend the 2020-21 with Linkopings and ideally build on his offensive capabilities.
8 — Leon Gawanke (D)
2019-20 Team: Manitoba Moose (AHL)
2020-21 Team: Eisbären Berlin (DEL, loan until the 2020-21 NHL season begins)
From a healthy scratch for some games at the beginning of the season to quarterbacking the Moose's top power play unit by the end of it, Leon Gawanke had quite the rookie campaign.
Upon turning pro after a strong, 57-point 2018-19 with the QMJHL's Cape Breton Screaming Eagles, the 2017 fifth-rounder saw his role exponentially increase as many other Moose defensemen either hit the shelf or were called up.
The Berlin, Germany born right-hander showed his offensive upside and booming shot, as he recorded four goals and 22 assists to lead all Moose d-men in points with 26.
"I knew he was good with the puck and making the first pass but he's made some great plays in the season under pressure," head coach Pascal Vincent said in April. "He's a guy that is willing to take hits to make plays. Breaking the puck out and he got better as the season went on."
While Gawanke, 21 years old, will need at least another season of development, his rookie campaign looks to be just a hint of a very promising future. The Jets are hoping he turns out to be another late-round steal.
7 — Mikhail Berdin (G)
2019-20 Team: Manitoba Moose (AHL)
2020-21 Team: SKA St. Petersburg (KHL)
The Jets are still high on flashy Russian goalie Mikhail Berdin, and many view him as their heir apparent to the NHL backup role behind Vezina-winner Connor Hellebuyck.
Berdin, an athletic and unorthodox backstop with a penchant for playing the puck was sturdy in his second season with the Moose, posting a 20-21-1 record with a 2.89 GAA, .910 SV%, and two shutouts.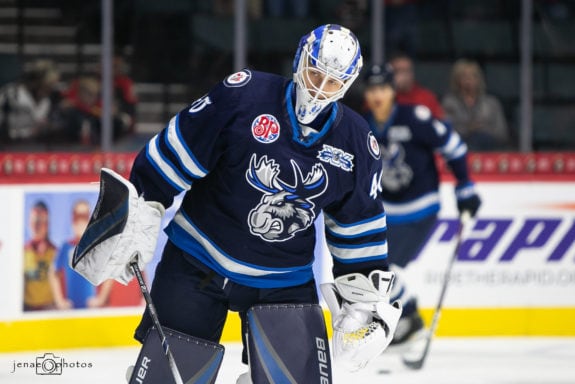 The Jets' re-signing of Laurent Brossoit for the 2020-21 season will give Berdin another year to develop. He's only 22 year sold and throwing him into a high-pressure season where backups' importance are elevated — the season will be condensed, leading to fewer off days and therefore more starts for number-two goalies — wouldn't have been right.
While the status of the 2020-21 AHL season is unknown, as it's a gate-driven league that needs fans in the stands to be viable, Berdin is seeing action with the KHL's SKA St. Petersburg; he recently signed there for the entirety of the 2020-21 season. 
He's up to his old tricks overseas, making flashy saves and throwing hits behind the net. He's a Moose fan favourite, and he'd be the same things on the Jets.
6 — Declan Chisholm (D)
2019-20 Team: Peterborough Petes (OHL)
A late-round selection and a "project pick" by Cheveldayoff, Chisholm has progressed very nicely in the OHL in his two seasons since being selected in the fifth round of the 2018 draft.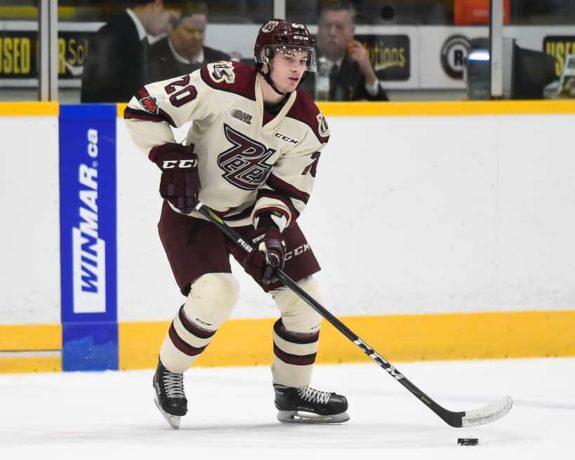 In 2018-19 with the Peterborough Petes, Chisholm increased his point total to 48 from 20 and led all Petes' defencemen in scoring. Last season, he took his game to an even higher level, racking up 13 goals and 56 assists for 69 points — good for third on the team — while acting as a cornerstone d-man and a leader.
Jets' head of player development Jimmy Roy has praised Chisholm for his drivenness, skating, vision, puck-moving ability, and transition game.
If the AHL can find a way to have a 2020-21 season, expect Chisholm to log solid minutes with the Moose.
5 — David Gustafsson (C)
2019-20 Teams: Winnipeg Jets (NHL), Manitoba Moose (AHL), Team Sweden (2020 World Junior Championship), Tingsryds AF (Swe-1)
2020-21 Team: Tingsryds AIF (Swe-1) (Loan until the 2020-21 NHL season begins)
A sturdy centre with good two-way ability and hockey sense, David Gustafsson has the potential to be an impactful bottom-six role player with the Jets.
That's where the left-hander begun last season, in fact, making the team out of training camp and appearing 22 games and scoring one goal while winning 54 per cent of his face offs. He then returned to Europe to represent Sweden at the 2020 World Juniors in the Czech Republic.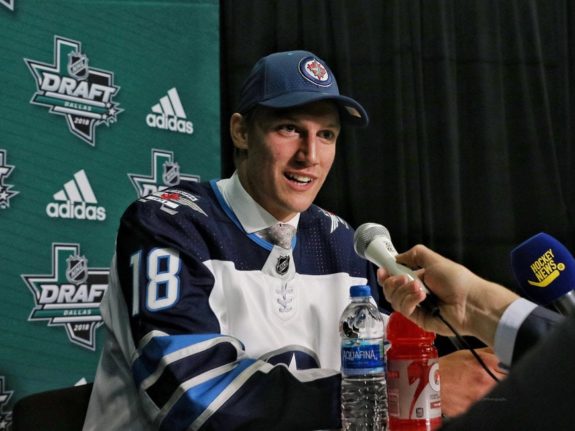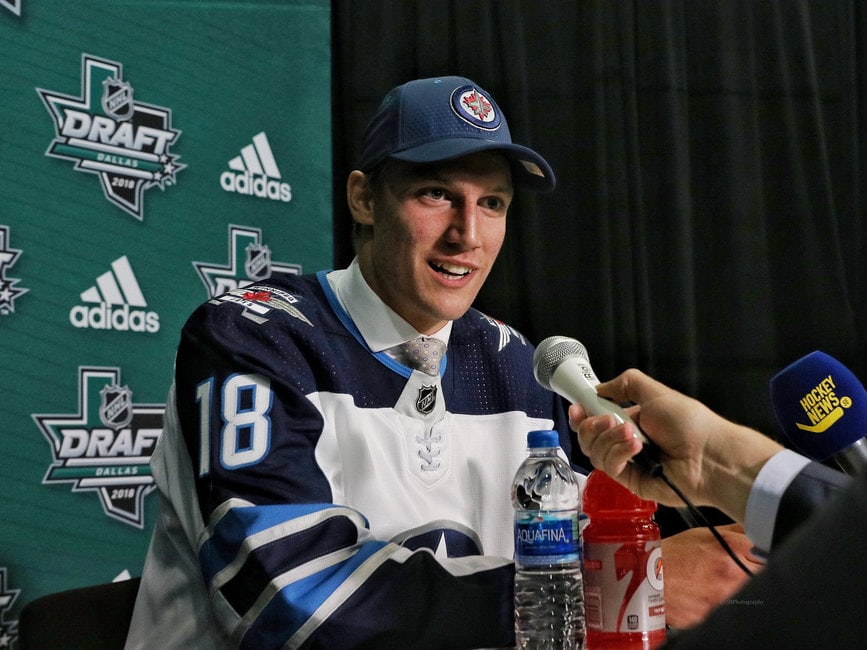 At the World Juniors, Gustafsson served as an alternate captain and recorded one goal and three assists in seven games, but suffered an injury in the bronze-medal contest that delayed his planned Moose debut.
When he finally pulled on a Moose jersey in February, he got off to a slow start but quickly got up to speed. By the time the season was put on pause and subsequently cancelled due to COVID-19, he had recorded two goals and five assists for seven points in 13 games and was playing on the top line.
Gustafsson was loaned to Tingsryds AIF and will play there until the 2020-21 NHL season begins.
4 — Jansen Harkins (LW/C)
2019-20 Teams: Manitoba Moose (AHL), Winnipeg Jets (NHL)
The "forgotten player" of the stellar 2015 draft, the Jets' patience with Jansen Harkins is starting to pay dividends. Selected 47th overall that year, the B.C. product recorded two goals and five assists for seven points in 29 games with the Jets before the season pause.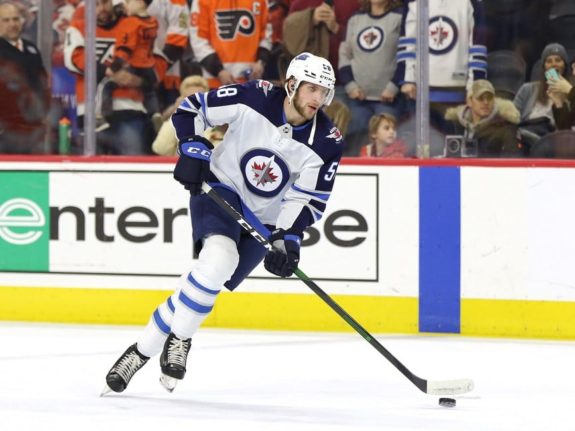 Nobody deserved a call-up more than the hard-working Harkins did last season. He got off to a scintillating start with the Moose, recording seven goals and 24 assists in 31 games — including a whopping 18 in a 10 game point streak in November — and was named an AHL All-Star before making his Jets' debut on Dec. 21.
While he didn't get as much of a chance to show off his offensive skills in the NHL as he was mostly deployed in a bottom-six checking role, Harkins' understanding of the game, playmaking ability, and compete level were all readily evident. He is a natural centre but has played more on the wing in recent seasons.
Paul Maurice spoke highly of Harkins back in August, stating among other things that "he's been given nothing here, but what he did was force an opportunity," "there was no choice but to call him up," and "he works so hard that you just have to play him."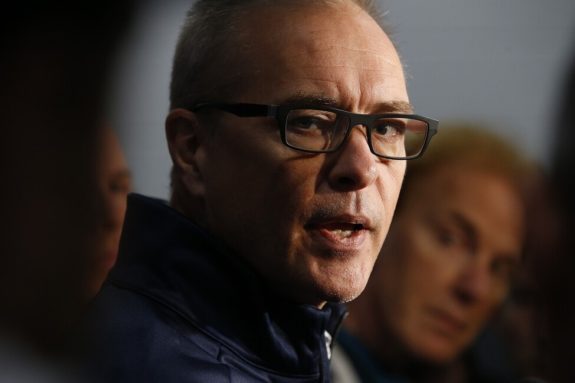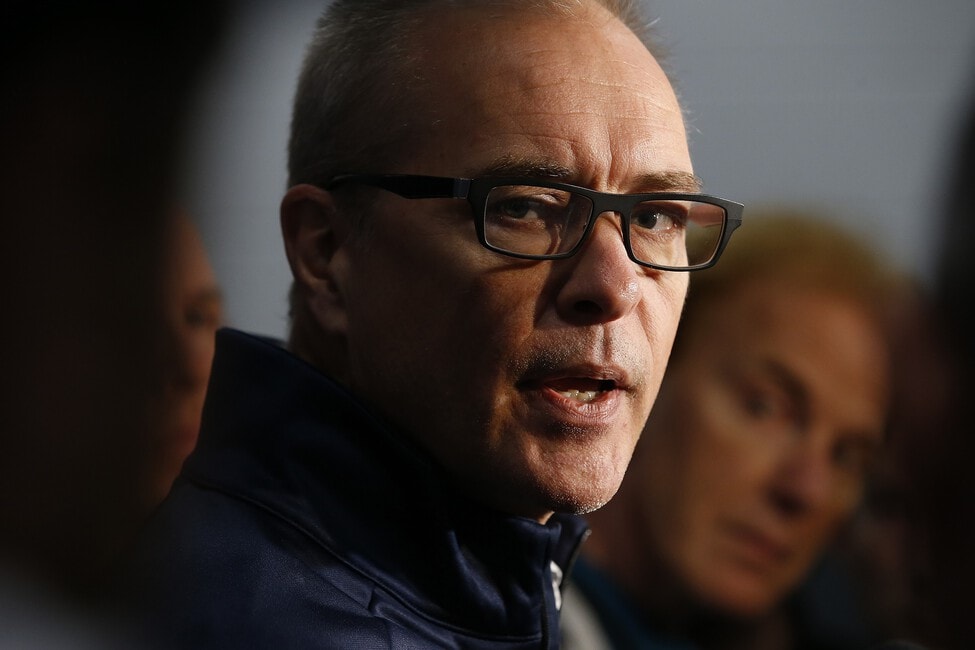 While Harkins' NHL career is still in its nascency, he should be a lock for a bottom-six spot on the Jets in 2020-21. There's no reason to send him back to the AHL.
3 — Dylan Samberg (D)
2019-20 Team: University of Minnesota/Duluth Bulldogs (National Collegiate Hockey Conference Division 1)
The Jets have gotten good mileage from American defensemen over the years (Dustin Byfuglien, Mark Stuart, Jacob Trouba, and now Neal Pionk) and Dylan Samberg is another one they have high hopes for. A physical, mobile, and well-rounded player, the Hermantown, Minnesota product has the potential to be an NHL stud.
Standing 6-foot-4 and weighing in at 225 pounds, Samberg just oozes potential. He spent the past three seasons with the University of Minnesota/Duluth Bulldogs, and in 2019-20, recorded one goal and 20 assists for 21 points in 38 games while logging big minutes. He also suited up for the U.S. at the 2020 World Juniors.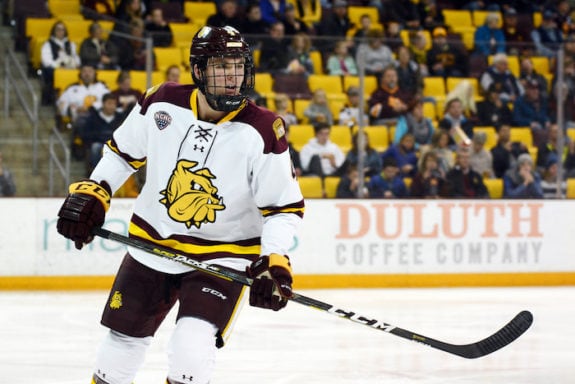 The Jets wanted the 2017 second-rounder to turn pro before last season — and he likely would have been an NHL regular given the sorry state of their d-corp for much of 2019-20 — but the now 21-year-old opted to return to the Bulldogs to pursue a third-straight NCAA Frozen Four championship. Unfortunately, their chance at a three-peat was kiboshed when the season was cancelled due to COVID 19.
Samberg, who inked an ELC this spring, could be a top-four NHL blueliner as early as this season. Josh Morrissey is, of course, the Jets' top left-handed defenceman, but after that the depth chart gets murkier, with Nathan Beaulieu, Derek Forbort, and Luca Sbisa the other options.
2 — Ville Heinola (D)
2019-20 Teams: Winnipeg Jets (NHL), Manitoba Moose (AHL), Team Finland (2020 World Junior Championship), Lukko Rauma (SM-liiga)
2020-21 Team: Lukko Rauma (Loan until the 2020-21 NHL season begins)
Just like the Jets like their Yankee defensemen, they also like their Finnish imports, drafting six since 2015.
Ville Heinola is the most promising of the bunch. The 20th-overall pick in the 2019 NHL Entry Draft turned heads last season by making the team out of training camp as an 18-year-old and playing well beyond his years in eight games, recording one goal and four assists while skating 18:04.
Among his accomplishments were being the first player born in 2001 to tally an NHL point and being the youngest defenseman in Jets history to score an NHL goal.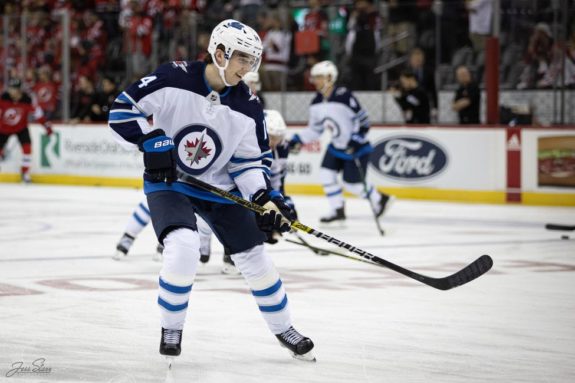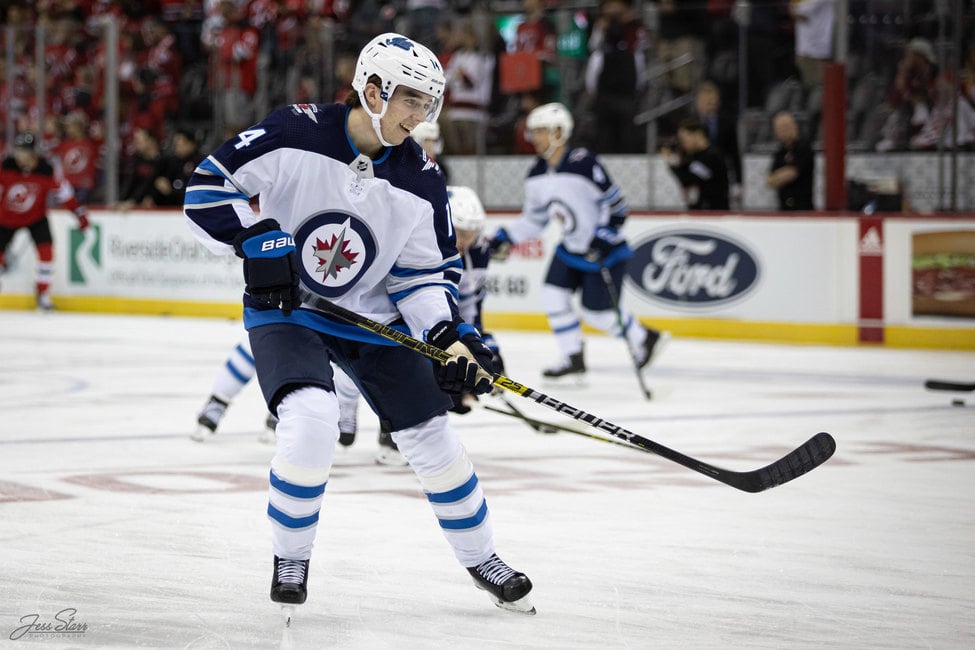 After a brief stint with the Moose, the Jets — not willing to "burn" a year of his ELC — sent Heinola back to his club team, Lukko Rauma, in the Sm-liiga. He also suited up for Finland at the 2020 World Juniors. Currently, he's playing for Lukko during the NHL offseason.
For someone so young, Heinola has great hockey IQ and vision, makes efficient and effective reads more often than not, and moves the puck extremely well. Like Samberg, he will challenge for a full-time NHL gig in 2020-21.
1 — Cole Perfetti (C)
2019-20 Team: Saginaw Spirit (OHL)
When Cole Perfetti somehow fell to the Jets at 10th overall at the 2020 NHL Entry Draft, he immediately became their top prospect and is the player they hope will develop into their next elite centre.
Related: Jets Get Their Future Top-Six Forward with Perfetti Draft Pick
Perfetti possesses a lethal shot and a brilliant offensive mind, evidenced by his consistent dominance in the OHL as a member of the Saginaw Spirit. The left-hander recorded 37 goals in each of his first two seasons with Saginaw, and has piled up 185 points in just 124 games overall.
With the Jets' recent trade for Paul Stastny — who has one year left on the contract the Jets inherited from the Vegas Golden Knights — Perfetti will not be the Jets' second line centre in 2020-21. But there's no doubt he is waiting in the wings for the role and no doubt that he has all the makings of a superstar.
---
---