Daniel Sprong's four-game point streak ended last night against the New York Islanders. However, his three goals and one assist during that span coincided with the Washington Capitals' current six-game win streak. The team has also won nine of their last 10 contests. The 23-year-old Dutchman is proving to be a valuable asset for the Capitals this season. The team will need him to continue his solid play for a deep playoff run.
Who is Daniel Sprong?
The Pittsburgh Penguins selected Sprong 46th overall in the 2015 draft. Yes, yet another ex-Penguin providing quality play for the Caps. The prior season, the winger led the Charlottetown Islanders of the Quebec Major Junior Hockey League with 88 regular-season points, adding 11 more in the playoffs.
After that fantastic year, he shared time between Charlottetown and Pittsburgh. He played 33 games in the QMJHL and 18 in the NHL during the 2015-16 season. He signed a three-year entry-level contract with the storied franchise and made the opening roster. His NHL numbers were modest (two points, minus-1), but he was able to still achieve a solid 46-point campaign at the junior level after being sent down.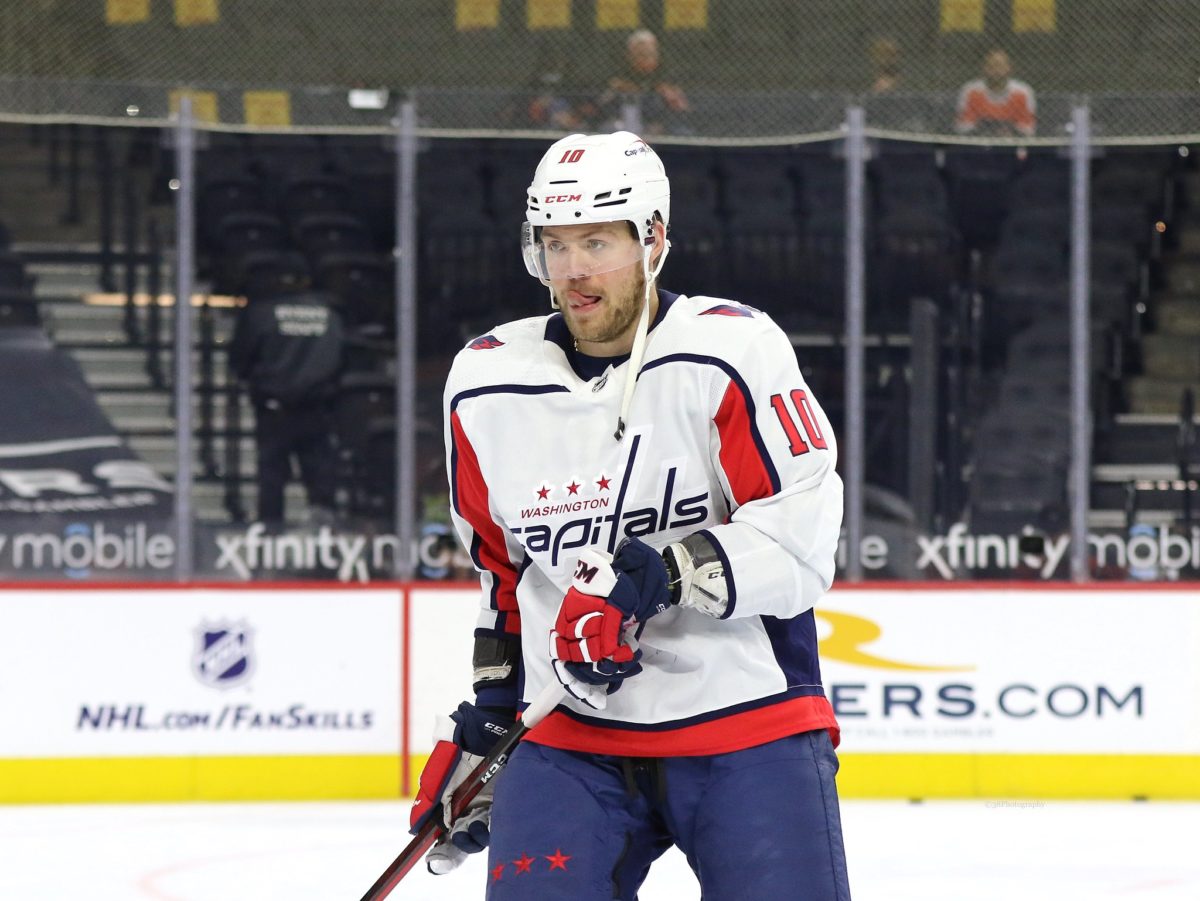 Sprong would earn more points (59) in fewer games (31) for Charlottetown during the 2016-17 season, which was the highest points-per-game average in the QMJHL. Unfortunately, his NHL experience that year was burdened by a nagging injury he sustained in practice during the prior year's Stanley Cup playoff run with the Penguins. The recovery kept him sidelined until January 2017, and he remained in the QMJHL to polish his play. He was called up to the playoff roster for the Wilkes-Barre/Scranton Penguins, Pittsburgh's minor-league affiliate, after his last season in Charlottetown ended, and then eventually served as a reserve on Pittsburgh's 2016-17 Stanley Cup roster.
In 2017-18, he played a majority of his season for Wilkes-Barre/Scranton, tallying 65 points in 65 games. At the NHL level, he accrued three points in just eight games for Pittsburgh. An injury to his shoulder forced him to be out of hockey for over half a year, and eventually he was traded by Pittsburgh to the Anaheim Ducks in 2018 after a sub-standard showing in 16 appearances that season.
Over the next year and a half, Sprong would play 55 games for the Ducks, scoring 15 goals and six assists. Anaheim would place the winger on waivers, and after back-and-forth stints with the San Diego Gulls of the American Hockey League, he was eventually traded to Washington's AHL affiliate, the Hershey Bears.
Taking a Shot
The Capitals gave up defenseman Christian Djoos in the deal, so the exchange was risky. Sprong was seemingly Injury prone and his defensive play was an issue. However, he still earned a two-year, $1.45 million contract extension despite the uncertainty.
His career plus/minus in the NHL was minus-17 before joining Washington. To make it worse, if his QMJHL and AHL numbers are considered, his plus/minus shoots much further down to minus-46. Good thing he can accumulate points.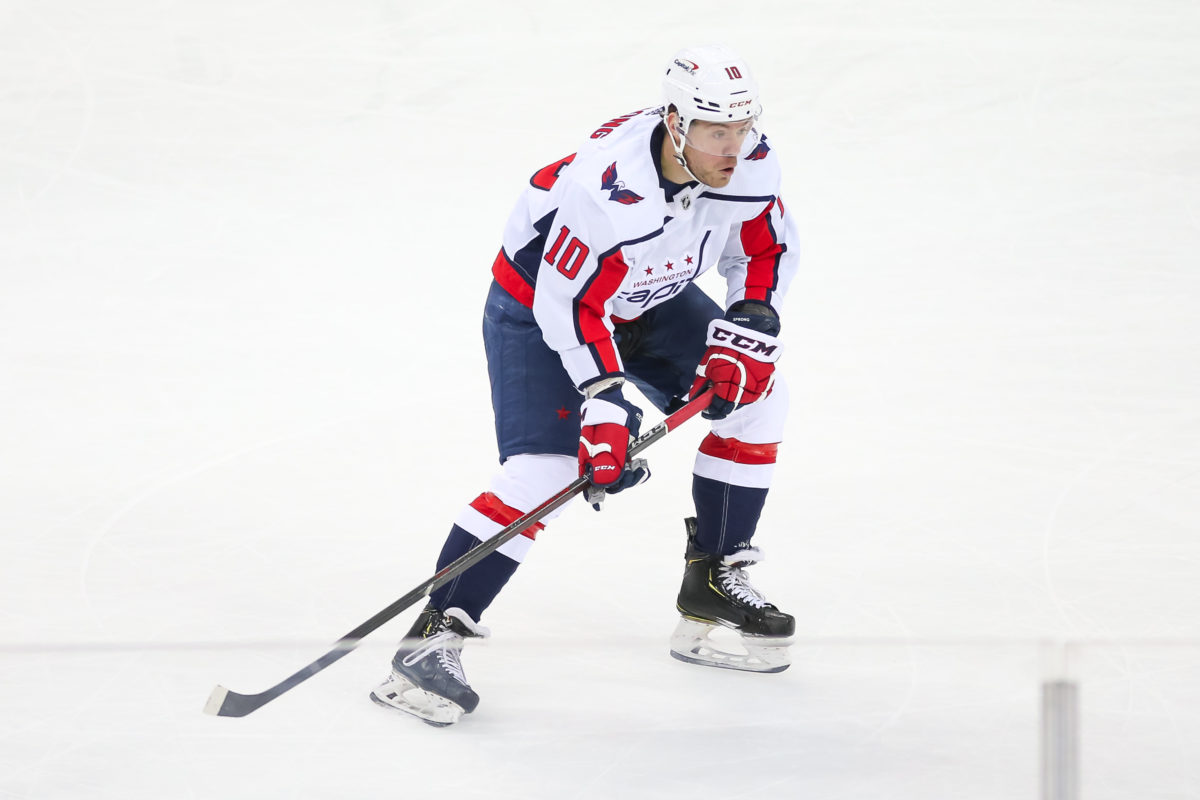 Sprong's offensive promise is most apparent in his junior and minor league numbers. In the QMJHL he scored 117 goals in just 199 games. He also added 144 assists during that span. In the AHL, his combined numbers between Wilkes-Barre/Scranton, San Diego and Hershey were 44 goals and 54 assists in 109 games. Still, there's that looming plus/minus.
This year has been different. In his first 18 games as a Capital, he has six goals and two assists. Now in his sixth NHL season, his eight points are second-best in his career and there are still 27 games remaining on the team's shortened-schedule. If Sprong plays the remainder of the season, he's on pace to finish with 21 points, but his recent play may lead to increased minutes. That's a great sign for the Capitals as a whole.       
Sprong's Scoring Giving the Caps a Boost
After finishing his OMJHL career at Charlottetown, he had accumulated the third-most goals and second-most points in team history, tied for most playoff goals, and broke the franchise playoff records for assists and points. There is no doubt that Sprong has the ability to produce when given opportunities.
During his four-game point streak, he has flourished on the third line with Jakub Vrana and Evgeny Kuznetsov. The trio was the second line in their March 11 match with Philadelphia. Srpong's minutes have also grown in this short span. On March 9, he skated for 12:27 against New Jersey, but against Buffalo just six days later, he was on the ice for 16:20. Head Coach Peter Laviolette is taking notice.
What is most important, however, is that pesky plus/minus issue. Don't worry, it wasn't forgotten. So far this year, Sprong has a plus-5 rating. Not bad. The risk seems to be paying off and the uncertainty has been slightly relieved. If Sprong can continue his contributions, the Capitals may have found another youthful addition that can add quality depth for a Stanley Cup run.
---
---