Ben Gaudreau
2020-21 Team: Sarnia Sting (OHL)
Date of Birth: Jan 11, 2003
Place of Birth: North Bay, Ontario
Ht: 6-foot-2 Wt: 165 pounds
Catches: Left
Position: Goalie
NHL Draft Eligibility: 2021 First-Year Draft Eligible
Rankings
As one of the top goaltending prospects available at the 2021 NHL Draft, Ben Gaudreau has managed to keep his name in the mix despite having sub-par statistics throughout the 2019-20 season. The reason for this is understandable, as Gaudreau played for the Sarnia Sting, who was one of the worst teams in the OHL at the time.
Related: THW 2021 NHL Draft Guide
Under normal circumstances, Gaudreau would be more than halfway through his second OHL season, showcasing just how much he has developed his overall game. Instead, he is stuck in limbo like so many prospects, meaning that scouts will have to go off prior knowledge when assessing his play until he can get back on the ice full-time.
However, the good news for Gaudreau is that the tape is very kind to him. Despite having mediocre statistics, he is a calm, smart goalie who tracks the puck at an elite level and can use his 6-foot-2 frame and athleticism to cover the crease with ease.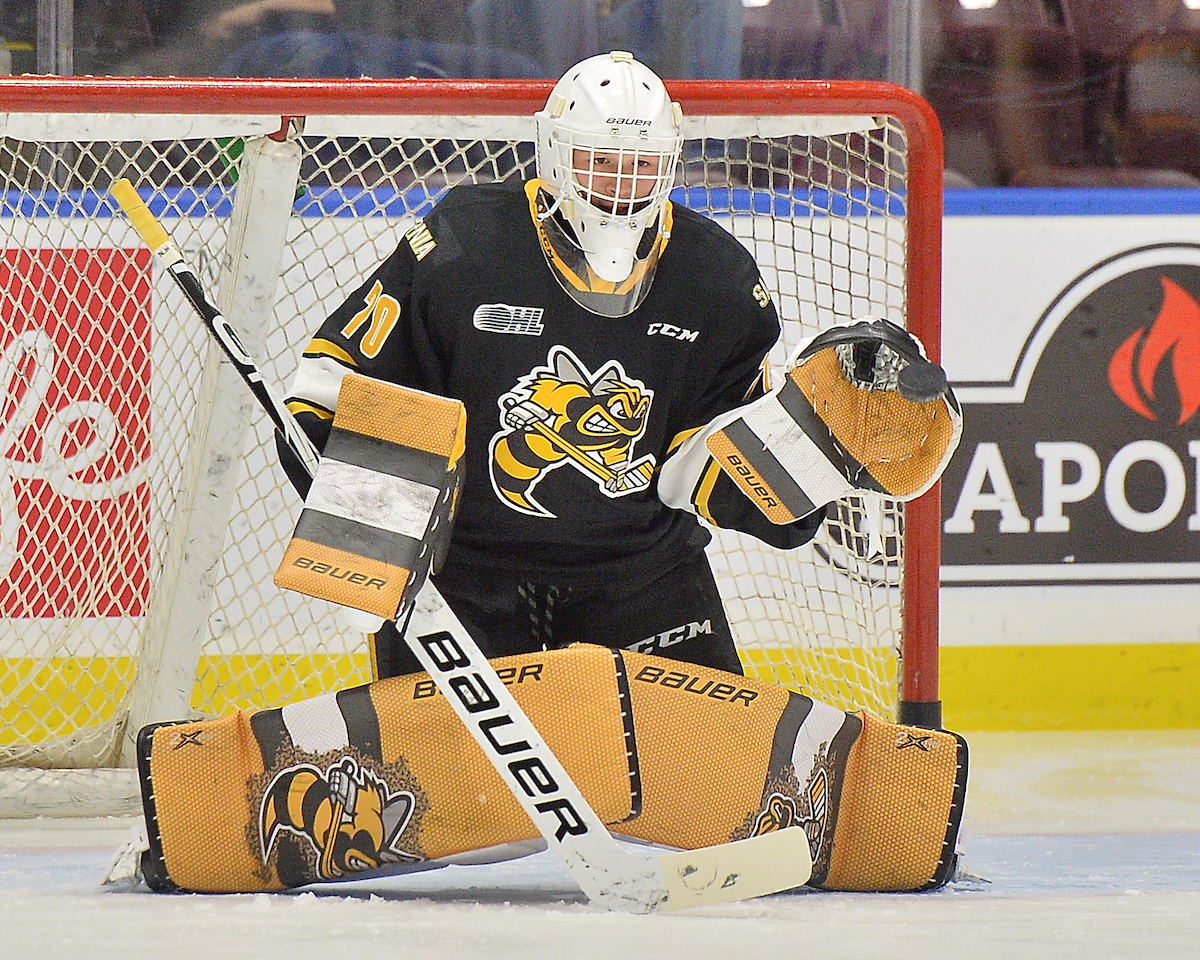 To put it simply, he has everything that an NHL general manager dreams of in a goaltending prospect, making him one of the most interesting players to watch in the 2021 Draft.
Ben Gaudreau – NHL Draft Projection
Barring a sudden shift, Gaudreau should be one of the first goalies to hear his name called in 2021. However, despite most agreeing on this, where he could be drafted is a big question mark.
Some scouts see Gaudreau as a late-first round to early second-round pick, as he has the can't-miss intangibles of a starting NHL goaltender. Others see him more in the third-round range, as goalies can fall down the draft board, especially during times of uncertainty.
Related: THW's 2021 Draft Guide
Putting all of this together, it would make sense for Gaudreau to be part of that mid-second-round rush on goalies that seems to happen every draft. He will likely be towards the top of that rush, potentially as the second goalie drafted in 2021.
Quotables
His style and composure in net remind me of Carey Price. While this is by no means saying Gaudreau will turn out like Price because that is impossible to predict, he has a lot of similarities to him. The team that gets the goaltender will be getting a guy that definitely has the chance to be a future NHL starting goalie

Mathieu Sheridan – THW
Gaudreau is extremely athletic, and his rebound control and glove hand stand out as strengths. He always seems calm and collected between the pipes.

Josh Bell – FCHOCKEY
Strengths
NHL-caliber build
Athletic player who moves well in the net
Can track the puck at an elite level
Under Construction – Improvements to Make
Needs more playing time
Hard to judge if his poor statistics were just a product of a bad team
Related THW Draft Profiles
NHL Potential
Everything is there for Gaudreau to become an NHL-caliber goalie. He has the physical attributes needed to excel and the mental fortitude to keep up with the game at all levels of play.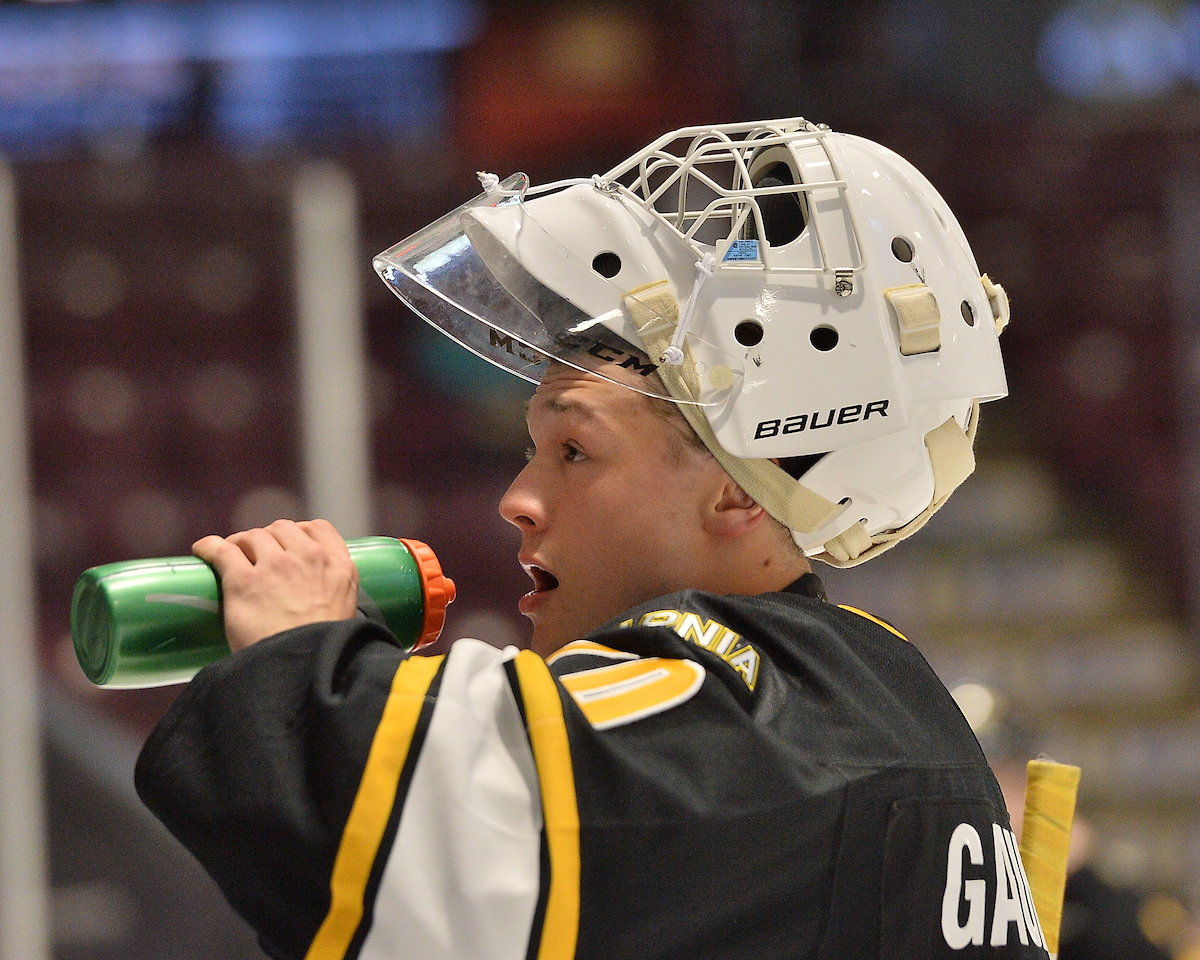 If things go well, he could easily be an AHL starter in a few seasons that is capable of stepping into a back-up role with a franchise. From there, he could develop into a full-time NHL starter in his own right. All he needs is the time to work on his game and put everything together.
Risk/Reward Analysis
Risk – 4/5, Reward – 5/5
Selecting a goaltender high in the draft is always a risk, as their development is often slow and imprecise. That being said, Gaudreau has the potential to be worth a first or second-round pick. If he is selected before the mid-second round, then that is a risky pick with the potential to pay off in a big way if he can develop into a full-time starter. If he falls to the third-round, then he could become one of the steals of the draft.
Videos