The Washington Capitals look to take a 3-2 advantage in their Stanley Cup quarterfinal series with the New York Islanders tonight at the Verizon Center. Washington is looking to maintain home ice advantage by taking their first series lead.
The Capitals tied the series up Tuesday thanks to a Nicklas Backstrom goal 11:09 into overtime, securing a 2-1 win. The team looked synchronized, in control and calm under pressure – especially Braden Holtby in goal who made 36 saves. Holtby has a 1.89 GAA and a .943 save percentage going into Game 5. Andre Burakovsky will take Eric Fehr's spot in the line-up again with Fehr still feeling the effects of an upper-body injury he sustained in Game 3.
Tom Wilson in Cross-hairs
Tom Wilson will start and he'll likely need to watch his back. Wilson recorded a gut-wrenching hit on Lubomir Visnovsky in Game 4 and was assessed a two-minute minor penalty for charging – which many Islanders felt was a punishment that did not fit the crime. Islanders' Kyle Okposo labeled Wilson "an idiot" in the aftermath, while his teammates went on record by stating that they felt Wilson targeted Visnovsky for injury. Visnovsky did not return to the game after the hit. Capitals' coach Barry Trotz and forward Brooks Laich both fueled the fire by publicly defending their enforcer Wilson, who, for his part is taking it all in his stride.
"I've kind of dealt with that my whole career when you're a physical player, there are always big hits and you're always going to play them again," Wilson told The Washington Post. "Whatever they want to do in retribution or revenge or retaliation, if they feel that's the case, they need to do that, then so be it. We'll take it and continue to focus on the win." And, expect to see that "retribution" tonight – probably early on in the proceedings.
On offense, Backstrom is the player in form during this series. He leads the team in goals (3), assists (3) and points (6). The quiet Swede gets the job done for his team aided, of course, by superstar Alex Ovechkin who has 23 shots, two goals and an assist in the series. If the Capitals go on to win this series and go the distance this spring, those two players, along with Holtby and a strengthened defense, will be major factors.
Recipe for Stanley Cup Success
New additions in the off-season, Defensemen Brooks Orpik and Matt Niskanen were instrumental to the Capitals' regular season success, and are important to their postseason potential. Washington has needed a big-hitting defenseman who can control his zone and they got that in Orpik. Niskanen complements Orpik nicely and newest addition Tim Gleason completes the rejuvenated defense, which already had three quality players in Mike Green, John Carlson and Karl Alzner.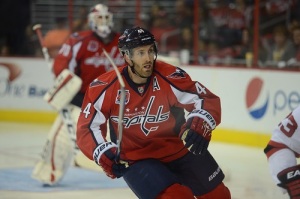 An experienced coach, a stronger D, an on-fire goaltender, a strong enforcer, a solid offense and the "go-to guys" getting the job done is a recipe for Stanley Cup success. The Capitals are capable of taking the Cup, yes – even with the New York Rangers as their likely Round 2 opponents – and they'll be looking for a big win in Game 5 against the Islanders to boost confidence.
Capitals vs. Islanders: 7 p.m. at the Verizon Center.
Glynn Cosker is based in the Washington D.C. area. A professional writer and blogger, Glynn brings insightful news and information on all things related to the Washington Capitals for THW. Follow Glynn @DCPuckDrop