As history recalls, the Rangers found themselves on the brink of elimination last year in the 2014 Eastern Conference Semi-Finals falling behind 3-1 to the Pittsburgh Penguins. This year things are a little different as the Penguins find themselves in a 3-1 deficit against the Stanley Cup favorites.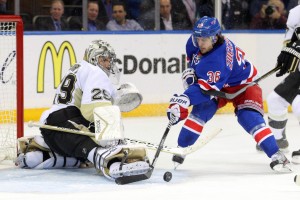 Previous to the teams recent success the Rangers have had against Pittsburgh in the playoffs, the Pens had won 4 of their previous 5 post-season appearances against the Blueshirts. That all changed last year when the Rangers overcame a 3-1 deficit to win the best of seven series. The Rangers had played five games in seven days, due to going to seven games in the first round and scheduling conflicts at Madison Square Garden. They were the first team to have such a hectic schedule in 25 years.
What We've Seen This Series.
This has been a close series, maybe even a little to close for comfort given the difference in the standings between each team in the regular season as well as the depleted defense the Penguins have had to work with.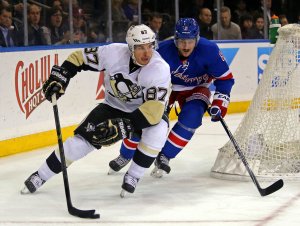 Nine of the last 11 playoff games between the two teams have been decided by two or fewer goals, including four one-goal games in this series. The deciding factor has been in the hands of the team that has been able to capitalize on its scoring chances.
Aside from starting game 4 on their heels, the Rangers have started each game with speed, leaving Pittsburgh to adapt to their surroundings instead of playing their game. The Penguins, who have two or fewer goals in 13 of their last 19 games, are a loss away from elimination after dropping consecutive home playoff games to the NHL's best regular-season road team. The Rangers have won 12 of their last 13 on the road, allowing 15 goals.
Goaltending has not been an issue for Pittsburgh, but it needs offense from Evgeni Malkin, who has no points and just four shots in this series. Sidney Crosby has been solid, but he cannot do it alone and needs his team to step up their game or else they will be singing the Broadway Blues all the way to Pittsburgh Friday night.
Last night's @MSGNetworks @SAP Defining Moment was the first #NYR goal scored of the game by @CarlHagelin. pic.twitter.com/R6fZpc4xja

— New York Rangers (@NYRangers) April 21, 2015
Hey, Hey, Hayes!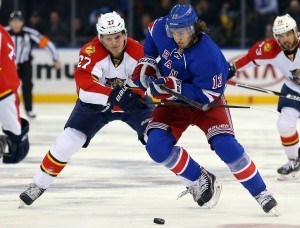 Kevin Hayes and his team have put the Pittsburgh Penguins on the brink of elimination. Hayes scored at 3:14 of overtime to give the Rangers a 2-1 victory in game 4 and a 3-1 lead in the best-of-seven first-round Eastern Conference playoff series.
"It will be a memorable one, for sure," Hayes said after his first playoff goal.
Scoring goals is nothing new for the Boston College product, who helped his team backbone the best NHL regular-season record and clinch the President's Trophy with 17 goals, 45 points and a team best 29 points since the NHL All-Star break.
— New York Rangers (@NYRangers) April 23, 2015
Watch @KevinPHayes12 win it in OT for #NYR!! Full highlight: http://t.co/fCAtdAxL0S https://t.co/gXSraCsRA9

— New York Rangers (@NYRangers) April 23, 2015
I can't see New York blowing a 3-1 lead and going seven games against a banged up Pittsburgh team. This series is their ship to wreck as they head into game 5 Friday night on home ice.
Now lets see more of this all the way to the Stanley Cup!
What does your #NYRWINFACE look like? Use the hashtag to share! pic.twitter.com/g3i1XQ1UWa

— New York Rangers (@NYRangers) April 23, 2015