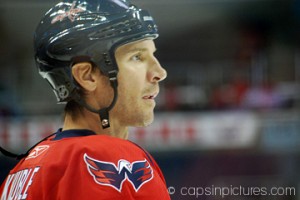 With the Washington Capitals preparing for their first-round match-up with the New York Rangers starting Wednesday, the organization found some time to do a little housecleaning.  The team announced this morning that they have signed right wing veteran Mike Knuble to a one-year, 2 million dollar contract extension.  This is a $800,000 pay cut from the two-year deal he signed in the summer of 2009 that brought him to Washington.
Knuble has scored at least 21 goals every season for the last eight years.  His consistent, "get it done" play was just what the Capitals needed when they signed him.  His veteran presence and experience was also key in partially replacing the role Sergei Fedorov held before leaving for the KHL.  Knuble's presence in Washington helped develop players who wished to play a similar style like Brooks Laich and Eric Fehr.
While at first glance it may seem like re-signing Knuble was the best move for the Capitals, it does create many concerns for the team heading into the offseason.  As it stands now, the Caps have five forwards set to become unrestricted free agents: Marco Sturm, Jason Arnott, Matt Bradley, Boyd Gordon, and Brooks Laich.  Unless something drastically changes in the playoffs, the Caps will likely let Sturm and Bradley walk.  Sturm has not been living up to his salary and Bradley was essentially escorted out when Matt Hendricks was re-signed.
That leaves Gordon, Laich, and Arnott who need new contracts.  Gordon is likely safe, since he is a center and the Caps traded away his competition when they sent David Steckel to New Jersey (unless they believe AHLer Jay Beagle is close to making the team).  This leaves Laich and Arnott being the most affected by the Knuble re-signing.  Arnott has been great for the Caps, and they will at least attempt to get a deal done with him this summer.  Laich is the player who should be most concerned about his future in Washington.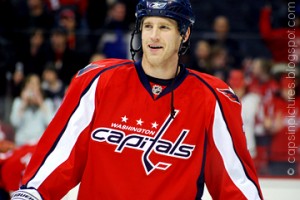 Laich can play any of the three forward positions, but he usually plays on the wing.  He has a very similar style to Knuble, and was one of the players who flourished under Knuble's influence last season.  With a cap hit of just over 2 million from his last deal, Laich is due for a raise with consistent production around 20 goals.  He and Knuble both park themselves in front of the opponent's net to earn their goals.
Although Knuble's production may be better over the years, Laich has the advantage in several aspects of the game.  Laich is a better skater with softer hands, and he is used on both the power play and the penalty kill frequently.  He also has a reputation off ice as being one of the most hard-working players and a leader.  His intangibles can't be ignored.
The concern is that it was becoming clear that the Caps were going to have to make a choice between these two players.  It seems as though they may have made their choice with the Knuble signing.  If that is true, this signing is a mistake.
Knuble is 39 years old.  His production is going to drop drastically, and soon.  This is why he only got a one year extension.  However, it is also the main reason that extension may end up costing the Caps.  With the team getting older, it's no longer crucial for the team to have a "father" figure like Knuble.  If the Caps feel they still need one, they should focus on re-signing Arnott, who appears to be more vocal and influential over players like Alex Semin anyway.
Laich is 12 years younger.  At 27, he has many more good years left.  The Capitals have preached that they want to build a team for long-term success.  Locking up Laich would help that long-term success.  If it turns out that they gave that up for one more year of Knuble, that would certainly be a mistake.
It may not come to this.  The salary cap is projected to go up for next season to possibly as high as 62 million.  The Caps know what Laich brings to the table and will try to re-sign him.  It was great that the Capitals were able to get Knuble to take a cut, and he has certainly earned a contract with his play in DC.  However, it may end up costing the Capitals more than that one year is worth.