Before you say anything, there really is such a thing.
From the Merriam-Webster dictionary:  a highly nutritious secretion of the pharyngeal glands of the honeybee that is fed to the very young larvae in a colony and to all queen larvae.
Proving P.T. Barnum wasn't wrong, there are dozens of royal jelly products on the market.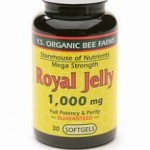 Bee secretions on a Ritz.  Mouth watering, isn't it?
Royalty will be invading the HP Pavilion on Thursday night, in the form of a team of grizzled, battle worn, semi-toothed hockey players from Los Angeles.  The Kings, by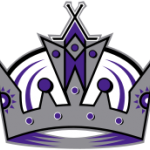 virtue of their season ending home-and-home series loss to arch rival Anaheim, slipped to the seventh seed in the West and thus will play San Jose in the first round of this year's playoffs.  The Sharks finished with a 7-2-1 kick and overtook the Detroit Red Wings to secure the second seed.  Discussing the challenge at hand, Drew Doughty said, "We beat them there before. I think the game was 4-1 and we played a pretty dominant game, so there's no reason why we can't go there for that first game on Thursday and do the same thing."
Optimism notwithstanding, the Kings' chances in this series took a massive hit when star player Anze Kopitar's ankle turned into royal jelly after this play  (note to the squeamish:  it's a bit difficult to watch):
All in all, the Kings' knees have to be slightly jellified at the notion of the task at hand – upending the four-peat division winners who come into the series mostly healthy, have a top six that would make Chuck Norris tremble and will have 17,562 pimply-faced computer nerds cheering them on in four of the possible seven games, should it go that far. This is a team that shook their reputation as a underwhelming playoff club last year in a stirring run to the conference finals, then went out and picked up a Stanley Cup-winning goaltender to bolster an already ridiculously loaded club.  And all they had to do was write a check.
The following is an overview of the
opening round series between these two division rivals.  Caution:  objects in mirror may be closer than they appear.
Season records: San Jose finished 48-25-9 (105 points).  Los Angeles finished 46-30-6 (98 points).
Season series: The Sharks and Kings each won three games versus one another this season.  The Sharks won 6-3, 1-0 and 6-1; the Kings triumphed 4-0, 3-2 (SO) and 4-3 (SO).  Each team won two out of three on its own ice.  In the series, Patrick Marleau paced San Jose with three goals and five assists.  Los Angeles was led by Dustin Brown, who notched four goals and one assist in the six games.
Key injuries: San Jose has defenseman Kent Huskins on the IR with the ubiquitous "upper body injury", and Ryan Clowe has a similarly-vague "lower body injury".  As seen above, Los Angeles has lost their top player Anze Kopitar to torn ligaments, but appears to have top line right winger Justin Williams back for game one of the series.  Somewhat surprisingly, nearly forgotten winger Scott Parse has been cleared to play after missing all but five games this season.
Top five point scorers:
San Jose:  Patrick Marleau, 73; Joe Thornton, 70; Joe Pavelski, 66; Dany Heatley, 64; Ryan Clowe, 62
Los Angeles:  Anze Kopitar, 73; Dustin Brown, 57; Justin Williams, 57; Ryan Smyth, 47; Dustin Penner, 45
Starting goaltenders:
San Jose:  Antti Niemi (35-18-6, 2.38, .920)
Los Angeles:  Jonathan Quick (35-22-3, 2.24, .918)
Goals for:
San Jose:  248 (2.96/game, 6th)
Los Angeles:  219 (2.55/game, 25th)
Goals against:
San Jose:  213 (2.54/game, 10th)
Los Angeles:  198 (2.39/game, 6th)
Power play:
San Jose:  23.5% (2nd)
Los Angeles:  16.1% (21st)
Penalty kill:
San Jose:  79.6% (24th)
Los Angeles:  85.5% (4th)
A defensive-oriented club even at full strength, the Kings will need to form a Colgate invisible shield around goaltender Jonathan Quick, much like in this ridiculous 1958 commercial:
On paper, San Jose's offense skates circles around Los Angeles' – literally and figuratively.  Their fifth leading scorer (Ryan Clowe) tallied more points than all but Anze Kopitar, who will be carrying his injured leg in a cryogenic freezer for the next several months.  The Sharks possessed a lethal power play, whereas the Kings had theirs powered by hamster wheel all season long.  Defensively, the Sharks gave up one more shot per game on average (28.9 versus 27.9), but still ranked in the top ten.  On the draw, Los Angeles was solid at 51.1%.  Unfortunately for them, San Jose was even better at 53.7%, ranking second overall in the NHL.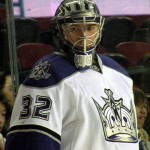 Defense and goaltending win championships, we've all heard that a thousand times.  We've seen it before, as  New Jersey made that credo a religion during their 1995, 2000 and 2003 Cup runs.  Arguably, the Kings' defense of Jack Johnson/Rob Scuderi, Drew Doughty/Willie Mitchell, Matt Greene/Alec Martinez is equal or superior to the Sharks' Niklas Wallin/Ian White, Marc-Edwouard Vlasic/Jason Demers, Douglas Murray/Dan Boyle.  However, without their leading scorer and with a dinged-up Justin Williams (I know, what else is new), Los Angeles must become New Jersey west, slowing down the game, clogging the middle and throwing the Colgate invisible shield around Jonathan Quick.
Terry Murray put his brave face on with the following quote:  "It's going to be a very competitive first round here, and it's going to be fun for the fans, there's no question about that. Northern California and Southern California."  Probably true, but it doesn't exactly evoke images of Bluto from Animal House.
For San Jose to win, they need to control the attack zone and bury their chances.  They also need to bury the ghosts of postseasons past, always a major concern in the Silicon Valley.  They will attempt to counter the grind-it-out style of Los Angeles with speed, tape-to-tape passing and finding open ice areas for their snipers.  Goaltender Antti Niemi will need to resurrect his success from last season's playoffs, as Jonathan Quick is every bit as adept between the pipes.  In an attempt to out-bland Terry Murray, Sharks coach Todd McLellan said, "It's nice to see the three California teams in the playoffs.  That's exciting not just for the National Hockey League but also the minor hockey programs in all three of the cities. We're excited for that."  Yep, that's bulletin board material for you.
The series starts in San Jose on Thursday night.  Don't forget to serve some royal jelly.  I hear it goes great with beer.
Walter McLaughlin is a Los Angeles Kings correspondent for The Hockey Writers. He is an avid sports fan, having followed the Kings since living in L.A. in the mid-1970's, as well as suffering through Seattle sports teams' general futility. He has a Bachelor's degree in Finance and has worked in community banking for over 25 years, specializing in SBA loans. He is married and has two daughters.