If anyone deserves credit for Montreal's ascent to second place in the Eastern Conference, it is goaltender Carey Price. The (soon-to-be) 26 year old was rightfully in the Vezina talk for the first two months of the season post lockout. Unfortunately, something happened on the way to the postseason.
Thanks to Price's below two goals-against and .925 save percentage through January and February, the low scoring Canadiens surprised the league by overtaking the favorite Boston Bruins for the top spot in the Northeast Division. The Canadiens justification for keeping Price over former playoff hero Jaroslav Halak finally looked to be the correct choice.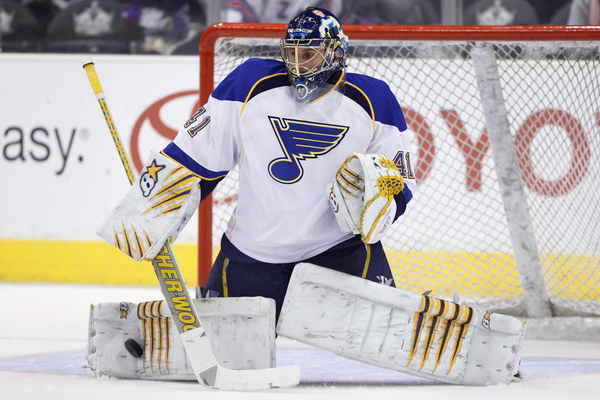 Price's numbers took a downturn in March when his save percentage fell to .903 and his goals-against ballooned to 2.81, over a goal more than the first two months of the shortened season. The good news for Montreal is they were not stuck in any prolonged losing streaks so Price's struggles were not glaring.
As the playoffs loomed, Price picked the worst time to play his worst hockey. As the Canadiens continued to struggle putting the puck in the net, their opponents had an easier time scoring on Price. The netminder's numbers took a nasty nosedive to the tune of an .876 save percentage and a nearly three and a half goals-against. Thankfully for the Canadiens and Price, the Bruins also struggled to find consistency and Montreal won the division and the second seed. Price's struggles carried over into round one against the Ottawa Senators, which led to a five game loss and questions about the British Columbia native. Price finished with an .894 goals-against while allowing an average of over three goals in the four games he started. Price was injured for game five and back-up Peter Budaj started the final game.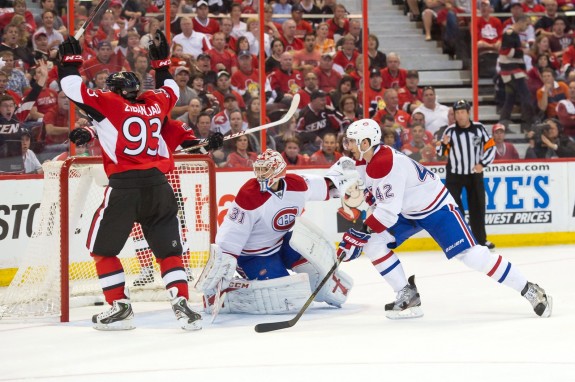 Carey Price played in 39 of Montreal's 48 games. Stretched out to a full 82-game schedule, that is approaching the 65-70 game plateau. Was it a case of Price being fatigued in April and May? Corey Crawford of the Stanley Cup champion Chicago Blackhawks played in nine fewer games and only saw one month of inconsistent play. In January, February and April, Crawford had a goals-against of under two and a save percentage of over .930. When he struggled in March, reliable back-up Ray Emery spelled Crawford and while he struggled himself, he did help keep Crawford ready for the final stretch in April and the team's eventual run to a championship. Price played in 12 of his team's 15 games and played in another 11 in April. Did head coach Michel Therrien not have faith in Budaj to play him more often or was he trying to fight off the Bruins or maybe a case of both?
If it is a case of not having trust in Budaj, why would General Manager Marc Bergevin reward him with two years and pay him over $1 million dollars? In order to keep Price fresh for a Cup run, Budaj is going to have to play more than a handful of games during the 82-game season and he's going to have to show why Bergevin showed faith.
The Canadiens did face numerous injuries before the playoffs started. An underrated injury that really hurt the team was that of their hardest hitting, defensive defenseman Alexei Emelin. The loss of Emelin on the blueline depleted the team's veteran presence and opponents no longer had to worry about Emelin shutting down their entrance into the offensive zone. Emelin was paired with Andrei Markov and played over 20 minutes a night, losing that steady pairing forced younger players into increased ice time and opposing offenses were able to take advantage.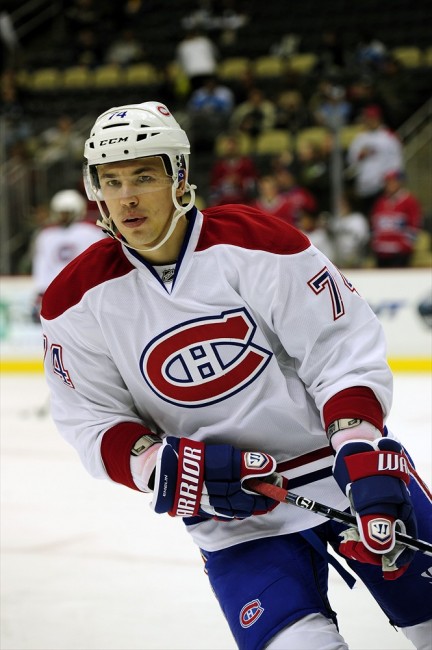 As long as the Canadiens continue to maintain their low scoring approach, they are going to have to rely on defense and goaltending. If the team is going to build on last season's success, they are going to need the early season Carey Price, not the Carey Price that became the team's weak link. Otherwise, it will be a long season for both Price, but the entire city of Montreal.
The NHL regular season schedule was released on Friday. Check out our partners at TiqIQ for the best deals on Montreal Canadiens tickets for all 2013-14 games.