This past week, many of the national teams officially kicked off their preparation to compete for Gold in Sochi, Russia during the 2014 Winter Olympics by inviting a myriad of NHL and international players to their orientation camps.  The Nashville Predators are set to make an impression on the 2014 games, with General Manager David Poile at the helm of the United States team and 7 players in the organization receiving invites to the camps.
Which Predators Got an Invite?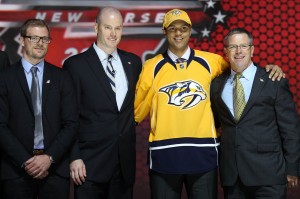 United States – Seth Jones, Craig Smith
With David Poile responsible for building Team USA in 2014, it's no surprise that Seth Jones, Poile's prized 4th overall pick in the 2013 NHL Entry Draft received an invite to the camp.  Although Seth Jones may have been the highest defenseman picked in this year's draft and even with David Poile building the team, Jones has his work cut out for him.  Jones will be competing for one of the limited defensive spots on the team against the likes of Dustin Byfuglien, Brooks Orpik, Paul Martin, Ryan Suter, Keith Yandle, John Carlson and other young prospects like Danny DeKeyser, Jacob Trouba, and Justin Faulk.
Craig Smith may come as a surprise to those outside of Nashville and one to some of those in the Music City, but Smith has repeatedly made a name for himself in international tournaments playing for Team USA.  With a talented and gritty forward lineup for 2014, Poile will have a tough decision ahead, but I would not count on Smith making it past camp.
Canada – Shea Weber
An easy choice for Yzerman, Shea Weber's dominance on the blue line throughout the past NHL seasons, as well as strong play during the last Olympics has most likely earned him a spot on Team Canada's blue-line in Sochi.  The only thing left is to decide which all-star defenseman he should be paired with; Drew Doughty, Kris Letang, or P.K. Subban.
Sweden – Patric Hornqvist
A member of the 2010 Swedish team that finished fifth in Vancouver, Hornqvist is not a definite to make this year's team, with young guns like Gabriel Landeskog and Gustav Nyquist competing for spots in the talented forward corps.  If nothing else, Hornqvist could make the roster for Team Sweden, without making it into the lineup.
Finland – Pekka Rinne, Joonas Jarvinen
One of the more surprising aspects of Team Finland is that they will most likely boast the strongest goaltender group out of all the national teams set to compete in Sochi.  Also, as a result, its entirely possible that Rinne could end up losing the starting position to Stanley Cup Runner-up Tuuka Rask and former Stanley Cup winner Antti Niemi.
As one of the 5 NHL defenseman invited to Team Finland's orientation camp, Joonas Jarvinen could stand a chance at competing for one of the final spots on the defensive squad.  Although Jarvinen has yet to see time in the NHL, his experience in the AHL could prove more valuable to the selection committee than experience in the KHL.
Switzerland – Roman Josi
Predators defenseman Roman Josi will almost definitely make the roster for Team Switzerland.  Josi, although young, has started to become a proven commodity on the blue-line for the Predators and the Swiss have taken notice.  Josi stands to earn a spot on the top-pairing alongside new Philadelphia Flyer defenseman, Mark Streit.
Which Predators Did Not, but Probably Should Have?
Now that the players who received an invite to Olympics orientation camp have been covered, lets take a closer look to see which Predators were left of the invite list that probably could have received an invite over some others: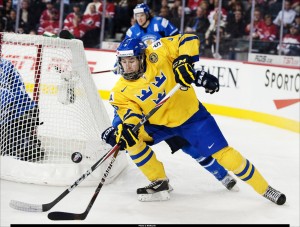 Colin Wilson – Typically considered the Predators most offensively-talented forward, Wilson failed to receive an invite to the Team USA orientation camp set to take place in Arlington, Virginia in August.
Players that got an invite over Wilson: Craig Smith, Trevor Lewis, Nick Bjugstad, Beau Bennett
Filip Forsberg – Although many in Nashville haven't had much chance to see the young Filip Forsberg in action yet, the youngster's talent is undeniable.  Widely considered one of the top offensive prospects from Sweden in recent years, Forsberg will have to wait another 4 years to compete for Team Sweden in the Olympics.
Players that got an invite over Forsberg: Jimmie Ericsson, Oscar Lindberg, Joel Lundqvist, Niklas Persson
Stay tuned for more from Team USA Orientation Camp in August!
The NHL regular season schedule was released on Friday. Check out our partners at TiqIQ for the best deals on Nashville Predators tickets for all 2013-14 games.