In preparation for the 2014 Winter Olympics in Sochi, USA Hockey announced a 25-player roster in June that will centralize in 2013-2014. Final cuts still have to be made, but it's time to take a look at this group of women who will train and compete together this upcoming season in hopes of winning the country's first gold medal in women's hockey since 1998.
Goaltenders
Brianne McLaughlin (Sheffield Village, Ohio), Burlington Barracudas (CWHL)
Molly Schaus (Natick, Mass.), Boston Blades (CWHL)
Jessie Vetter (Cottage Grove, Wisc.), Oregon Outlaws (GLHL)
Although Wisconsin's Alex Rigsby made a strong case to be on this team, she was ultimately cut after the United States' tryout camp in June. That leaves the United States with all three of the goaltenders that competed in the Vancouver Olympics in 2010. The Americans have some questions to answer in goal, and that's not necessarily a bad thing; with both Jessie Vetter and Molly Schaus, they have two very good options for the starting job.
Vetter has been Team USA's go-to netminder for some time now, most notably starting for the team in the 2010 Olympics. She was the winner of the Women's Sports Foundation's Sportswoman of the Year Award in 2009, and also started at the 2011 IIHF Women's World Championships. In 2012, however, Schaus took over Team USA's first-string duties at the IIHF World Championships in Burlington; but with Schaus not on the roster at the 2013 World Championships, Vetter once again assumed the starting role. It remains to be seen who will start in Sochi, but it's going to be a highly competitive season for both goalies, which will be great for the Americans in the long run.
The United States will also be bringing along Brianne McLaughlin. Her abilities don't quite translate to that of a starter in the international game, but she can be a capable back-up at this level. As the NCAA's all-time leader in career saves, she's definitely got some talent, but likely won't unseat either of the other two on the depth chart.
Defense
Kacey Bellamy (Westfield, Mass.), Boston Blades (CWHL)
Megan Bozek (Buffalo Grove, Ill.), University of Minnesota (WCHA)
Lisa Chesson (Plainfield, Ill.), Ohio State University (WCHA)
Jincy Dunne (O'Fallon, Mo.), St. Louis Lady Blues 19U
Gigi Marvin (Warroad, Minn.), Boston Blades (CWHL)
Michelle Picard (Taunton, Mass.), Harvard University (ECAC)
Josephine Pucci (Pearl River, N.Y.), Harvard University (ECAC)
Anne Schleper (St. Cloud, Minn.), Boston Blades (CWHL)
Lee Stecklein (Roseville, Minn.), University of Minnesota (WCHA)
Team USA has decided to carry nine defensemen on its roster this season, meaning they're going to likely have to make three cuts at the position before the final Olympic roster is announced. The staff is going to have some very difficult decisions to make in that regard with the surplus of talent they have on the back-end.
The leader on this blue line is without a doubt going to be Kacey Bellamy, one of two returning defensemen from the 2010 Olympic team (excluding Gigi Marvin, who was a forward). She's one of the most well-rounded defensemen in the world and will be counted on in all situations. Megan Bozek will also play an important role for this defensive corps; coming off a huge senior season at Minnesota, she also has a strong two-way game and has untapped potential at this level. Bellamy, Bozek, Gigi Marvin, and Anne Schleper will carry the load offensively from the back-end; all four provide Team USA with great quarterbacking options on the power play.
Lisa Chesson, Michelle Picard, and Josephine Pucci are three of Team USA' s best defensive-minded blue-liners. Chesson was very impressive at the 2013 World Championships, and Picard and Pucci both have anchored Harvard's defense under U.S. head coach Katey Stone. Although none of these three have top-pairing potential like Bellamy or Bozek, all will without a doubt push for spots in the top-four. Lee Stecklein is another player who also likely fits into a defensive role. Stecklein won't garner big minutes, but she could be a nice depth option and has room to grow.
Maybe the biggest surprise on the whole roster is Jincy Dunne, the 16-year-old defenseman out of Missouri. She may be extremely young, but she's also extremely talented and if any player can overcome inexperience to earn an Olympic roster spot, it's Dunne. Breaking into this team's top-six is going to be very difficult, however.
Overall the United States defenders won't wow anyone offensively, but they're all solid skaters who can handle and move the puck well, which will really help establish the type of game they want to play. Each is going to have to battle hard all year to earn and maintain their spots on the roster, in hopes of competing for the United States in Sochi.
Forwards
Kate Buesser (Wolfeboro, N.H.), Boston Blades (CWHL)
Alex Carpenter (North Reading, Mass.), Boston College (WHEA)
Kendall Coyne (Palos Heights, Ill.), Northeastern University (WHEA)
Julie Chu (Fairfield, Conn.), Montreal Stars (CWHL)
Brianna Decker (Dousman, Wisc.), University of Wisconsin (WCHA)
Meghan Duggan (Danvers, Mass.), Boston Blades (CWHL)
Lyndsey Fry (Chandler, Ariz.), Harvard University (ECAC)
Amanda Kessel (Madison, Wisc.), University of Minnesota (WCHA)
Hilary Knight (Sun Valley, Idaho), Boston Blades (CWHL)
Jocelyne Lamoureux (Grand Forks, N.D.), University of North Dakota (WCHA)
Monique Lamoureux (Grand Forks, N.D.), University of North Dakota (WCHA)
Annie Pankowski (Laguna Hills, Calif.), North American Hockey Academy (JWHL)
Kelli Stack (Brooklyn Heights, Ohio), Boston Blades (CWHL)
The two words that come to mind when looking at the skills of the United States forward group are speed and tenacity. They're not an overly physical bunch but will be able to win battles all over the ice with those traits.
Because of the amount of talent up front, Team USA will be able to easily assemble three scoring lines. Brianna Decker, Amanda Kessel, and Kendall Coyne were united at the 2013 World Championships to create probably the fastest line in the world and should all play top-six minutes this season. Kelli Stack and the Lamoureux twins looked absolutely unstoppable together at the 2012 World Championships in Burlington, Vt., and with Stack back in the line-up, they may be re-united to create another formidable line.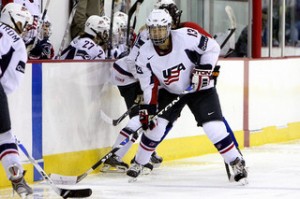 Alex Carpenter and Hilary Knight will also likely play in scoring roles. Carpenter actually ended up on a line with Monique and Jocelyne Lamoureux in Stack's absence, and is one of the U.S.'s best young stars. Knight, as one of the most skilled players in the world, will be a key player in Team USA's offensive game plan. Meghan Duggan's versatility and elite two-way play make her a good fit on any line and she'll likely round out the top-nine. Julie Chu has been a very productive player over the course of her career but would have to fight for top minutes; however, she's sure to provide a veteran presence on a lower line.
"It's not going to be an all-star team, it's going to be a team. And there is a difference," said coach Stone after the roster was announced, and that's where Kate Buesser and Lyndsey Fry come in. They both have some offensive upside, but for the most part they're going to have to provide a presence along the boards and fill important lower line roles to make the final Olympic roster.
The surprise addition up front is Annie Pankowski, the Wisconsin recruit who has yet to play a game at the college or senior level. She's got tons of potential, though, and definitely adds offensive depth. She'll likely have to add some production in a bottom-six role to earn her spot on the final roster.