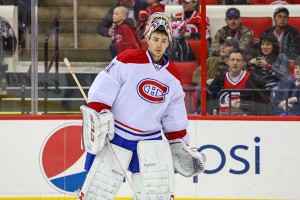 If Montreal Canadiens goalie Carey Price keeps this up, he may achieve something Hockey Hall-of-Famer Patrick Roy never could: Win a Hart Memorial Trophy.
Of course, the lack of an MVP award should not be held against Roy (nor should it be handed to Price in mid-February). Only seven goalies in NHL history have ever won it, with former Habs goalie Jose Theodore being the last back in 2001-02.
And arguing he was a better goalie than Roy is like arguing at the top of your lungs that Canadiens forward Max Pacioretty's six-year, $27-million contract is a bad one… while wearing a banana hammock… over a chicken suit. Or, the equivalent: publishing something to that effect on the CBC website for everyone to see.
Carey Price vs. Patrick Roy
Nevertheless, there are undeniable parallels between Price and Roy, especially now that Price passed Roy for fifth place on the Canadiens' all-time shutout list with 30 with his 2-0 win over the Detroit Red Wings on Tuesday night.
With his 30th career shutout, Carey Price moves into 5th place on Canadiens all-time shutout list… http://t.co/WgSeW8ADEK

— All Habs (Canadiens) (@AllHabs) February 17, 2015
Also of note? Exactly 22 years after Roy made his debut with a win on the road against the Pittsburgh Penguins, Price did the same. But that's so seven and a half years ago by now.
Currently, Price leads the league in both save percentage (.935) and goals-against average (1.93). The last Canadiens goalie to accomplish the feat at season's end? Roy, 23 years ago according to Bertrand Raymond at RDS.
A Different Era
Of course, stats-wise, Roy can never compete with Price. His arguably best season came in 2001-2002 when he earned a 1.94 GAA and .925 save percentage (but ultimately lost out on the Vezina Trophy to that no-good Theodore). However, that was when the dead-puck era was in full-swing and he was 37 going on 38.
Assuming Roy's physical peak was around the time he left the Canadiens at age 30—or, more accurately, the game before his last with the Canadiens—his numbers don't quite match up with those of today. With the Habs in 1995-96, he had a 2.68 GAA and .907 save percentage, incredibly mediocre by this current era's standards.
As a result, it might make more sense to compare Roy to the averages of his peers. From 1984-85, Roy's first season as a Hab, until his end in Montreal, Roy earned a 2.77 GAA and .904 save percentage.
Averaging out the league's GAA and save percentage of each of those years (admittedly not an exact science), we get a 3.44 GAA and .885 save percentage. Roy's GAA is 19.4% lower than the average. His save percentage is 2.14% higher.
Price, meanwhile? He has a career 2.46 GAA and .919 save percentage. Going back to 2007-08 averaging out the league figures from each season, we get a 2.60 GAA and .912 save percentage. Price's GAA is only 5.4% lower and his save percentage is only .77% higher. Not really even close, unfortunately.
Still the King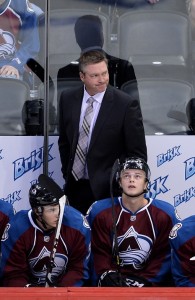 Roy will go down in history as one of the best goaltenders—if not the absolute best—in NHL history. Price? Who knows at this point? About the only stat he has on Roy are shutouts. He reached 30 at age 27. Roy had one less as a Hab when he left at the age of 30. However, as the above stats say, that's like comparing apples to oranges… or Jose Theodore to Patrick Roy.
Roy also has a massive amount of hardware including three Conn Smythe trophies (two with Montreal), three Vezinas (all with Montreal), and four Stanley Cups (two with Montreal). Price hasn't even won four playoff rounds in his career. So, the question of whether Price is better than Roy overall, it's kind of a no-brainer.
But at this specific point in time? Take Price's .935 save percentage for example. That's 2.41% higher than the .913 NHL average this season. His 1.93 GAA? It's 24.6% lower than the 2.56 of the entire league.
So, sure, Price still has a long way to go to dethrone Roy as best of all time. But, right now? He's certainly playing Roy-caliber hockey… if not better. Price may not end up winning the Hart this year, or ever. But, again, Roy never did either. That puts him in pretty elite company. So does his play this season.
.