Just like that, one huge card has disappeared from Montreal Canadiens general manager Marc Bergevin's hand.
Carey Price up for Vezina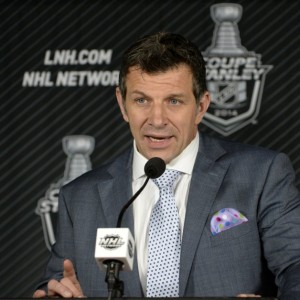 Carey Price was announced as a Vezina Trophy nominee on Saturday, ironically hours before he turned in a mediocre performance in the Habs' elimination loss to the New York Rangers. It's now impossible for Bergevin to use his struggles, either during his up and down regular season or in Game 6, as an excuse.
Flash back to last season's post-mortem press conference when Bergevin was quoted as saying, "I believe with a healthy Carey Price, we're not sitting here today." Now, flash forward to the present.
Those words likely now haunt Bergevin, because, after what can only be considered a failure of a season, Price was not only completely healthy, but voted by his peers as one of the top three goalies in the league.
And he was certainly right up there. Despite a lengthy 26-game stretch—nearly half his 62-game season—during which Price had an ugly .897 save percentage, Price rebounded to post a .923 save percentage. It's far from the career-best .933 he earned in 2014-15 when he won both the Vezina and Hart Memorial Trophy, but still above his .920 career average.
Among full-time starters, Price placed eighth, so he was clearly among the league's top goalies this season. However, the discrepancy between his figure and the .931 of league-leader Sergei Bobrovsky of the Columbus Blue Jackets is a good indication Price won't win it. It's Bobrovsky's to lose, and that's how it should be.
A Solid Consolation Prize
The nomination is nevertheless a solid consolation prize for Price and Habs fans after the team fell well short of any reasonable measure of success this season. This team may have been built to win now (and didn't), but it's also built around Price. That he rebounded sufficiently enough from what was a lost season in 2015-16 to be nominated as the league's best goalie has to be seen as a positive. The lasting damage to his knee, if any, was minimal.
He may not have been as dominant from start to finish as he had been, but he showed flashes of reaching that level of greatness at times, and that's reason for optimism. In spite of the Game 6 loss to the Rangers, during which he gave up a soft game-tying goal and he could have made the save on the eventual game-winner, he was also very good during the playoffs.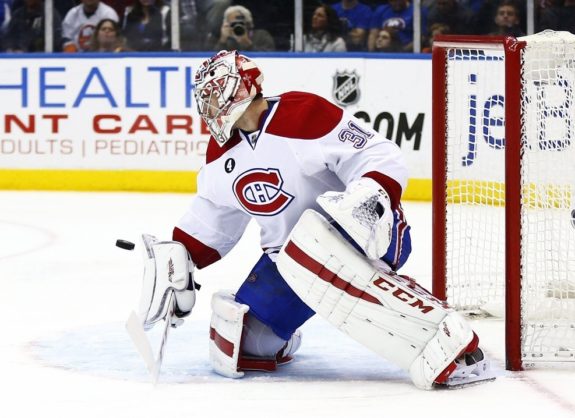 His .933 save percentage was among the best in the league, which is one more reason Bergevin will be hard-pressed to find excuses for his team's disastrous finish… because that's what this is.
Make no mistake, this season was not about just getting back to the playoffs after missing them in comically tragic fashion last one. After appearances in Round 2 in 2014-15 and Round 3 in 2013-14, this was a massive step back, not forward, especially considering the team's core is three years older from the time at which they last lost to the Rangers. That's a big chunk of any superstar's career, especially for a goalie who's about to turn 30 and a defensive defenseman who's two years older and may have already started declining.
Searching for Scapegoats
So, cross Price off the list as a potential scapegoat. Bergevin may yet find another, but he will have his hands full. He infamously said last season's collapse was on him and not Therrien.
#Habs Bergevin: "All the critiques should be directed to me… It's on me, only." Michel Therrien and the players "are not going anywhere."

— John Lu (@JohnLuTSNMtl) January 21, 2016
Then, after firing Therrien (justifiably by many accounts) this season, he didn't trade for any offensively help at the deadline. He went on record as saying he was looking for the team's depth scoring from earlier in the season to return.
#Habs Bergevin wants more from players whose early season offence has dried up. No magic bullet: "Grind it out & score ugly goals."

— John Lu (@JohnLuTSNMtl) March 1, 2017
It didn't. On top of that, he dealt away a depth talent in Sven Andrighetto, who went on to score 15 points in 19 games with the Colorado Avalanche, for bruiser Andreas Martinsen. Martinsen went pointless in his nine regular-season games as a Hab and dressed in only two playoff games.
Year Five of a Five-Year Plan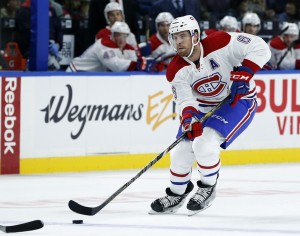 While Bergevin's thought process, not to give up any futures of significant value for temporary help at the deadline, is a decent plan, it didn't align with the one he seemed to mastermind when he traded P.K. Subban for Shea Weber. That signaled a desire and then need to go all in at that point in order for a realistic shot to win now.
Now that the Habs haven't, a drastic change within the organization will likely be sparked, one most probably for the better. The nature of that change is as of yet unrevealed, but it has to come in one form or another for Bergevin to justify his position with this team, now past his fifth season as GM.
Carey Price's nomination will help to prompt it, because he's already played that card once and can't again, especially not after the announcement. Calling Price out now, even after a so-so Game 6, would get him laughed out of the building and maybe a job. The big question is does he still have one, anyway?
Bergevin theoretically saved himself by hiring Claude Julien, albeit temporarily. He should know heading into his post-mortem press conference that playing Go Fish for excuses won't get him anywhere, though. All the other teams in this league, especially the ones still alive, seem to be playing chess.