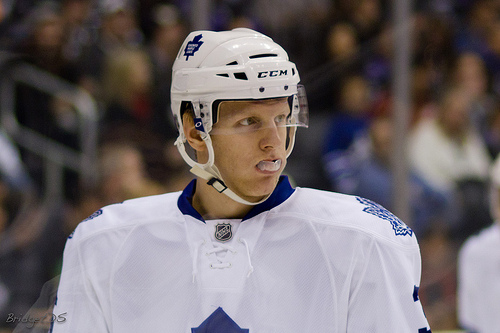 Players like Phil Kessel, Dion Phaneuf, David Steckel, and others have received considerable praise for the Leafs success. However, one player that has fallen under the radar and has made a big impact is defenseman Carl Gunnarsson.
The Toronto Maple Leafs have kicked off the 2011/2012 NHL season with a bang. A good looking 7-3-1 record has them sitting second in the Eastern Conference, first in their division. It is safe to say they are feeling good about themselves right now.
Gunnarsson, soon to turn 25, is on a fresh new contract extension signed in the off-season, valued at approximately $2.6 million. He was the prime target of trade rumours over the last few months when it became apparent that the Leafs had an over flowing pool of defenseman. Darren Dreger of TSN even reported that general manager Brian Burke was interested in packaging him out of Toronto.
Eleven games into the season, the Swedish point man has brought a great sense of stability to the roster. He is one of the players that coach Ron Wilson loves to use, due to his two-way playing ability that renders him useful in all situations of the game. He is third on the team for "time on ice" per game with 22:18.
Amidst his talents, he deserves a great deal of credit for the re-vitalized play of captain Dion Phaneuf. Gunnarsson only has 4 points, compared to Phaneuf's 11 but it is because of the reliability that Gunnarsson offers which allows Phaneuf to rotate throughout the ice. Phaneuf loves to jump in to the offensive play, and has barely been caught pinching thanks to Gunnarsson.
Many analysts suggested Ron Wilson pair Gunnarsson with Luke Schenn or Mike Komisarek, both who are struggling to start of the season. However, Wilson has not separated the Gunnarsson/Phaneuf tandem as they continue to positively produce on the ice.
It has definitely become apparent that Carl Gunnarsson is one of the most valuable pieces on the Maple Leafs back end at the moment. As the season rolls along, he will not be able to escape the inevitable trade chatter. However, he can continue to gain ground on the team depth chart by consistently being a solid chip on the roster.
Gunnarsson is not being praised enough for the Leafs success, that is for sure. He could possibly be the most underrated player on the roster.
Follow me on Twitter and Like my Facebook page
If you have any questions or concerns, please do not hesitate to email me at: Raihanhussain@msn.com. All inquiries are welcome!