Under the new CBA rules, free agents are given a six-day window prior to the opening of free agency to talk with teams. That window opened on Thursday and one of the players making his way through some meetings is the Boston Bruins' pending unrestricted free agent Carl Soderberg.
The Boston Bruins have already said publicly that they will not be pursuing a contract renewal with Soderberg, leaving him free to focus on heading elsewhere. TSN's Darren Dreger says at least six teams have expressed interest in Soderberg already.
29 year old Carl Soderberg is attracting a crowd. At least 6 teams have reached out with interest.

— Darren Dreger (@DarrenDreger) June 25, 2015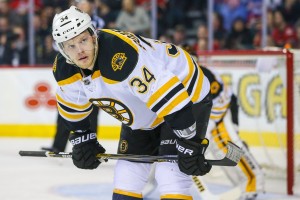 What may complicate that interest is the price Soderberg and his agent are looking for. He's starting the bidding at $5 million a year, according to
ESPN's Pierre LeBrun
. "Word is that Soderberg's camp is looking for $5 million per year. He may not get that, but there's no harm in trying," said LeBrun. He may not get there in the end, but you can't say his camp lacks confidence.
In addition, LeBrun ups Dreger's number, saying that as many as seven or eight teams are expressing interest in Soderberg.
Soderberg's agent will likely be aided by a middling free agent market on forward where Soderberg is one of the top grabs. But that's still a large jump from the $1 million he made last year playing for the Bruins. Soderberg was a strong two-way center, particularly for a guy acting as the pivot for the third line. He scored 44 points last season with 13 goals and 31 assists.
Free agency opens on Wednesday, July 1.
RELATED: Bruins Sign Goaltender Zane McIntyre
[catlist categorypage="yes" numberposts=3 excludeposts=this]