The Carolina Hurricanes fan base is getting restless…again. This time, it's not so much head coach, Bill Peters that is being encouraged to find gainful employment elsewhere, but general manager Ron Francis.  Francis has long been considered "off-limits" when it comes to criticism and suggestions for his own relocation. Hurricanes fans adore him and Rod Brind'Amour with equal respect and nostalgia. To imagine either one of them being fired is unthinkable.
But, as they did earlier this season with Peters, the rumblings have started about 'Ronnie Franchise'.  For example, one social media post I saw this week said that Francis has shown an inability to make a solid beneficial move for his team, and that allowing him to make a big move would be risky and foolish.
First Peters on the Hot Seat
This season, there has been a love/hate relationship between Peters and Hurricanes fans. When the team has done poorly, calls for Peters to be fired echoed across social media. When doing well, those calls subsided. He is in his fourth season as the head coach and many think that the team should have already gotten into the playoffs, or at least should be well on their way there this season.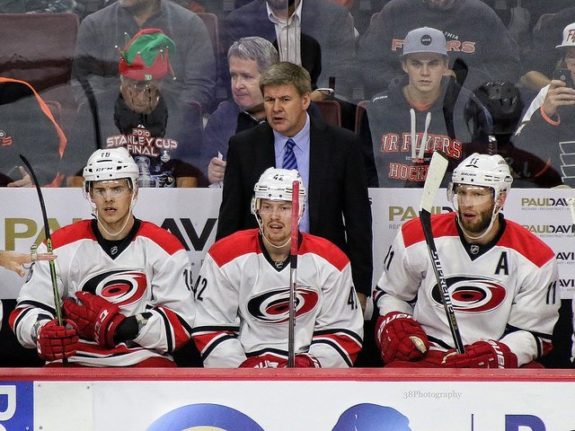 With a new owner in town, a couple of interesting statements have been made. The first had to do with Peters, who said he welcomes scrutiny by the new owner, Tom Dundon. After a game in December, Peters said, "I would look at everything. If I was in ownership, management, I would look at the coach. I would look at everything. Because, you should. I would. I would look at everything, I'd go through it thoroughly. And I'd make decisions based on what you've got to do to be successful moving forward. I think everyone wants to be successful. And so, if it's not happening, let's find some solutions."
Peters knows the drill, and he also knows that, whether he welcomes scrutiny or not, it will no doubt take place. A successful businessman such as Dundon did not get to be successful by ignoring the process of examining the elements of what he has purchased. In the case of the Hurricanes, he has, or is in the process of, looking at everything. From the price of parking and beer, to who is at the helm on the ice and in the front office — all things will fall under the scrutinous eye of Dundon.
Now Francis' Seat May Be Getting Warm
Recently, Chip Alexander of the Raleigh News & Observer spoke with Francis on a number of team-related issues. When asked, "Dundon has said everybody's job performance is being evaluated. Does that include the general manager's job performance? Francis replied, "If he said everybody, it's everybody." That sounds eerily similar to Peters' response.
Francis, like Peters, is a realist, and they both know that a new owner in general, and Dundon specifically, will scrutinize the performance of every piece of his investment. This includes every aspect of the operation, including coaches and front office executives. But, is there a reason for Dundon to raise an eyebrow when looking at Francis' record as general manager?
There are a couple of "hindsight is 20/20" moves that Francis has made. First, the acquisition of Eddie Lack and, second, the acquisition of Scott Darling — more specifically, extending both of the goalies who were unproven as members of the Hurricanes. They were brought to the Hurricanes with great hope of success for the team, and both disappointed greatly.
Lack was moved, but Darling is still a Hurricanes goalie. In fact, he is starting in Friday night's contest against the Vancouver Canucks. Francis also told Alexander that he thinks Darling is tracking in the right direction. This runs counter to what has been shown on the ice with his performance. He needs a reset, a chance to get his mental game equivalent with his physical game. He's been a good backup and could be a good starter. That second part will remain to be seen but, so far, Francis has not done well bringing in goalies.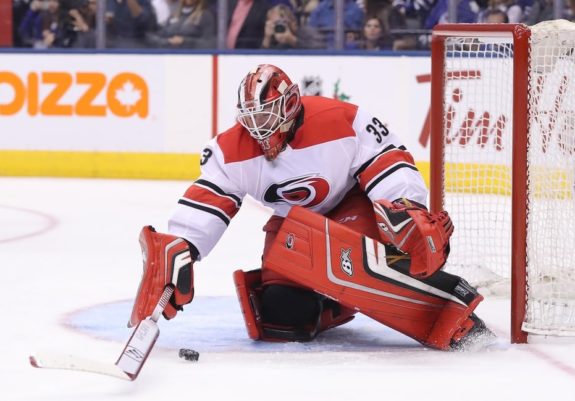 Another serious concern is that Francis hasn't brought a proven scoring forward to the Hurricanes. Many have weighed in that this is the missing piece in getting the team to the playoffs.  Francis commented at a press conference last season that there weren't a lot of available scoring forwards, and none that would make sense for the Hurricanes. We'll see.
Players, coaches, fans — and even the owner — have to trust Francis to do his job. Everyone can give their opinion as to what the team should do and who they should draft, but he is the one evaluating and counting the cost versus the potential benefit of bringing in a specific player. Only if he loses that trust with Dundon will there be a hot seat under Francis. In the meantime, the social media experts will continue to fire away.
Mark lives in the Raleigh, NC area and covers the Carolina Hurricanes.