Here we are 1 week into the 2014-15 NHL regular season.  Already it can be stated that the Hurricanes need a win now.  Back to back losses to the New York Islanders have left them with zero points.  This is not a good way to get the Bill Peters era underway.  This is not a good way to get the fans energized.  This is just not good, plain and simple.
I know it's only 2 games.  There are 80 left on the schedule.  I get that it is a long season.  Turning around a culture does take time.  But the team took some big hits over the past couple of weeks that are not going to be easy to withstand if they cannot find a way to put some points on the board.  They definitely need a win now.
Injury Update
The Hurricanes announced yesterday that Jeff Skinner – out with a concussion – has been placed on injured reserve with no timetable set for his return to action.  He is skating, however by himself, but not ready to risk contact.  He may be ready Thursday, but that will remain to be seen.
Coach Peters also said Jeff Skinner skated by himself this morning and is close to rejoining the team for practice. Will not play Tuesday.

— Carolina Hurricanes (@Canes) October 13, 2014
This morning the team announced that Eric Staal (upper body) and Patrick Dwyer (lower body) are day-to-day, and not scheduled to play Tuesday against the Buffalo Sabres.  That is very bad news for a Hurricanes team that handled the Sabres in the preseason pretty well, and that definitely need a win now.  Staal is the team captain, and is looked upon by most to be the strength that this team will need to rely on in order to have a winning season.  Dwyer is a hard-worker, consistently having played in most games during his tenure with the 'Canes.  He's not a significant goal-scorer, but is a veteran presence that this team needs to help bring along its crop of young talent.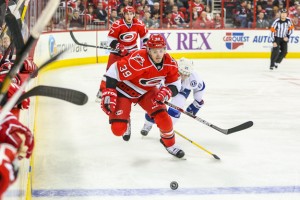 Needless to say, Staal and Dwyer will be missed – even if it turns out to be only for one game.  And of course, Jeff Skinner's absence leaves a huge scoring void, along with the void created by the indeterminate loss of Jordan Staal.  With a need to win now, the injury bug has bitten the 'Canes in a big way and at a bad time. Not that there is a good time for injuries, but a strong start was one of the keys to this team's success that I wrote about here, and that Coach Peters needs for the culture-changing momentum to form.
Zach is Back
The Hurricanes announced yesterday that they have recalled Zach Boychuk from their AHL affiliate Charlotte Checkers.  This is one of several recalls that the team has made of Boychuk.  I like him.  He has a solid work ethic and really plays hard when he is on the ice.  The problem is that he just has not been able to consistently break through to the next level.  For a team with a need to win now, Zach Boychuk is not 3rd cousin Johnny Boychuk by any means.  But, he did win the AHL's Willie Marshall Award as that league's top goal-scorer with 36 goals last season.  Hopefully he will be able to find what has been missing in his game that will propel him into a legitimate, consistent member of Carolina's roster.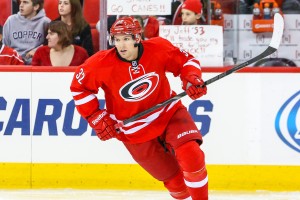 It's ironic that this team just has not broadened its base.  It didn't for years under the management of Jim Rutherford, and so far, GM Ron Francis has not shown an inclination to look elsewhere for additions to this team to strengthen its foundation.  Perhaps it's early to expect that of him.  Maybe it's a money issue.  Or perhaps there is a real belief that the currently assembled roster can be successful.  Regardless of whatever is going on upstairs in the Raleigh PNC Arena, the pressure will be on Zach Boychuk to add to the 'Canes' chances of winning sooner rather than later.
Bottom line: Hurricanes need a win now
Up next is Buffalo.  They have also lost their first 2 games and also need a win now.  Both teams have given up 9 goals already. Without the injuries to Skinner, Staal, and Dwyer, most pundits looked at this as a winnable game for Carolina.  The Sabres play the Anaheim Ducks tonight at home, and could be 0-3, hungry for a win when they get to Raleigh.  Or, the could beat the Ducks and have strong momentum when they face off against the 'Canes.  Either way, Carolina needs to win against the Sabres.  Buffalo has yet to score a power play goal, and the Hurricanes have been improving their power play with every penalty.  The question mark is:  Who will be in-goal, and will they be able to keep the Sabres out of the net?
#Canes goaltenders Cam Ward and Anton Khudobin on the ice getting ready for practice to start this morning. pic.twitter.com/P9heNZ1v0V

— Carolina Hurricanes (@Canes) October 13, 2014
Both Cam Ward and Anton Khudobin have a game under their belt this season.  Both have looked better.  Coach Peters has not given up on either goaltender yet, saying that its more about the defense that just the goalies.  It is essential that whoever is in between the pipes that their play is stronger than what we've seen thus far.  Yes it's early.  Yes there is a lot of hockey yet to be played.  But the Carolina Hurricanes need a win now.  Here's hoping they get it soon, preferably tomorrow night.
Mark lives in the Raleigh, NC area and covers the Carolina Hurricanes.