Prospect ranking lists come out annually for every team in the NHL, and I am always perplexed as to why these rankings still exist. The No. 10 prospect for the Carolina Hurricanes is going to mean an extremely different thing from year to year, and it often seems like the difference between the sixth and the ninth overall prospect is who was drawn out of a hat first.
In place of this ambiguity comes the Prospect Pyramid, which was originally conceived by Sportsnet correspondent Steve Dangle and has quickly gained steam among THW writers.
What Is a Prospect Pyramid & Who Qualifies?
As the video below shows, the Prospect Pyramid breaks down players into tiers based on their potential to contribute at the next level.
The tiers go as follows: Tier 1 is reserved for prospects who should be absolute superstars. Tier 2 players have All-Star potential but are more likely to slot in as top-six forwards or top-four defensemen. Tier 3 players are players who you can place a good bet on making it to the NHL, but will certainly not be superstars, and have a lower ceiling than their Tier 2 organization mates.
Things begin to get a bit murkier after these tiers, as you are getting deeper into the weeds. Tier 4 is a broad group of players who could contribute at the NHL level, but are either too raw to put into the first three tiers or are projected to fall in as third and fourth liners, fifth and sixth defensemen, and backup goaltenders. Once you get to Tier 5, you are looking at players who might get a cup of coffee in the NHL but are too raw to make an accurate prediction in regards to them contributing in Raleigh.
We find Tier 6 at the bottom of the Prospect Pyramid. This tier is a broad catchall which encompasses everyone else. You likely do not know these players, do not need to know these players, and frankly, most hockey writers do not know who they are either.
For the most part, you are going to get more prospects in each new tier. This is a natural facet of the pyramid, as players like Andrei Svechnikov belong in a category of their own, whereas it is easier to lump in Steven Lorentz, Tyler Ganly, and Josh Wesley together.
Next comes the sticky matter of who exactly classifies as a prospect. While this might be ambiguous in some circles, I am only going to classify rookies as being prospects.
This classification system means that, per the NHL's rules, prospects will be players who have yet to accumulate 25 games of cumulative action at the NHL level, play six or more games in any two consecutive games, and are under the age of 26. That takes young contributors Sebastian Aho, Phil Di Giuseppe, and Brock McGinn out of consideration, and leaves room to talk solely about players who have yet to make their way onto the scene in Raleigh.
Tier 1 – Top-Notch Players
Tier 1 is reserved for players who not only have the potential to be elite, but are ready to be top-notch players in the NHL within two years. While I have previously written about whether or not it would be wise for the Hurricanes to keep Andrei Svechnikov in Raleigh for the entirety of the 2018-19 season, there is no doubt that he is going to be a big-time contributor in the NHL either this year or next.
Svechnikov has size, speed, ability on the puck, and a strong work ethic off the puck. The 18-year-old was arguably the best player at the 2018 Traverse City Prospect Tournament, and he is the best player who has not played a game in the NHL other than Rasmus Dahlin.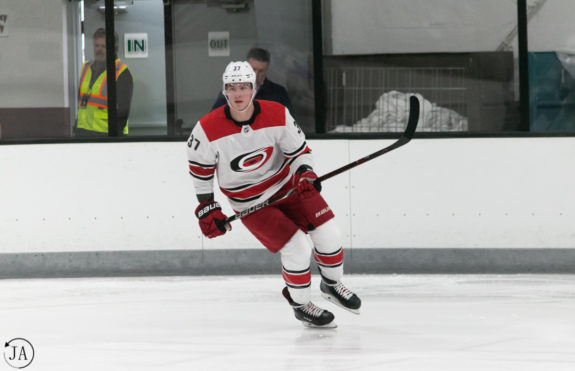 The Ontario Hockey League was no match for him last year, as Svechnikov ranked tenth in the OHL in first-assists per 60 minutes, sixth in shot-percentage and points per game, and led the league in goals per game and primary points per game. This showing in the OHL was backed up by five points in five games with Russia during the 2018 World Junior Championships (WJC). That total might not seem overly impressive on the face of it, but one must also remember that Svechnikov was a 17-year-old playing against the best 18- and 19-year-olds in the world.
The only question that remains in regards to Svechnikov is how he will hold up playing against grown men over an 82-game schedule. The early results have been good, as he posted a goal and an assist in his first preseason game with the Hurricanes, and has generally drawn rave reviews during training camp. A 6-foot-2, 187-pound frame also will not hurt in terms of being able to handle the physicality of the NHL, and there is a good chance that he will put up 30 goals this season. In fact, some people are already talking him up to win the Calder Trophy.
Tier 2 – Top Potential Players
The next group of players has the potential to be top-six players, and might be able to turn into the occasional all-star, but is not a sure bet to consistently score 30 goals or be a lockdown defenseman. Martin Necas and Julien Gauthier will represent Carolina in Tier 2.
Necas looks like he will be in Raleigh from the beginning of the season in 2018-19, and he is another guy who has star potential. Unlike Svechnikov, he has experience playing a full slate of games against grown men after suiting up for HC Kometa Brno in the Czech Extraliga each of the last two years. Necas put up 17 points in 24 games with HC Kometa Brno in 2017-18, and also was tied with Casey Mittlestadt for the lead in points at the 2018 WJC.
Necas can line up as a center or on the right wing, has an incredible first step and good speed generally, and has a strong work ethic on the defensive side of the puck. Look for Carolina head coach Rod Brind'Amour to use him on the power play early in the season while easing him into major minutes on the second or third line.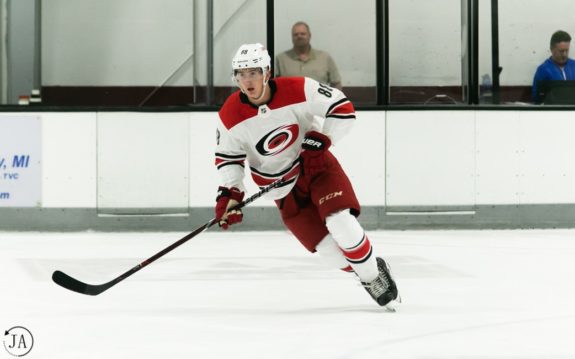 Gauthier will not be a flashy player, but he will be the type of guy that other teams dread playing against. At 6-foot-4 and 225 pounds, the guy is an absolute tank. He uses this big frame to his benefit, playing a power-forward game that has been likened to Rick Nash. That is not a bad player to be compared to, and Gauthier's strong skating ability, great stickhandling skills, and finishing acumen lend credence to this comparison. He will likely not be a major player in Raleigh until the beginning of the 2019-20 season but could lead the Charlotte Checkers in goals scored in 2018-19 and force his way into Raleigh.
Tier 3 – Falling Short of First Line Potential
This is usually the part where you get to ranking slots three through eight and wonder what the difference between each player really is. The truth is that they all belong in the same bucket. Jake Bean, Warren Foegele, Adam Fox, Janne Kuokkanen, Saku Maenalanen,  and Valentin Zykov are all in this group because they will all see meaningful minutes in Raleigh at some point, but they fall short of first-line potential.
Within Tier 3, players fall into three distinct buckets.
The first group is players who have at least one year of full-time experience in the American Hockey League. Foegele, Kuokkanen, and Zykov fall into this group. The three forwards could very well end up as linemates with the Charlotte Checkers after having impressive seasons with the team last year. Zykov is the most offensive-minded of the three and put up an impressive 54 points in 63 games in the AHL last year. Kuokkanen and Foegele play a bit more tempered game and put up 40 and 46 points respectively in the AHL last year.
Look for Foegele, Kuokkanen, and Zykov to be among the top scorers for Charlotte in 2018-19 and to be on the top of call-up lists when Carolina players inevitably go down injured. In the future, they could very well be a third-line pairing in Raleigh.
The second group is reserved for players still in college, and is occupied only by Harvard defenseman Adam Fox. The 20-year-old is entering his junior season at Harvard and put up 28 points in 29 games while playing for the Crimson last season. Fox also made a second consecutive appearance at the WJC for the United States, and he has accumulated an impressive nine points in 14 games at the tournament over the last two years. He likely will sign a professional contract when the collegiate season ends, and then he will try to break camp as a sixth defenseman who can contribute on the power play in 2019-20.
Finally, we have Jake Bean and Saku Maenalanen, who have yet to play a professional game in North America.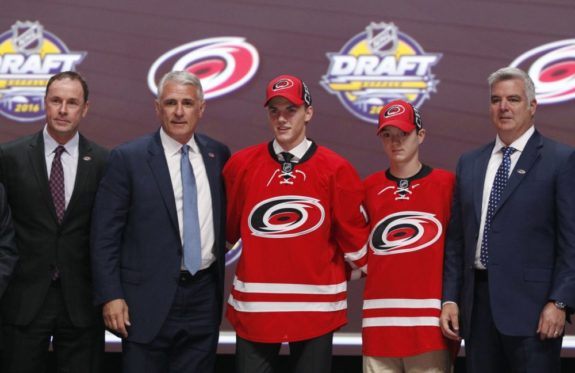 Bean played the last four seasons in the Western Hockey League and is graduating to Charlotte this year. He has the makings of a top-notch defensive defenseman, as he works hard, has an active stick, and is more than willing to go and get dirty in the corner. Bean's offensive game will likely be based on smart but not overly ambitious passing, and he should slot in as a third-line defenseman and astute penalty killer in 2019-20 in Carolina.
Maenalanen played the last five years in the Finnish Liiga and put up 46 points in 59 games for Karpat in 2017-18. At 24, he is a bit more advanced in terms of age than the other people in this tier and may have a slightly quicker path to Raleigh as a result of his professional experience. Still, he will need time to acclimate in Charlotte, and expectations for 2018-19 should be tempered for the skilled forward.
Tier 4 – Players Need Seasoning or Size
We have two mini-groups in Tier 4. There is the group that needs another year before going pro in North America, and the group that is diminutive in size and thus have limited upside at the next level.
Eetu Luostarinen is the sole player who needs another year before going pro. He is playing a third full season with KalPa in the Finnish Liiga and is looking to improve on a 20 point showing in 55 games during the 2017-18 season. He certainly has the size and skill to play in North America and will benefit from another year developing out of the limelight of an NHL organization. It does not hurt that he is playing at KalPa, which has produced Olli Jokinen, Kasperi Kapanen, Sami Kapanen, and Artturi Lehkonen.
Alex Nedeljkovic, Cliff Pu, and Aleksi Saarela occupy the group of players who have the skill to eventually make it to the NHL, but who all have questions regarding their stature. Nedeljkovic should be the starting goaltender for Charlotte once again, and it will be interesting to see how he holds up physically as he escalates his workload above 49 games and teams begin to find his weaknesses.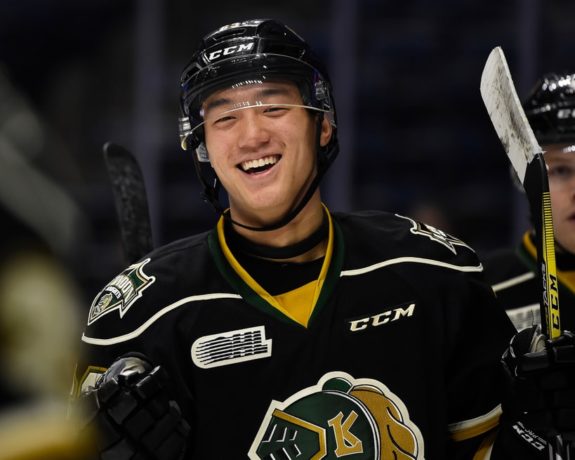 Pu will be playing his first season in Charlotte and will have to show that his gaudy offensive numbers in the OHL hold up against professionals. Finally, Saarela is another small forward whose game is based on speed and skill on the puck—similar to another young Finnish Hurricanes player he once played with—and could end up being a fit in the modern NHL.
Tier 5 – Raw & Probably Not Ready
Tier 5 is occupied by players who have little or no professional experience, and are too raw to truly project as NHL caliber players. This group is compiled of Callum Booth, Brendan De Jong, Jack Drury, Michael Fora, Morgan Geekie, Jeremy Helvig, Lenni Killinen, and Luke Martin. Booth is the only player in this group who has played a game in the AHL, and only Geekie and Helvig join him in the professional ranks at the beginning of the 2018-19 season.
Booth and Helvig are both 21-year-old goaltenders, and they will be competing to be the backup goaltender in Charlotte during camp. Winning the competition could be a blessing and a curse for either, as the loser will head to the Florida Everblades of the East Coast Hockey League with the opportunity to play a full slate of games while the loser backs up Nedeljkovic. Look for these two big-bodied goaltenders to pass each other frequently on US-1 as they shuttle between Charlotte and Florida.
Geekie is the only non-goaltender in Tier 5 who will be playing in Charlotte this season, but it will be a season of learning for the youngster. While his 84 points in the Western Hockey League were impressive last season, questions remain over his defensive acumen. It would not be a surprise to see him spend some time in the ECHL this year, if only to increase the minutes he plays and speed up his development.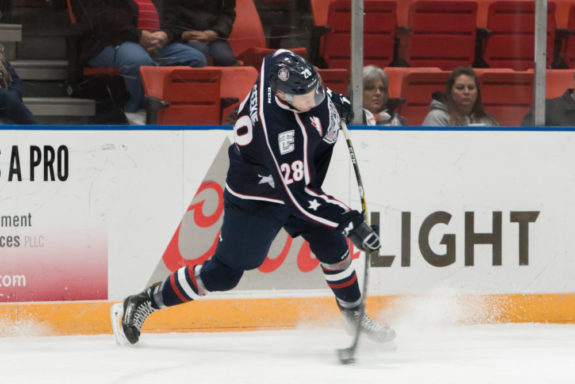 Martin and De Jong are both defensemen who play a game that is light on offense and heavy on physicality. The former is 6-foot-4 and 216 pounds and will suit up for the Michigan Wolverines in the NCAA, while the latter is 6-foot-5 and 201 pounds and will suit up for the Portland Winterhawks in the Western Hockey League. Both will use this season to improve their frames in hopes of becoming a defensive defenseman in the NHL one day and will look to make their mark in Charlotte in 2019-20 or 2020-21.
Drury and Killinen make this tier despite being so raw because of their status as new prospects in the Carolina organization. Drury was drafted in the second round and will be a freshman at Harvard this season, while Killinen went in the fourth round and will play his first professional season with Assat of the Finnish Liiga this year. Do not count on either playing in Carolina for the next couple of seasons, but to steadily gain clout as the guys ahead of them either make it in Raleigh or fizzle out.
Tier 6 – Eternal Optimists
At this tier, we are looking at real diamonds in the rough. These are the class that includes Lorentz, Ganly, and Wesley. Other players that are in this group include Jack LaFontaine, Luke Henman, and Jesper Sellgren. We are talking about players buried deep in the ECHL, or late-career collegiate and junior players. If you are counting on any of these guys to contribute heavily in the NHL, then either your organization is in trouble or you are just an eternal optimist. Either way, you are in for a reality check.
Tyler grew up playing hockey in the Raleigh, North Carolina, area, and attended the University of North Carolina. Now, Tyler lives in Brooklyn, types in the third person, and can be found watching sports at all times of the day.