In advance of NHL free agency opening July 1, Carolina Hurricanes general manager Ron Francis is axing loose ends.
The 'Canes announced Thursday, June 29 that goalie Eddie Lack and defenseman Ryan Murphy had been traded to the Calgary Flames, along with a seventh-round pick in the 2019 NHL Entry Draft. The Flames sent defenseman Keegan Kanzig to the Hurricanes along with their sixth-round pick in 2019's draft. The Hurricanes will retain 50 percent of Lack's salary.
Francis is cleaning house.
Eddie Lack
I have made no effort to hide my concerns about the Hurricanes acquisition of Eddie Lack, and their extending his contract before he had played even a minute for the team. I was not sold on Lack then and I am not sold on him now. He is well-liked by fans of the Hurricanes — some will miss his people-friendly presence in Raleigh. But, Lack has not shown that he is a good goalie, and apparently Francis agrees, sending him on his way.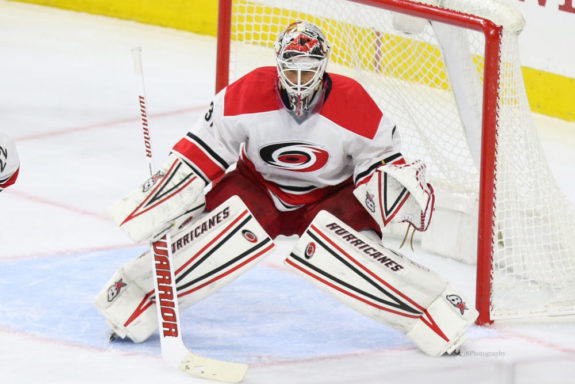 Lack went 8-7-3 in the 2016-17 season. He put up a goals against average of 2.64, and a save percentage of .902. His season was marred by not only one, but two concussions — the second coming as he was about to return from the first, the result of a soccer ball to the head.
At times Lack was brilliant, making saves that showed a glimmer of promise for his future with the Hurricanes. Unfortunately, that was not often the case and it became obvious he was likely to be moved.
Peters' Tough Love
The low-point of Lack's season was when Hurricanes head coach Bill Peters blasted him publicly, twice.
Peters said, "Eddie's played 10 games and was poor in his last outing, let's not kid ourselves, right? There's 16 shots and four went in. Not good enough." While some thought that Peters was overly harsh, or that he should not have taken Lack to task publicly, the fact is he was right. Some felt that there was a competition for the starting goalie spot between Lack and Cam Ward. That question is what prompted Peters' blast.
Peters also said, "So, when he gets in again he better play. You better earn some respect from your teammates. Your teammates are out there working their bag off, you better get some saves, and a timely save at the right time wouldn't hurt." Lack went out and played much better, vindicating Peters' old-school motivational method. In the end, however, Lack was just not able to consistently perform at a high level.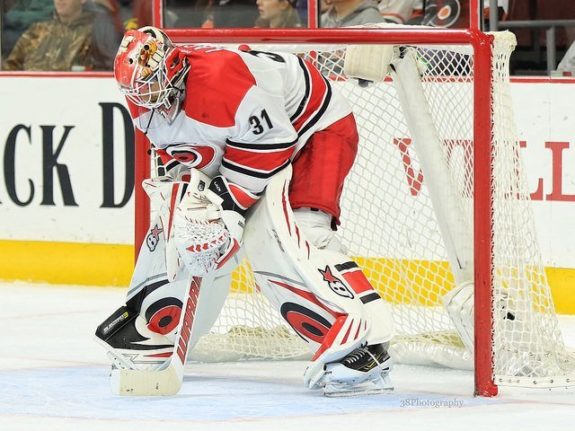 Eddie told me one night after a game near the end of the 2015-16 season, that he was frustrated at not getting more starts. He said that it was tough to get into a groove when he only got to start every once in a while. The lack of consistency in play could justifiably be a result of a lack of consistency in games played. Whatever the reason in hindsight, the sad truth for Lack-loving Hurricanes fans is that he is gone.
By the way, Lack had gotten married hours before the trade. He gets to start a new life with his new team and with his new bride. Quite a day for Lack.
Ryan Murphy Never Quite There
One constant over the past few seasons among Hurricanes fans has been griping about defenseman Ryan Murphy. He was taken 12th overall in the 2011 NHL Entry Draft but the Hurricanes. Surrounded by an aura of promise, Murphy never lived up to that promise, and the aura turned into a black cloud. A look at his stats is baffling:
https://twitter.com/DTMAboutHeart/status/880588569995300864
This past season was obviously the last straw for Francis, and he axed him along with Lack. This post on Twitter sums up the aftermath of the trade accurately:
https://twitter.com/DARLINGGOAT/status/880594754907582464
In March 2015, Chip Alexander wrote in the Charlotte Observer that Murphy was the most polarizing player on the Hurricanes. He wrote,
Murphy's detractors say he's too small, that he gets pushed around in the defensive zone and can be too much of a liability. Murphy's supporters say look at his speed, his stickhandling, his offensive flair and the ability to run the power play.
Unfortunately, for Murphy, the flair never rose above the perception that he was a liability. Perhaps with the Flames he can rekindle his game.
No NHL Stats
In preparation for this post, I Googled "Keegan Kanzig" to learn about him and his career. I was amused when the NHL page announced in big, bold letters, that Kanzig has no NHL statistics. The Hurricanes' announcement said this about their acquisition:
"Kanzig, 22, completed his first professional season in 2016-17 season, spitting the year between the Stockton Heat of the American Hockey League (AHL) and the Adirondack Thunder of the ECHL. The Athabasca, Alb., native earned two assists in six games with Stockton, and added one goal and four assists (5 points) in 40 games with Adirondack. Prior to turning professional, Kanzig (6'7″, 247 lbs.) played five seasons in the Western Hockey League (WHL), scoring 19 goals, earning 40 assists (59 points) and accumulating 565 penalty minutes in 319 regular-season games with Victoria and Calgary. He was drafted in the third round, 67th overall, by the Flames in the 2013 NHL Draft."
The information that Kanzig "has no NHL statistics" cemented the reality that the trade was Francis cleaning house, axing loose ends. It was about moving Lack and Murphy, and not about acquiring Kanzig. He's been taking care of business that throughout the offseason, and is fully prepared for free agency.
Mark lives in the Raleigh, NC area and covers the Carolina Hurricanes.