With the regular season just one week away and 19 cuts already made, the level of compete has gone up a notch within the Calgary Flames. As roster cuts go, the one the Flames announced on September 18th was predictable and justified. Rookies of note such as Emile Poirier, Morgan Klimchuk and Mark Cundari were sent down to the juniors for more conditioning and development, not having shown their readiness to make the team during training camp and preseason.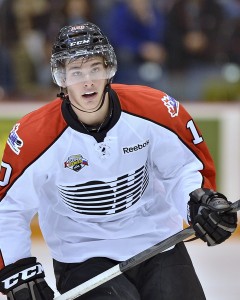 First-round draft pick Sean Monahan, however, survived the first round of cuts by impressing at training camp and shining throughout the exhibition games, even tallying two goals in the split-squad game against the New York Islanders last Tuesday.
Considering he had never played an NHL game before this September, Monahan's comfort level on the ice is astonishing and is garnering attention from his more seasoned teammates. Newly-named Flames captain Mark Giordano praised Monahan for his confidence, something the team is looking for from its young players.
But as the preseason winds down, the question now is whether or not Monahan should be awarded a permanent spot on the roster for the regular season
Monahan gets to play up to nine games before his entry-level contract comes to fruition, and given that he performs well during those games, the answer should be a definite yes. For those unsure whether a freshly-selected draft pick would be an asset to the team, here's why you should give Sean Monahan a chance this year.
Development in a Pro Atmosphere Will Develop a Pro
Monahan is good. We already know that. Otherwise he wouldn't have gone 6th overall in the 2013 NHL Entry Draft. And when a player is good and shows signs of becoming better under a more competitive environment, you shouldn't send him down to a less competitive environment where he can't develop and learn through experience. And although there's no guarantee he will help the team get wins, Monahan's presence on the ice can't really hinder the Flames, who are slated to have a pretty rough season already anyways. The next seven months could be crucial to Monahan's growth as a hockey player. Being given a chance to hone his skills in a learning environment will familiarize him with the way NHLers play the game. And by the time the Flames get to the mid stage of the rebuild and start becoming a legitimate contender again, Monahan will be a pro, not just a rookie plucked out of the juniors to feel his way through a competitive season.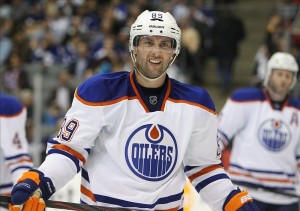 Case in point: Sam Gagner was drafted 6th in the first round by the Edmonton Oilers in 2007 and played the following season. While his first year in the big show was nothing astounding, Gagner did rack up 13 goals and 36 assists. Since then he has retained a permanent spot on the Oilers' roster and is now considered to be one of the team's bigger talents.
Graduate of Mount Royal University's Journalism program and a freelance sports writer from Calgary, Alberta.