Brown
The Bears were 11th in the conference last season in team offense, scoring an average of 1.41 goals per game. Just four players on the roster last year scored double digits in points, and of those four, only Jessica Hoyle and Lauren Vella are returning. More scoring woes for Brown this season are more than likely.
Brown's defense last season was markedly better than their offense, though still not enough to positively balance out the goal differential. They're losing Victoria Smith and Alexandra Piersiak on the blue line, but they're also adding a solid recruit in Catherine LeBouef. The hope for the Bears will be to maintain the same level of defensive play. They've also got some nice depth in net, with returning starter Aubree Moore, who posted a respectable .921 save percentage last year, and incoming freshman Monica Elvin, who has participated in numerous USA Hockey National Development Camps.
Key Player: Aubree Moore
As the goalie, and a pretty good one at that, she'll be able to have more of an impact on the team's success than players at other positions.
Outlook
It's hard to see the Bears improving this year, but they should at least be able to stay ahead of Union, mainly because of their strength in goal comparatively.
Clarkson
The Golden Knights look to be in great shape heading into the season. Their only notable loss up front is Danielle Skirrow. They should boast a balanced offense led by top-25 scorers Jamie Lee Rattray and Carly Mercer, and helped by Brittany Styner, Shannon MacAulay, Vanessa Gagnon, and incoming freshman Genevieve Bannon.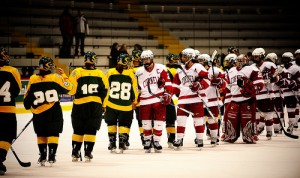 With only Hailey Wood graduating on defense, Clarkson won't have to deal with making any huge adjustments in that area, either. Erin Ambrose now has a full year of college hockey under her belt, meaning if she continues to progress she's going to be spectacular this year. Incoming freshman Corie Jacobson should be able to step in right away. And with Erica Howe in net, the Golden Knights will be able to rely on a formidable goaltender.
Key Player: Erin Ambrose
Ambrose did a fantastic job of stepping in as a number one defenseman as a rookie, and if she can continue to build on that Clarkson will be very successful.
Outlook
With star players at all positions and few losses to adjust to, the Golden Knights will be able to improve on their great 2012-2013 campaign and finish first in the conference.
Colgate
The main problem for the Raiders this year is going to be depth. Up front, they're losing top scorers Brittany Phillips and Jenna Klynstra. Miriam Drubel and Jocelyn Simpson will lead the way offensively this year, and though they should be able to put together one or two pretty solid lines, they're going to have trouble scoring beyond that.
Colgate's defense remains intact, which is a plus. Senior Megan Wickens and junior Katie Case will anchor the blue line, and sophomore Nicole Gass showed potential as a rookie last year. Those three are going to have to solidify the defensive corps to give the team a chance this year. Goaltender Ashlynne Rando will also need to improve on her 2012-2013 numbers.
Key Player: Megan Wickens
The Raiders will be counting on the veteran defenseman to be a leader on the back-end, an area that could be a positive for the team this year.
Outlook
I wouldn't expect Colgate to really improve this year, though their defense may help them surprise. I see them falling at least one spot in the rankings, maybe two, because of a lack of scoring.
Cornell
The Big Red's offense will take a huge hit with the loss of 70-point-scorer Brianne Jenner to the Canadian national team. But junior forward Jillian Saulnier is poised to step up and take control; Jess Campbell, Emily Fulton, Taylor Woods, and incoming freshman Hanna Bunton will make for a fine supporting cast.
Even the Jenner loss doesn't compare to what Cornell loses on the back-end. Three-time ECAC Defender of the Year Lauriane Rougeau and top-notch puck-mover Laura Fortino have both graduated, which means the Big Red will have to replace two of the best defenders in the nation. Veterans Hayleigh Cudmore and Alyssa Gagliardi will have to step up, and sophomore Cassandra Poudrier should be able to build on a solid rookie campaign. Goaltender Lauren Slebodnick will also have to perform consistently well in her final year to help ease some defensive worries.
Key Player: Jillian Saulnier
There are question marks in a lot of places for Cornell but this team still has potential offensively, and Saulnier will have to be a force to reckon with for them to realize it.
Outlook
Without a dominant goaltender and a long way from a dominant defense, the Big Red will still be a good team, but a step behind a more well-rounded Clarkson team.
Dartmouth
The Big Green will have to deal with losses of core players this year, both up front and on defense. Top forwards Reagan Fischer and Camille Dumais have graduated, meaning they have to find a way to replace two near-point-per-game scorers, as well as 20-point scorer Jenna Hobeika. Sophomore Laura Stacey is poised to step into a more productive role, and fellow classmate Lindsay Allen should also progress this season, but beyond those two, there are no certainties.
On the blue line, Dartmouth loses a very good puck-mover in Sasha Nanji, as well as Lisa Berreman and Margaux Sharp, leaving the team with little defensive depth this year. The addition of incoming freshman Emma Korbs should help a bit, but their defensive corps has some big questions to answer heading into the season. Goaltender Lindsay Holdcroft was decent last year, posting a 2.11 goals against average and .914 save percentage, but she's really going to have to be at the top of her game every night this season.
Key Player: Laura Stacey
She had a stint with the Canadian Under-22 team this summer and is really the only top-level talent on the Big Green's roster right now; she'll have to show that this year to help the team cope with its losses.
Outlook
With little depth at any position, it's going to be difficult for Dartmouth to be as good as they were last year. They'll likely need a breakout campaign from Stacey and a great season from Holdcroft to be as competitive in the conference, but no team below them poses too much of a threat themselves, so they'll remain in the middle of the pack in the ECAC.
Harvard
The Crimson have plenty of losses to cope with this season, perhaps most notably behind the bench. Head coach Katey Stone will be with the U.S. national team this year as they prepare for Sochi. Up front, they're going to have to deal with losing leading scorers Jill Dempsey and Lyndsey Fry, as well as a good secondary scorer in Kalley Armstrong. But between Samantha Reber, Hillary Crowe, Mary Parker, Miye D'Oench, and freshman Sydney Daniels, they should have enough pieces up front to have a competent offense.
Harvard will suffer from the absence of Josephine Pucci, Michelle Picard, and Kelsey Romatoski. The return of Marissa Gedman from injury and a great freshman class made up of Abigal Frazier, Brianna Mastel, and Natasha Rachlin will help, but this is a revamped defense with little experienced depth. Goaltender Emerance Maschmeyer will have to be just as good as she was as a rookie last season to help keep goals-against down.
Key Player: Sarah Edney
Edney is going to have to lead the way defensively to help bring this defensive corps together.
Outlook
The Crimson have a lot of big changes to adjust to if they even have a hope of returning to the form they were in last season, but an excellent freshman class and dominant goaltender will be a big help. I can't see them falling much with the talent that's on the roster.
First team practice this afternoon! Exactly one month from our exhibition matchup against McGill #giddyup

— Harvard W Hockey (@HarvardWHockey) September 19, 2013
Princeton
The Princeton offense will suffer greatly from the graduation of point-per-game scorers Corey Stearns and Kelly Cooke. It will be up to forwards Sally Butler, Brianna Leahy, and Olivia Mucha to lead the Tigers production-wise; all three scored double-digits last year. They're also bringing in a solid class of recruits, headlined by Fiona McKenna; Hilary Lloyd and Kelsey Koelzer may also be able to jump onto a scoring line right away.
Their defense will be led by seniors Rose Alleva and Gabie Figueroa; junior Ali Pankowski has also showed potential and looks ready to play a bigger role for the team this year. They're not an ultra-talented group by any means but if they can just take care of the puck they'll be set with Kimberly Newell in net.
Key Player: Kimberly Newell
She was young enough to be eligible to compete in the IIHF Under-18 Women's World Championships last season and was still pretty good for Princeton; if she can continue to improve they'll have a real threat in goal.
Outlook
It looks like Yale could be on the rise this year, and the Tigers are losing two prominent forwards, so the Bulldogs could really push them this year. A lot rides on the development of Newell, however; she could be a key difference-maker for the team and help them edge out other teams to finish even as high as eighth.
Quinnipiac
The Bobcats are going to have a difficult time replacing Victoria Vigilanti in net. Incoming freshman Sydney Rossman had a stellar high school career with Minnetonka, but there's likely to be an adjustment period for her. Quinnipiac will also have to deal with the graduation of number one defenseman Reagan Boulton. Cydney Roesler had a solid rookie year and freshman Taryn Baumgardt should be able to step into the top-four, but there's not much depth on the back-end for the Bobcats.
The departure of top-line forward Erica Uden Johansson hurts, but Kelly Babstock is an elite talent and Nicole Kosta is a burgeoning star. Together with Nicole Connery, transfer Shiann Darkangelo, and Nicole Brown, they should have a very good top-six.
Key Player: Sydney Rossman
The freshman has big shoes to fill as Vigilanti was easily the best goaltender in program history. But it will bode very well for Quinnipiac if she can make the transition to the college level without too much trouble.
Outlook
The Bobcats no doubt have potential, especially up front, but headaches in goal and on the blue line are nearly inevitable to me. I see them finishing fifth, with a decent chance at fourth if they get it together.
1st official practice! #newgearnewyear #QUHockey pic.twitter.com/FBzixNaXrr

— QU Women's Hockey (@QU_WIH) September 21, 2013
Rensselaer Polytechnic Institute
The Engineers have a solid group of forwards, led by Jordan Smelker, Alexa Gruschow, and Eleesa Cox. They don't have the scoring depth of any of the top teams in the conference but they should be able to put together a respectable top-six, with all lines for the most part able to compete.
On defense, Jenn Godin had a successful freshman season in 2012-2013, posting three goals and 15 points in 35 games. But with the graduation of Katie Daniels, there isn't much skill on the blue line behind her. Defense was an issue for RPI last year as they conceded nearly 100 goals, and they'll need to find a way to improve on that in 2013-2014. One thing's for certain, though: they need better goaltending from Kelly O'Brien in order to succeed as a team.
Key Player: Jordan Smelker
She's the leader in so many regards for the Engineers and as a senior will need to display her game-changing talent this year to help Rensselaer remain competitive.
Outlook
It's difficult to imagine the Engineers breaking into the top half of the ECAC, but they've got enough pieces up front to make things interesting. If Dartmouth gets off to a slow start RPI could really push for the sixth spot in the standings, but they should at least be able to assert themselves as the seventh-best team in the conference.
St. Lawrence
The Saints are losing a very reliable scorer in Kelly Sabatine, but they've got enough pieces in place to make up for it. Junior Rylee Smith and sophomore Abbey McRae should both be able to step up this year, and Kayla Raniwsky, Jenna Marks, and freshman Alexa Moore will provide solid secondary scoring.
The loss of Brooke Fernandez on the back-end also hurts, and junior Amanda Boulier, who had a break-out year last season, will miss the season due to surgery. The addition of freshman Kirsten Padalis should help, but their defense isn't very deep, and with Boulier out there's no bona fide leader on the blue line. However, goaltender Carmen MacDonald figures to be a big difference-maker, having posted a .925 save percentage and making almost 1,000 saves last year.
Key Player: Abbey McRae
McRae had a solid freshman season with 20 points in 38 games, but with Sabatine gone she'll need to be productive to help carry the offense.
Outlook
I think St. Lawrence has enough difference-makers on this roster, especially with MacDonald in net, for them to improve on last season and finish fourth in the ECAC standings, though the loss of Boulier will make it a lot harder for them to separate themselves from Quinnipiac.
Union
Things don't look too bad for the Dutchwomen up front, with top point-getters Courtney Turner, Jessica Kaminsky, and Christine Valente all returning. However, they didn't exactly light up the score sheet, and besides senior Stefanie Thomson, there is little secondary scoring behind them. The hope for Union will be that they can progress into more productive players, and maybe get some help from rookie forward Emily Erickson.
The Dutchwomen gave up the second-most goals against in the conference last season, conceding 105 total. Shenae Lundberg will have to be better in net (she had a save percentage of .906 last year), and Alex Tancrell-Fontaine and Bryanne Panchuk will need to step up on the blue line to try and help the defense tighten things up.
Key Player: Shenae Lundberg
Union is probably going to need a goaltender to steal games for them on most nights, but Lundberg still needs to prove that she has that kind of ability.
Outlook
The Dutchwomen finished last in the conference last season, and there's not much that makes me think that will change this year. They simply don't have the play-makers at any position to change games in their favor, and there isn't enough depth for Union to be able to compete consistently throughout a game.
Yale
The Bulldogs retain their top seven scorers from last season, and there's reason to be hopeful as four of their top five scorers were only freshmen. Janelle Ferrara and Jamie Haddad were two of those freshmen, and will now to look to improve in their sophomore seasons as the team's top returning forwards. Incoming freshman forward Phoebe Staenz should immediately factor into the offensive picture, and fellow classmate Krista Yip-Chuck, who led the PWHL in scoring last season, will also help.
Despite playing defense, sophomore Kate Martini and senior Tara Tomimoto actually led the team in scoring in 2012-2013 with 16 points and 14 points respectively. Those aren't bad totals for blue liners on a team that only scored a paltry 41 goals on the year. Yale also has a good goaltender in junior Jaimie Leonoff, who posted a .925 save percentage last season. If their defense as a whole can put together a solid season, they've got a real shot at improving on last year's 10th-place finish.
Key Player: Phoebe Staenz
She's represented the Swiss national team at the IIHF World Championships for the past three years, winning a bronze medal in 2012. Staenz is a legitimate talent, more so than any other player on this roster.
Outlook
Depth will likely be an issue for the Bulldogs, but they've got a core of young player that definitely have room to improve. There is potential here for this Yale squad, but it's going to take some work for the team to tap into it. With added talent I can't see them regressing from last season, but it remains to be seen if they'll be able to climb up the standings or not.
Predicted Standings
Clarkson
Cornell
Harvard
St. Lawrence
Quinnipiac
Dartmouth
Rensselaer
Yale
Princeton
Colgate
Brown
Union
Preseason All-ECAC First Team
Kelly Babstock, Senior, Forward, Quinnipiac
Jamie Lee Rattray, Senior, Forward, Clarkson
Jill Saulnier, Junior, Forward, Cornell
Erin Ambrose, Sophomore, Defense, Clarkson
Sarah Edney, Junior, Defense, Harvard
Erica Howe, Senior, Goaltender, Clarkson
Preseason All-ECAC Second Team
Carley Mercer, Senior, Forward, Clarkson
Emily Fulton, Junior, Forward, Cornell
Laura Stacey, Sophomore, Forward, Dartmouth
Tara Tomimoto, Senior, Defense, Yale
Alyssa Gagliardi, Senior, Defense, Cornell
Carmen MacDonald, Junior, Goaltender, St. Lawrence
Preseason Awards
Player of the Year: Kelly Babstock, Quinnipiac
Defenseman of the Year: Erin Ambrose, Clarkson
Goaltender of the Year: Erica Howe, Clarkson
Rookie of the Year: Sydney Daniels, Harvard
Gabriella is now in her third season of covering NCAA and international women's hockey for The Hockey Writers. She is the founding editor of At Even Strength, a website dedicated to providing full-time coverage and analysis of women's hockey. She is currently working towards a degree in Communication at the University of North Dakota, and is also interning with UND Athletic Media Relations. She can be reached on Twitter (@gabfun) or via e-mail (gfundaro10 [at] gmail [dot] com).