"The guys' a goon. My kids don't play that kind of hockey."

"They're called enforcers, Gordon. Against Iceland, you're going to need him".
A quote from the iconic D2: The Mighty Ducks movie, in which Team USA was given a "goon" to bring the toughness at the Junior Goodwill Games. The arrival of big Dean Portman started the memorable "Bash Brothers", and considering USA team won Gold, his role was effective.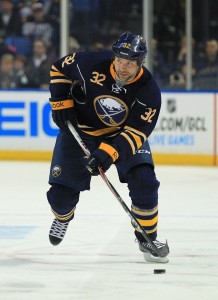 Here in the real world of hockey, not a whole lot is different. The presence of a designated fighter on a hockey team isn't as common as it used to be, causing many to question why such players are in the league at all. Why is a roster spot filled by a guy who spends the majority of the game sitting at the end of the bench, gets out for maybe a 10-second shift, scores zero points, and usually doesn't fight because no one on the other team wants to go near him. Sounds ludicrous doesn't it?
This past weekend, the debate over the need for enforcers was ramped up after an altercation between the Leafs and Sabres. Buffalo employs such a player. A giant by the name of John Scott. Scott would likely win a fight against Zdeno Chara. His role isn't to create space, or go in on the forecheck, or stand in front of the net on a powerplay. His role is to fight, and to intimidate.
The Sabres felt they needed such a player when their number one goalie Ryan Miller was run over by the Bruins Milan Lucic and no one came to his defense. Now, with Scott around, no deed goes unpunished. Sabres coach Ron Rolston put Scott on the ice to avenge an earlier fight, and he jumped the first guy he saw, which was the much smaller, non-fighter Phil Kessel. The scene caused quite the melee, including the elusive goalie fight.
Scott probably should have picked on someone his own size, but he was doing exactly what he was brought in to do. You mess with one of our guys, you pay the price. At the end of it all, the Leafs expensive off-season acquisition David Clarkson got suspended 10 games for coming off the bench. John Scott got nothing. Mission accomplished.
Fighting in hockey has been around for a long time. Some people, especially the fans in the building, love it. Others feel it is barbaric and unnecessary. The game of hockey can be difficult to police, no matter how severe suspensions are, there are always going to be cheap-shots. Pro-fighting advocates feel that the best deterrent to delivering a cheap shot is the possibility of getting your face smashed in later. Penalties and suspensions don't really work, because incidents keep happening. But the question is, does fighting really lesson the amount of star-players who get hurt due to reckless head-hunters?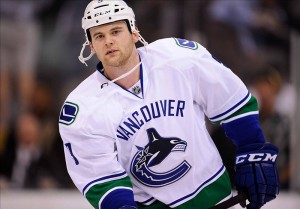 The Oilers picked up fighter Steve MacIntyre from the Penguins yesterday. The reason?
"Watching the Leaf-Buffalo game last night and what happened to us against Vancouver, it shouldn't come as a surprise to anybody that we picked up some toughness," said general manager Craig MacTavish. "We know the player, we know what he's capable of and we think there was a need here. I think he can make an impact."

"I'm sure Mr. MacIntyre will help the other teams keep their sticks down," said Dallas Eakins, who has seen MacIntyre's work in the NHL and more recently, in the AHL. "I'm not sure if they come much tougher than him when it comes to the fighting part of it." (Edmonton Journal)
The Oilers lost their best center-iceman in Sam Gagner thanks to a careless stick in the face by Canucks forward Zach Kassian (who was suspended 8 gamed). Gagner's jaw is broken and he is out indefinitely. Kassian's response to the acquisition of MacIntyre? "Perfect," responded Kassian. "I don't think he can skate. That's the last thing on our mind." (Vancouver Sun)
The Penguins picked up MacIntrye three years ago to help protect their stars. He didn't have one fighting major in his entire Penguins career. If Pittsburgh employed Big Mac in January of 2011, would David Steckel still have "accidentally" elbowed Sidney Crosby in the head? He didn't pay much of a price the next time the two teams met. Will the presence of MacIntyre, taking up a roster spot, make a difference in regards to how teams play the Oilers?
The problem with enforcers is that they don't see the ice much, and when they do, it's seldom anyone will want to square off with them. Those who love having big heavyweights on their team believe that such a players presence alone will be enough, whether they actually drop the gloves or not.
Blaming John Scott or Steve MacIntyre for wasting a spot in the lineup is placing blame on the wrong party. They know their role. They are aren't there to score goals or wow you with their skating ability. The Oilers sought out Steve MacIntyre just as the Sabres sought out John Scott. Fighting is still a part of this game, and at times an exciting part. Nobody wants to see injuries obviously, but everybody stops and watches in awe when goalies go toe to toe. You might feel an enforcer is useless in today's game, but a lot of coaches and managers disagree. And keeping those guys around is their decision. Don't expect that to change anytime soon.
Marcy, a former hockey player, is a hockey correspondent on CTV News and TSN radio. She began her career as a Sports Journalist in 2009 and has been part of The Hockey Writers since 2010, where she is currently a senior writer and editor.