As we all know, no one can predict the future, but as of right now the future is looking bright for the New Jersey Devils defense. During their three Stanley Cup championships (1995, 2000, 2003) they boasted some of the best d-men in the NHL at the time. Legends like Scott Stevens & Scott Niedermayer anchored the D and the always rugged and tough to play against Ken Daneyko was there for all three as well. The last two championships also featured the underrated, yet uber-skilled Brian Rafalski who may not be a Hall-of-Famer or have his number retired, but he was a critical part of the Devils' blueline and gained a third ring with the Detroit Red Wings in 2008.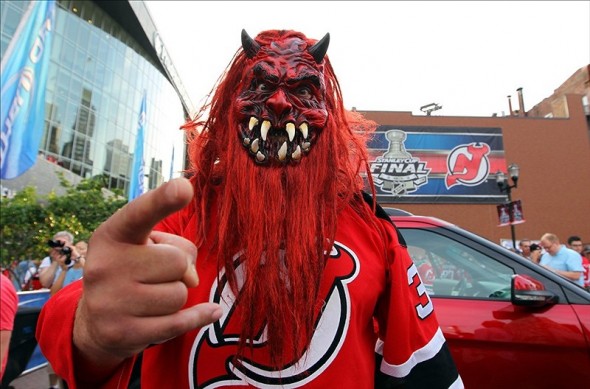 Rafalski was the last of those four to leave New Jersey and quite honestly there has been a void since then. The Devils have had some solid players as they've tried to rebuild the defense corps, and current players like vets Andy Greene and captain Bryce Salvador were key pieces of their run to the Finals in 2012 with what one analyst called a "no-name" defense. They also have 20-year-old Swede Adam Larsson (4th overall in 2011 NHL Draft) who has yet to develop into a reliable, day-in, day-out d-man; but he's only 20, be patient Devils' fans — he's the goods.
Larsson can blast it from the blueline, but also has a great wrist shot:
Entering this upcoming season there are a few youngsters who are pushing for a roster spot on the Devils blueline — namely Eric Gelinas, Jon Merrill, Damon Severson & Alexander Urbom. Netminder Martin Brodeur has played behind all of New Jersey's defensemen since 1994 and knows a thing or two about what makes up a good d-man; and he has liked what he has seen so far from the kids.
Take a look at Severson's Prospect Profile written by my colleague Andy Eide:
"They're big boys, they have a long reach and I think they move the puck fairly well," said Brodeur after his team's second preseason game. "They're young, you know, they are going to make some mistakes — and it's normal. I think when you get them playing with older guys, I think that's when you are going to see more of what they can do."
"I think Gelinas, with his shot, is an asset that we haven't had in Jersey in a long time; I think it's something (for our coaches) to look at for our power play and our overall game," Brodeur added.
Here is the wicked shot of Gelinas that Brodeur was referring to:
Gelinas has played in only one NHL game (last season), but has played the last two seasons in the AHL. He played in 75 games during the 2011–12 AHL season and tied for AHL lead in goals by a defenseman with 16 (37 points). Last season in the AHL he missed two months with a broken jaw and played only 57 games, finishing with 22 points (6g-16a).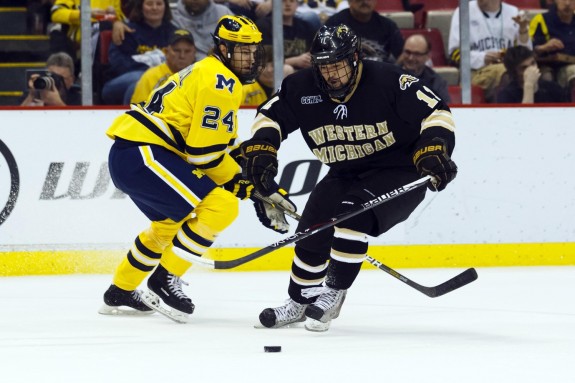 When the Hockey Writers spoke to Merrill after a preseason game vs. the New York Islanders, he was excited about learning from Stevens who is now an assistant coach on Peter DeBoer's staff for the Devils. "It's great, everything he says you just absorb (like a sponge)," said the 21-year-old Merrill. "He has so much knowledge, it's a great opportunity for me."
Merrill's first AHL goal will playing with Albany:
In that game he scored a goal and had an assist on the power play. That was Merrill's first NHL game experience, after playing the past three years for the University of Michigan and 12 games with the Albany Devils in the AHL last season. "I got some shots through and I was fortunate that a couple of goals were scored," he said afterwards, but anytime you give up two shorthanded, it's tough to win." Like a seasoned veteran, he was already downplaying his efforts after a loss in a sloppy game.
He also admitted that growing up in Michigan he was a big fan of Nicklas Lidstrom and tries to pattern his game after him somewhat. He called his college experience "great" at the U of M and said he was "grateful for the opportunity they gave him."
Brodeur isn't making the decisions on who stays or who goes on the blueline (yet), but he does know talent and is looking forward to maybe one day soon playing behind some of them. "The guys are young: one of them is coming out of Juniors (Severson), one is coming out of college (Merrill), Gelinas has been in the minors, Urbom has been in the minors; so they have some more experience."
If I had to guess, I'd say Gelinas has the best chance to stick with the team as the 6th or 7th defenseman, but I also wouldn't be shocked if he is sent back down to the minors and called up after a month or two.
Another look at Gelinas, Urbom & Merrill from Leo Scaglione:

3 Albany Devils Hoping to Say Goodbye Albany, Hello Newark
However it shakes out, it certainly appears that New Jersey's D could be returning to elite status very shortly; and we haven't even discussed other Devils defensemen prospects such as Brandon Burlon, Reece Scarlett & Steve Santini.
Dan Rice can be reached via Twitter: @DRdiabloTHW or via Email: drdiablo321@yahoo.com
The NHL regular season schedule was released on Friday. Check out our partners at TiqIQ for the best deals on New Jersey Devils tickets for all 2013-14 games.
Dan Rice is in his 9th year of reporting for THW & has covered NJ Devils home games for 15+ years at various websites. He began his journey working for legendary broadcaster/writer Stan Fischler from 2002-04 & completed an internship at the ECHL; he also has been writing features for the NWHL (nwhl.zone) website since 2016.