As we have seen from championship teams in the past, talent at the center-ice position is probably the most conclusive on-ice credential that is representative of an elite organization in the NHL. While a hot goalie, depth at forward and defense, and leadership are obviously requirements for long-term success and lengthy runs in the playoffs, strength down the middle is the straw that can stir a team's drink. To support this theory, let's take a look at the structure of recent Stanley Cup winning teams.
           Most recently, the Chicago Blackhawks won it all in 2013 with Jonathan Toews as their number one center. As we all know, Toews is a workhorse who plays a strong two-way game and is among the league's best players. Behind Toews, centers David Bolland, Michael Handzus, Andrew Shaw, and Marcus Kruger were valuable components for the Hawks en route to their team's fifth Stanley Cup in franchise history. Let's not forget that Patrick Sharp was also readily available to pitch in at center had he needed to.
           When the Kings drank from lord Stanley's mug in 2012, Los Angeles was (and still is) spoiled rotten in the middle. Beginning with their 11th overall draft-choice from 2005, Anze Kopitar has developed into a bona fide machine at the center position. At 6'3 and 225 pounds, Kopitar is not only strong in stature; his point production of 506 points in 559 career games certainly speaks for itself. In addition to Kopitar, Jeff Carter and Mike Richards patrolled the team's second and third lines, not bad considering both would likely serve top line roles on most teams in the National Hockey League.
          Are you beginning to notice a trend? Because I could go on all day long: The Boston Bruins in 2011 had Patrice Bergeron, David Krejci, Tyler Seguin, Chris Kelly, and Rich Peverly who were all capable of playing center. Like in 2013, the Blackhawks of 2010 were well equipped with machines at center. I hope by now I've hammered home my point, but just in case I have not, the 2009 Pittsburgh Penguins who featured Sidney Crosby, Evgeni Malkin, and Jordan Staal as centers for their top three lines are without question, exemplary. Altogether, these examples would have to support my belief that championship teams are built around top-notch middlemen.
            Now, if you are a fan of the Montreal Canadiens, you are probably well aware that the Habs have a plethora of players have an association in way or another with the center position. Whether they grew up playing the position, or play it right now, the Canadiens are most definitely flexible at center. As is common knowledge, Tomas Plekanec, David Desharnais, and Lars Eller currently occupy these positions on the team's top three lines (let's ignore the fourth line for the purpose of this piece). Is this really the best that Montreal has to offer? At the moment, this might be a reality. However, with 2012 3rd overall draft-choice and budding sophomore Alex Galchenyuk making colossal strides by the game, one would think that he'll be playing his natural position, center, sooner rather than later.
            Another Hab who's currently playing on the wing but would probably benefit from a move to the center of the ice, is struggling free agent acquisition, Daniel Briere. Briere, who's played most of the past two seasons as a winger (in Montreal and towards the end of his tenure in Philadelphia), has had his highest levels of success in the middle. In fact, Brere has tallied 60 or more points seven times in his career as a center-man, including a career high 95 points for the Buffalo Sabres in 2007. While it would be wrong to expect numbers like that should the Canadiens move him over to the middle, it is of my opinion that his ability to carry the puck, and his visibility, would naturally improve in spades. Furthermore, in order to have success as a winger, fore-checking hard, playing hard along the boards, and going to the net are definite pre-requisites for success; and while Michel Therrien and the fans would like to see more of this kind of play out of Briere, that's probably not his game, especially at this point in his career.
Daniel Briere Stats
Besides, after dishing out 8 million dollars to Briere over two seasons, shouldn't the organization put their product in a position to succeed? Of course, the question then becomes: who do you move to the wing so that Briere can play his natural position?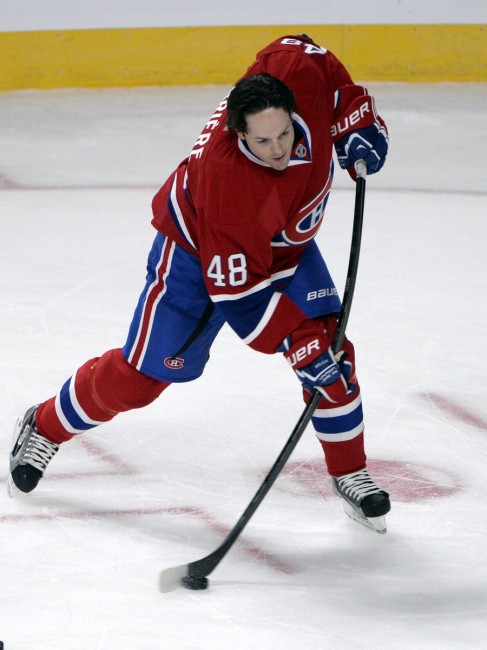 Well, you're definitely NOT going to tell Tomas Plekanec to move over to the wing because, well let's face it, he's by far the team's best two-way centerman. Next on the list is David Desharnais, and no matter what you think of the guy, his play as of late with Max Pacioretty has more than warranted a spot as one of the team's offensive centers, for now anyway. So this leaves one other option. But even though Lars Eller has been deemed a cornerstone piece of the puzzle by many fans and critics because of his size, speed, and skill, his production as of late has been inconsistent and less than stellar. At this moment in time, I would take advantage of this development to give Daniel Briere a chance to play his natural position in an offensive role if I'm Michel Therrien (and I'm not). Maybe this lights a fire under Briere, and maybe it reminds Lars Eller that he mustn't get too comfortable.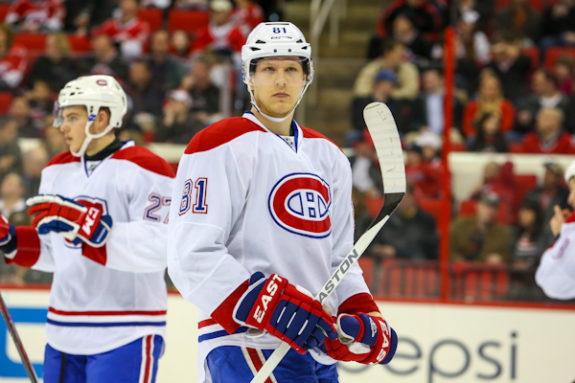 While this is only my solution for the time being, I want it to be noted that Lars Eller is still very much in my long-term plans for the Habs. Ideally, if I were the Habs GM (and I'm definitely not, that's Marc Bergevin), I would be actively shopping David Desharnais, and if I could find a taker, I would go with Plekanec, Briere, and Eller the rest of the way for this season. Although this might be a bit of risk right now, I'd much rather deal with Briere for another year and a half should he struggle, than be stuck with Desharnais for another three and a half years should he soon come back to reality. In a year and a half, Alex Galchenyuk can most certainly replace Briere, and the Montreal Canadiens can lineup with Galchenyuk, Plekanec, and Eller at center, a structure that is comparable to Stanley Cup champions of the past few seasons that were previously mentioned.
David is currently a second year Arts student at McGill University and aspires to have a career as a sports journalist one day. When he's not covering the Montreal Canadiens for THW, he is the sports producer for TVMcGill and the host of his very own show called "On The Line with David Stein." He is also a frequent contributor to the McGill Tribune.