Charles Hudon THW Close-Up:
Date of birth: June 23rd, 1994
Place of birth: Boisbriand, Quebec
Ht: 5-10 Wt: 170
Shoots: Left
Position: Left wing
NHL Draft Eligibility: 2012
***
Click here for the live updated NHL 2012 Draft Preview Guide – The Next Ones – your quintessential draft resource.
***
After a rookie campaign during which he recorded 23 goals and 37 assists for 60 points in 63 contests with the Chicoutimi Sagueneens, Hudon posted similar numbers in 2011-12, notching 25 goals and 41 assists for 66 points in only 59 games. Hudon also posted a combined +54 plus/minus rating over his first two seasons in the QMJHL. The diminutive winger also had a good performance during the 2011 Subway Super Series scoring one goal and adding an assist for two points.
Drafted sixth overall in the 2010 QMJHL Draft, Hudon represented Canada in several tournaments in the past twelve months. In December 2010, he played for Canada's Team Quebec in the Under-17 World Hockey Challenge leading the team in scoring with an impressive 5 goals and 6 assists for 11 points in a mere 6 games. Hudon's strong performance earned him a roster spot as an underage for Team Canada at the Under-18 World Championships in Germany, but he barely played. Last August, Hudon participated in the Ivan Hlinka Tournament for Team Canada where he did not disappoint, recording 5 goals and 4 assists for 9 points in only 5 games.
Hudon was also a big part of Chicoutimi's surprising playoff run this Spring, during which he recorded 6 goals and 5 assists for 11 points in 18 games. While Hudon is mainly known for his offensive skills, he can also play defensively, as shown by his good plus/minus differential. The gifted forward is blessed with superior hockey sense, a great vision and quick hands. He likes to control the play in the offensive zone to create scoring opportunities for himself or his team-mates. His strong work ethic and his leadership skills are both perceived by scouts as important assets to Hudon.
However, Hudon needs to work on his skating to improve his foot speed in order to be more efficient with the puck, especially in transition. The diminutive forward will also need to bulk-up in order to improve his play along the boards as he tends to get knocked off the puck easily by bigger opponents. These flaws will hinder Hudon's value at the 2012 NHL Entry Draft, and he could go anywhere from the beginning of the 2nd round to the end of the 3rd round.
Scout's Honour:
"Like practically every other player eligible for this year's draft, Hudon had some trouble with injuries over the season. For a returning player, especially one who won the Rookie of the Year award last season, you'd like to see a progression, a development in his skills. On paper, he's bigger than he was last year and has added some weight, but still needs to get stronger to be able to win battles along the boards and to protect the puck in the offensive zone. Making things more complicated, his skating is only average and speed wise, he doesn't have that extra gear needed to buy himself some time and space on the ice. He definitely takes punishment on the ice because of he's not quick enough to get out of the way, and that has to be a continued concern when it comes to injuries. With all that said, it is a testament to his skillset that he's been successful. Namely his on-ice vision, where he's equally adept at setting up his teammates as he is at displaying his own scoring touch. The vision on the ice, the hockey sense, these are things that can't be taught. I think if he can continue to get bigger and stronger, while improving his skating, he could be a pleasant surprise." – Hockey's Future's Kevin Forbes Twitter account: @kforbesy
***
"The one thing that stands out to me when watching Charles Hudon is his ability to spot openings on the ice and his capacity to take full advantage of them by his superior skating and puck handling ability. He is a rather undersized player but he keeps his body low and is hard on the puck making it difficult for opponents to get the puck off him. He excels in offensive situations because he's at his best when he's controlling the play. When he doesn't have the puck, things are a little harder for him as he doesn't anticipate the play very well." – McKeen's Rick Springhetti Twitter account: @rick1042
***
"While Hudon's skating needs work, The Dean's List is very impressed with his ability to create offense with his quick hands and well-developed hockey sense. Hudon has a strong work ethic that scouts have undoubtedly noticed and he is a player that has consistently produced on every team he has competed for. Chicoutimi fans are privileged to watch this offensive catalyst play on a nightly basis and it will not be long until the entire nation understands his full potential." – Dobberhockey's Brendan Ross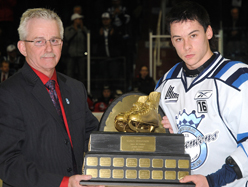 Statistics:
Bio/Interview(s)/Link(s):

Interview with John Moore of SportsandMoore.com
International Tournaments:
2011 Ivan Hlinka Tournament = 5 games, 5 goals and 4 assists for 9 points
ETA = 3 years
Risk-Reward Analysis:
Risk = 4.5/5 Reward = 4/5
NHL Potential:
Second line scoring winger
Strengths:
• Excellent puck skills
• Great hockey sense
• Quick and accurate shot
• Good stick-handler
• Excellent work ethic
Flaws/Aspects He Needs To Work On:
• Slow foot speed
• An average skater, he needs to work on his skating in the off-season
• Needs to add 10-15 pounds to play against bigger opponents
• Needs to polish his defensive game, especially his positioning and decision-making in his own zone
Fantasy Hockey Potential:
Offensive = 9/10 Defensive = 7/10
NHL Player(s) Comparison:
Derek Roy
Video(s):

Charles Hudon's highlights
Follow Fred Poulin for all your 2012 NHL Draft prospect needs and get more information on the NHL.
THW's The Next Ones prospect profile template design architect: Chris Ralph