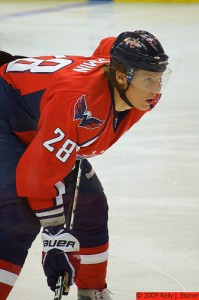 The Washington Capitals are going to look different next season, we know that much for sure, but to what extent remains to be seen. GM George McPhee has a few big decisions to make during the offseason, including hiring a new coach, as Dale Hunter will not return to the Washington bench next season.
One of their key players from the past few seasons, Alex Semin, is an unrestricted free agent and it may be time to cut ties with the Russian winger. The Capitals are turning a corner as a franchise and Semin doesn't appear to fit into the blueprints as Steve Simmons of IFpress.com reports.
The Capitals are no longer the high-flying team they were a few seasons ago when Semin was worth the money handed to him. Now that they play a defense-first, gritty game he is out of place. And while McPhee looks for a new coach, he will likely find one who preaches defensive hockey as the Caps looked better in the playoffs this year than any other time since the lockout.
Semin made $12.7 million the past two seasons on two one-year deals. For that, he has provided 49 goals and 104 points in 142 regular season games, but only seven goals, 10 points and a minus-2 in 23 playoff games. All of his goals came in a three-game streak against Boston in the first round and he only managed one assist in seven games against New York. When 13 of 14 games are decided by one goal, a player as offensively talented as Semin needs to step up and be the difference.
Unfortunately for him, the Capitals don't play a style in which he thrives anymore. They score fewer goals off the rush and more by crashing the net and driving for rebounds. Players like Jason Chimera, Brooks Laich and Troy Brouwer are the players who are going to score those dirty goals and do the other things necessary to win playoff games at this level, including hitting blocking shots and being defensively responsible. Role players such as those three who never stop moving their legs and fight hard for lose pucks will be more valuable to the Capitals while coming at a cheaper price than Semin.
Sure, he does sometimes show great effort in making the small plays required to win. From Simmons:
But the indifference of Semin, the ability to be high-risk, high-reward on the same shift, to flash a second of superb play followed by the most ghastly of turnovers, has made him an afterthought in most of Hunter's planning. But every once in a while, as he managed in Game 6, Semin did the unusual, the unexpected, and there were good results because of it.

With the Caps leading 1-0, Semin had the puck on his stick, was knocked to the ice, somehow continued to fight for the puck and use his slick hands to keep control of it, regained his feet and made a play, which two passes later resulted in the winning goal being scored by Jason Chimera.

There was no assist for him on the play, even though the goal would never have been scored without him. Two others touched it before Chimera. But Semin's play did what he is paid to do. Without him, there would be no winning goal and there is no tangible record of that on any scoresheet.
Unfortunately, Semin doesn't play that style with nearly enough consistency to warrant another contract offer from Washington. He was even relegated to the fourth line at times in the playoffs, not where you want a player making $6.7 million and who only has eight hits and five blocked shots. The Capitals can't afford that kind of production and it's doubtful any other team can either. It's unlikely he will take much of a paycut, so his best option might just be the Kontinental League. From Simmons:
Others around the NHL, wondering whether the 28-year-old forward is worth the bother or the money, will debate what to do with him. No doubt, the Kontinental Hockey League in his homeland will come calling, overrating and overpricing his considerable talent.
Simmons is right, the big four on the Capitals, Ovechkin, Semin, Nicklas Backstrom and Mike Green, will never play together again. And in Semin, they have the player with the least amount of value heading forward.