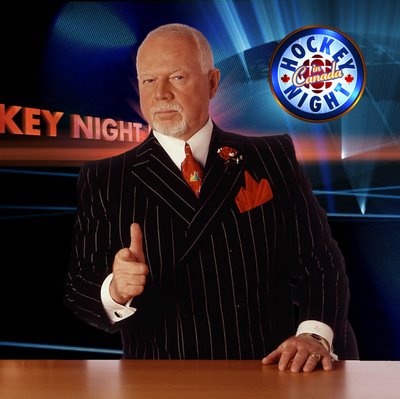 If you're not Canadian or if you're not a hockey fan, you may not get Don Cherry.  He is a Canadian institution almost more so than the broadcasting corporation that he works for.  For 7 ½ minutes every Saturday night on Hockey Night in Canada, 'Grapes' as he is commonly referred, gets his time in the spotlight.  He is a polarizing personality often splitting the nation in half with his commentary
More often than not he is talking about the Toronto Maple Leafs, his favorite team, his hometown team and more often than not, he isn't happy.  In case you missed it, I wanted to recap the musings and sometimes the ranting's of one Donald S. Cherry for you.   Here they are in rapid fire succession.
Montreal Begins Search for new GM
With last week's firing of Pierre Gauthier from Canada's most successful franchise, hockey fans across the nation and beyond are debating who the successor should be.  On Saturday Cherry chimed in on this hot topic, just commenting on how poorly the coach hiring had been dealt with.  Does the person replacing Gauthier have to speak French?  If you've watched him over the years you know that Cherry is very opinionated when it comes to French speaking players, this time he extends his frustration to the Molson family and anyone else involved in the decision making on the next GM.   This is after all one of the more important franchises in the league.
Best Shift in Hockey by Jason Spezza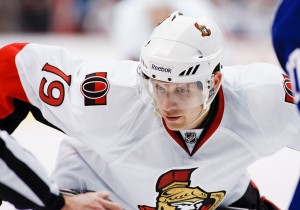 Cherry's old disciple in Mississauga with the Ice Dogs, Spezza has taken some time to really put the Ottawa Senators onto his shoulders.  Prior to this season, he has really been an enigma in the NHL.  One of the favorites year in and year out, Spezza has failed to really emerge as a top player.   That is until now.  He's always been a good player, but not the greatness that the Senators expected when they drafted him.  This season, Spezza has broken through.  Not only is he near the top of the leaderboard in  points, but he has taken his game to another gear overall.  Cherry and his crack staff showed one of the best shifts by Spezza which was in my opinion one of the best shifts by any player all year.   Unfortunately, you'll have to go to CBC's website to find this clip.  What I was able to find was the best shift from a few seasons ago when Sidney Crosby took it to the same Ottawa Senators and Jason Spezza had a front row seat.  Have a look.
Matt Hendricks in the Shootout
If you've seen any of the highlights on Matt Hendricks in the shootout, Don Cherry urges you to get to youtube as quickly as possible and check him out.   Well I do anyways, as he can outright dangle! I have included his shootout goal against the New York Islanders from a few weeks ago to prove it.  He is taking advantage of goaltenders as you just don't expect this from a player like Hendricks, but goalies in this league have not been able to figure him out.  Most recently he has completely undressed Tim Thomas and Martin Brodeur, two of the league's best.
Newfoundlanders in the NHL
Although Don Cherry wouldn't want any of these kids to play for the Toronto Maple Leafs because they're not from Ontario, but he took a few minutes to tell the Canadian public about these great kids from Newfoundland.  Michael Ryder has been a stud in Dallas, Teddy Purcell has been one of the best 2nd half players in the league for the Tampa Bay Lightning and Colin Greening's stellar play has been one of the surprises in Ottawa that has helped push them into the playoffs.
Kyle Clifford Snow Job
Although one of Don Cherry's favorites, Grapes was not in favor of Clifford's snow job.  He was emphatic that this is something that you never do to the opposing goaltender.   What is a snow job? Its when the player headed for the puck stops immediately in front of the goalie and sprayys him with snow.  According to Cherry, it's totally uncalled for.  I agree, this is one of those pesty type plays.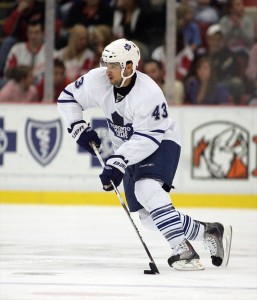 Kadri, Zigomanis playing great and neither gets the call.
This is where it really got dirty for Cherry in the show.  He's very passionate about this.  With the rash of injuries that the Toronto Maple Leafs have suffered of late, the club has called on some of the kids in the Marlies to come up and replace them.  Outside of goaltenders Ben Scrivens and Jussi Rynnas, the Leafs called on Nazem Kadri and Ryan Hamilton to join the big club.  When the regulars became healthy, the Leafs had to send Kadri and Hamilton back.  That's a league rule.  When Mikhail Graboski went down on Saturday to a cut on his thigh, the Leafs reached down into the Marlies and plucked up Joe Colborne who will get his 10th start of the year for Toronto's big club, despite not having scored in 17 straight Marlies games.  So this is why Cherry can't understand why Mike Zigomanis doesn't get the call up.  Sure he is no spring chicken at 31 years of age, but he is having one of his best offensive seasons of his career and he does all of the little things right.  He wins faceoffs, he kills penalties and he plays against the other teams stars all night long.  On that note, this is probably exactly the reason why the Leafs don't want him to come up.  He is the Marlies best player and the Marlies find themselves trying to clinch a playoff spot and they are almost there.  Unfortunately, the Leafs don't really have anything left to play for, so sorry Grapes but the argument to have Zigomanis getting the call up just don't hold water.
Amerks twin towers on Defense
Although the Sabres would much rather have Erhoff, Myers and Weber on the blue line, they are fortunate to have two of the better AHL defenseman to call up in TJ Brennan and Braydon McNabb.  Unfortunately for the Sabres franchise, both the Sabres and the Rochester Amerks are both in a dog fight to make the post season.  Having these twin towers in Buffalo gives less of a chance to the Amerks at making the post season.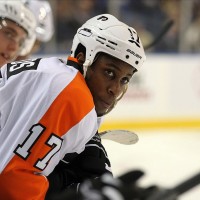 Simmonds could have been a Leaf and he won a Fight, without Fighting
Cherry missed the boat on this one.  Perhaps he needs to start taking a few extra nights off as he may be spending too much time with scouting major midgets.  A little bit of time with www.hockeydb.com and he'd be fine.  On this night, he indicated that the Leafs passed up on Wayne Simmonds in the draft.  The fact is, they didn't have a shot at Simmonds.  In the 2007 NHL draft, a draft managed by John Ferguson Jr., The Leafs didn't have a selection until the 3rd round, where they selected Dale Mitchell.  Wayne Simmonds was selected 61st overall by the Los Angeles Kings in the 2nd round.  If Simmonds is really that much of a great player (and I do think he is) then Cherry should really be beating up on the Kings for why they traded him away.  (By the way, if you're interested in my look at Patrick Kane being selected first overall in the 2007 NHL entry draft, have a look here.)
Cherry also went on to talk about the Leafs/Flyers game from last Thursday in which the Flyers destroyed the Leafs by a score of 7-1.  Don talked about Wayne Simmonds winning a fight with Dion Phaneuf without actually having the fight.  Hmmm?  Interesting one Grapes.  But really, this is much ado about nothing.  If the game meant anything, Dion Phaneuf would fight and probably lose a close one to Wayne Simmonds. But Phaneuf chose not to drop the gloves with Simmonds and quite honestly why would he.
So there you have it, those are the 'Cherries of wrath'.
Although Don Cherry and his opinions are sometimes stuck in the early 70's, one thing about this CBC godfather is that he knows his hockey.
Low Hanging Fruit –
This is the juicy stuff that I couldn't resist sharing
Lance Brown Breaks Down
This is a very entertaining piece by CTV sportscaster Lance Brown.  Brown who is a veteran at his craft is like every other Leafs fan.  He is fed up.  It's a piece you have to watch.  Personally, I think it lacks professionalism, but I'm glad someone did it.  The media does owe it to the fans and viewership, listenership and readership to ask the tough questions and get the facts, but this broadcaster goes overboard as he becomes the story.  Have a look.
Damian Cox says says Iginla a possibility
The Main Sportswriter for the Toronto Star and now a commentator on Sportsnet on Radio and Television floated this tweet today:
April 2 via @damospin
"If Flames decide to finally move Iginla, they won't hit a home run. But for a young team needing leadership like the Leafs, a possible fit?"
Ottawa area radio station has a little fun with Leafs fans misery
You have to know what 'Hinterlands who's who' is for this to make sense, but once you do, you just might get a kick out of this.
Here is an example of hinterland who's who:
Now here is the Leafs version, sorry Leafs fans.  Try and Enjoy it.
Twitter: @StonemanStephen | Email: stoneford@yahoo.com | Stephen's archive
For every Maple Leafs article on THW, follow @THW_MapleLeafs  on Twitter