Patrick Kane was a superstar in Junior, a superstar at the draft, and he immediately became a superstar in the Windy City.  This guy is such a star that even his mouth guard has a twitter account (@kanermouthguard).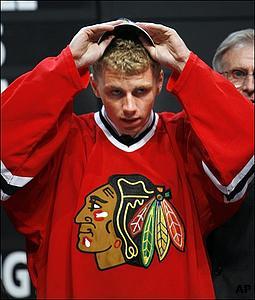 For argument's sake, let's take a look back at the 2007 NHL Entry Draft and examine if the Chicago Blackhawks made the right choice with their 1st overall selection of Patrick Kane.
The top 5 selections of that Entry Draft were:
1 – Patrick Kane, Chicago Blackhawks, Playmaker: Finished with 145 points in 58 games for the London Knights of the OHL
2 – James Van Riemsdyk, Philadelphia Flyers, Power Forward: Finished with 25 points in 12 games for the U.S. National Under-18 Team
3 – Kyle Turris, Phoenix Coyotes, Sniper: Produced 121 points in 53 games for the Burnaby Express of the BCHL
4 – Thomas Hickey, Los Angeles Kings, breakout defenseman: Played 262 WHL games putting up 177 total points for Seattle Thunderbirds
5 – Karl Alzner, Washington Capitals, Dominating Stay at Home Defenseman:  Captained Team Canada in World Junior Championships and +86 over 5 seasons in the WHL for Calgary Hitmen
In 345 career regular season NHL games since being drafted, Kane has totalled 111 goals and 222 assists for 333 points.  To put that into perspective, the top scorer from the previous year's draft is Niklas Backstrom with 350 points, just 17 more than Kane.   He's also scored 48 points in 45 career playoff games.  Kane's most important playoff goal came on June 9th, 2010 which was the Stanley Cup Winning goal against the Philadelphia Flyers in Game 6 of the 2010 NHL Stanley Cup Final. check it out below!
Here is a closer look at how Pat Kane compares to other players from the 2007 Entry Draft.
Games Played:  Sam Gagner selected 6th overall by the Edmonton Oilers, Kane's teammate in London is the only other player to exceed 300 and he is still some 35 games behind Kaner who has played 345 games.  Only 6 players have eclipsed the 200 game mark including Kane and Gagner, they are: Jakub Voracek selected 7th by Columbus (266), Wayne Simmonds selected 61st by Los Angeles (265), David Perron selected 26th by St. Louis (236) and Brandon Sutter selected 11th by Carolina (232). 136 players selected in 2007 have not played an NHL game.
Goals:   111 goals almost double the next best goal total.  Kane scores a goal in almost every third game he plays.  In terms of top 5 goals from 2007 would be.  1) Kane – 111, 2) Gagner – 60, 3) Perron – 54, 4) Jamie Benn selected 129th overall by Dallas – 50 and perhaps the one who has been coming on the strongest in recent years is Logan Couture selected 9th overall by San Jose – 47.  For Couture, his 47 goals have come in 127 games played.
Assists:  Kane has netted 222 assists now in his 5th career in the NHL.  The only others to exceed 100 career assists are Gagner (121) and Voracek (107).  Rounding out the top five are David Perron (78) and Jamie Benn (70).
Points:  Once again Kane has this category wrapped up.  The Buffalo, New York native has amassed 333 total points.  It should be no surprise that the top 5 are Gagner (181), Voracek (150), Perron (132) and Benn (120).
PIM: Finally a category that Kane doesn't lead in.  The leader of this category is Los Angeles Pick, Wayne SImmonds with a whopping 308 minutes in 265 games.  You'll be surprised to know that Patrick Kane sits a distant 2nd place to Simmonds with 162 minutes of penalties.  P.K. Subban of the Montreal Canadiens (selected 43rd overall) has 161.  Perron and Gagner round out the top 5 with 160 and 157 penalty minutes respectively.
Biggest Disappointment of the draft: This has to be Thomas Hickey, who is the only player in the top 18 players selected to not yet play an NHL game.   Don't forget that he was chosen 4th overall.  Hickey continues to toil in the AHL for the Manchester Monarchs.  At 5'10, 182 Lbs, Thomas Hickey is going to have to be a solid two way defenseman in order to succeed in the NHL and that just hasn't occurred as of yet.  Hickey is frequently mentioned in trade rumors, but Los Angeles is holding out hope that their young prospect will emerge as a star.
Biggest surprise of the draft: There are definitely a few candidates.  I give this one to Carl Gunnarson who is a top 4 defenseman with the Toronto Maple Leafs and has played in 137 total games, with 42 points over that stretch.  He was selected in the 7th round, 194th overall, a definite steal.  I give honorable mention to Jamie Benn who was picked 129th overall in the 5th round and who has 120 points in 177 career games.
 Saddest story of the draft:  Although at the draft, the story was that Russian superstar Alexei Cherepanov was slipping down the pecking order.  The young Russian star didn't get his chance to prove the cynics wrong.  He passed away while playing a game for Avangard Omsk of the KHL.  The video footage is of his death is frightening, but I feel compelled to remind you of this budding star that died far too young at the age of 19.
Almost 5 years later, I am happy to announce that Chicago made the right pick by selecting the great Pat Kane.  In his past 3 seasons he is a point a game player.  Despite his small stature, Kane is durable and has never played fewer than 73 games in a season.  While he is not a penalty killer nor would we constitute him as a solid two way player (although he does back check), and he is certainly not a team Captain material (at least not yet) like his counterpart and buddy Jonathan Toews i.e. Captain Serious, Patrick Kane is a superstar through and through.  If you could have one player on your team carry the puck and not lose it, it would be Patrick Kane.
When I look back at the top 5, if I were a GM and I was evaluating the choices made by Philly, Phoenix, Los Angeles and Washington, I might replace Van Riemsdyk, Turris, Hickey and Alzner with names like Voracek, Couture, Sutter, Shattenkirk, Perron, Benn or even PK Subban.
But one things for sure.  I would not change the first pick.
Patrick Kane is the best pick hands down.
Follow Stephen Stoneman @stonemanstephen