Outside the rink, Jeff Skinner is simply an average teenager. He's not very tall, nor exceptionally strong; his voice is more comparable to a child than a professional athlete; he enjoys listening to Taylor Swift, and isn't afraid to admit it.
Generally speaking, there is nothing that separates Skinner from any other adolescent boy. That is, until, he laces up his skates. Once Skinner hits the ice, he's anything but average.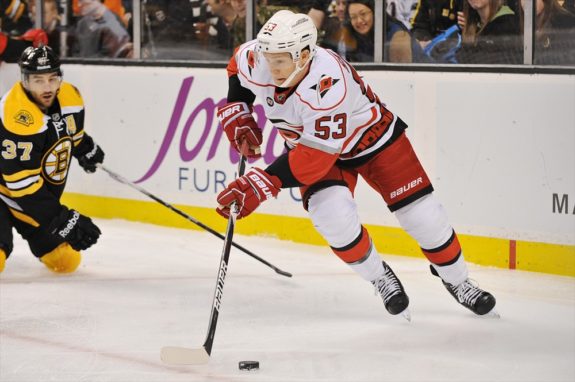 Now in his second year in the NHL, the Brampton, Ontario native is the best player on the Carolina Hurricanes. The 'Canes and their fans haven't had a whole lot to cheer about recently, but in a season marred by disappointment, Skinner has been the team's one major bright spot.
"Jeff is on his own level," said teammate Jussi Jokinen. "He's simply brilliant."
Skinner has made a name for himself during his brief career with dazzling goals, smooth skating and a knack for coming through in the clutch, but the highlight reel doesn't tell the whole story.
The most impressive aspect of Skinner's game is his consistency. Most teenage NHL players go through at least one significant rough patch in their first few years in the league (see: John Tavares, Taylor Hall, Tyler Myers) — but not Skinner.
Fresh off a stellar rookie performance, the reigning Calder Memorial Trophy winner has only gotten better this year, effectively avoiding the dreaded sophomore slump. In fact, he's avoided virtually any slump whatsoever as a professional; the Brampton, Ontario native has only gone four games in a row without a point once in his career, and that happened just over a month into his rookie campaign.
In a typically modest fashion, Skinner credits his supporting cast for his rise to stardom.
"A lot of it comes down to opportunity," he said. "I'm playing with some pretty good players, and they open things up and create scoring chances. I'm really lucky to skate with the guys I am."
Through December 5th, Skinner played in 110 National Hockey League games. Breaking down his performances into 10 game incriments, his consistency becomes evident: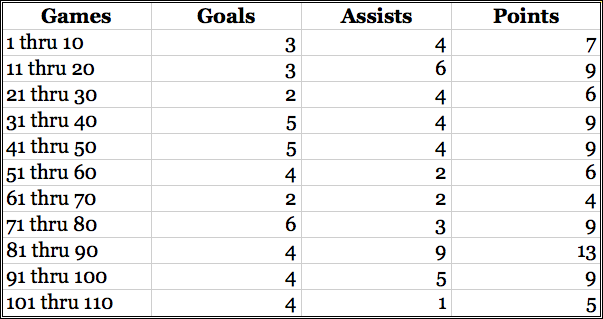 So how does he do it?
Skinner has been able to play at an invariably high level because he possesses intelligence that very few teenagers are blessed with. While his physical skill set is impressive, it's his hockey IQ that enables Skinner to produce All-Star worthy numbers time and time again.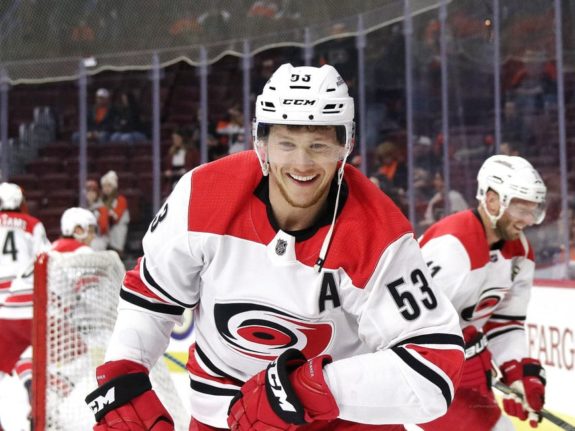 Despite his lack of size, Skinner has managed to avoid sustaining any serious injuries as a member of the Hurricanes, playing in every game since opening night of 2010. Even though the typical NHL defenseman towers over him, Skinner has been a victim of very few hits, allowing him to dress every time Carolina plays. His vision and awareness on the ice enables him to showcase his lethal wrist shot and figure skating experience with a low risk of being steamrolled, something that is vital for a play of Skinner's stature and a big contributor to his perpetual success.
When he was a rookie, Skinner's productivity was a pleasant surprise for the Hurricanes. Now, it's a necessity. Between the loss of Erik Cole, the struggles of Eric Staal and the disappointing start for several of the newly signed free agents, Skinner is the sole reason Carolina's offense is middle-of-the-road instead of mediocre. And if there's one thing the Hurricanes and their fans can count on during a season straight from the depths of hell, it's that their 19-year-old superstar is going to continue to shine.
Follow me on Twitter: @andrewhirsh
Andrew Hirsh is a graduate of Elon University and is entering his fourth year as a credentialed NHL writer. He founded SunbeltHockey.com in 2012 and serves as the site's managing editor. Andrew can be reached via email at ahirsh3@gmail.com.