Since 1980, when the OHL separated from the Ontario Hockey Association, several European countries have had representation in the league as import players. One country with significantly lower numbers than most, though, is Switzerland, a nation that has had only 13 native-born individuals come over to play in the OHL.  To make it even more astounding, only two of them have since graduated to the NHL.  The 2011-12 OHL season was a good one for Switzerland, as there were three imports in the league from that country: Lino Martschini, Dario Trutmann and Tanner Richard.  All three have become fan favourites on their teams but, just as quickly as Switzerland's rise in the OHL has come, its collapse is coming just as rapidly.  Two of these three players, who were actually teammates with the under-20 affiliate of EV Zug in 2009-10, are now going home to play in the Schweiz Nationalliga A, Switzerland's top professional league; each one is forgoing the remainder of his North American junior eligibility.
*
In 2010, the Peterborough Petes had the 35th overall pick in the 2010 CHL Import Draft, which they used to select a 5'5″, 125-pound forward named Lino Martschini.  A native of Luzern, Switzerland, Martschini's statistics in the lower junior teams in EV Zug's system proved that, despite his obvious petite frame, he was capable of scoring goals and points in bunches.  In ten games with EV Zug's under-15 team in 2008-09, he scored 25 goals and 33 points.  He followed that up with 94 points (46 goals, 48 assists) in 38 games with the under-17 team the next season.  As if those numbers were not astounding enough, it was the 2009-10 season where he showed his point-scoring prowess.  In only nine regular-season games with the U17s, Martschini tallied 26 goals and 31 points, as well has scoring six points (three goals, three assists) in a single playoff game.  With the under-20 team, he scored 14 goals and 27 points in 17 games, followed by tallying a goal per game in seven playoff contests.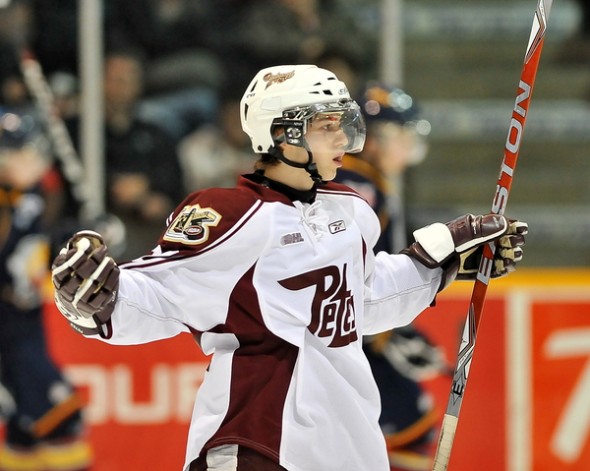 After he was signed to an OHL contract on August 27, 2010, Martschini's arrival in Peterborough was immediately brought with curiosity and wonder.  His smaller size made many wonder if, despite his obvious talent, that he would be able to physically thrive in a league with most players over six feet tall and over 200 pounds.  He set out to prove that he belonged and that he would succeed.  In his first OHL game on September 23, 2010, Martschini got an assist on a goal by Matt Puempel; the Petes, however, lost the game 5-4.  He followed that up with his first goal of his OHL career a week later in a game against Tyson Teichmann of the Belleville Bulls, a game in which he also tallied two assists.
In November 2010, the Petes made a trade with the Kingston Frontenacs that brought even more offensive punch to their lineup. Peterborough sent Boston Bruins draft pick Ryan Spooner, as well as defenceman Jeff Braithwaite, to Kingston for second-year forward Alan Quine and sophomore blueliner Clark Seymour.  Petes head coach Mike Pelino put Quine as the centre on Martschini's line and they found instant chemistry. Additionally, to show his confidence in the thin Swiss native, Pelino also put Martschini on the point on the powerplay alongside the team's other import, Swedish defenceman Kalle Ekelund.
Martschini's meteoric rise to fan favourite in Peterborough was just as remarkable as his point production on the ice.  He was featured on TSN's "That's Hockey" early in the season, showing how the little guy was becoming one of the more popular players in recent franchise history. Puempel, Austin Watson and Jack Walchessen raved about how, despite Martschini's diminutive stature, that his talents superseded any lack of size he may have.
Martschini had a very productive rookie season in the OHL.  After a slow start, he picked up the pace in December, a month in which he tallied 14 points, 12 of which were assists, in eight games.  He went on a complete point-scoring frenzy in the new year, scoring 29 points in three months.  He eventually scored 58 points in 61 games, including 20 goals.  Out of those 20, seven of them were on the power play.  His point total was good enough for third on the Petes, trailing only Puempel (69) and Watson (68).  Martschini's 38 assists actually were tops in Peterborough, thanks especially to a trio of three-assist games during the year, three of eight three-point games he had throughout the season.  His 58 points were also tied for fifth in league rookie scoring.
The Petes, however, missed the playoffs in 2011 and he was allowed to join Switzerland's under-18 team; serving as one of the team's alternate captains, he scored a point per game in six contests.  He was also eligible for the 2011 NHL Entry Draft but he was not chosen; three of his teammates (Puempel, Quine and Derek Mathers), however, were selected.
Martschini returned to Peterborough in 2011 with the hopes of having another productive season.  He got a new linemate for the season, too; New York Rangers draft pick Andrew Yogan, an overager from Florida, had been acquired from the Erie Otters during the offseason and he immediately put a spark in Martschini's game.  The Petes played the Niagara IceDogs in their season opener and the second-year Swiss tallied a goal and an assist; Peterborough won 7-1.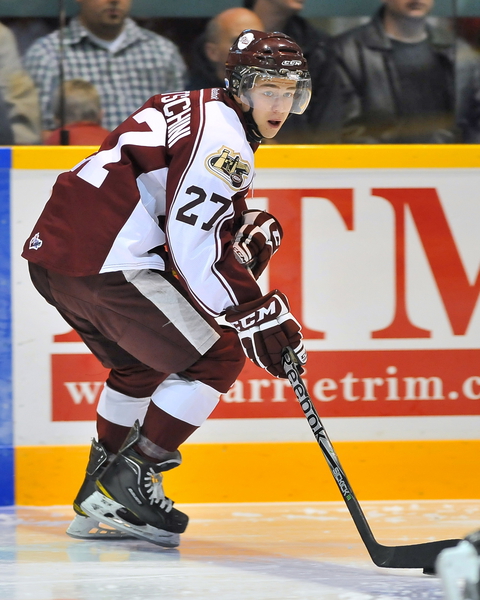 Just like in 2010-11, however, Martschini struggled during the first couple months of the new season but that changed in November when he scored nine points, his season total up until that month, in 11 games.  He did, however, miss time in December as he represented Switzerland at the 2012 World Junior Hockey Championships, scoring only a single assist in six games.
He returned to Peterborough in January a man possessed, tallying 13 points in 11 games, including two games against Kingston in which he scored two goals and an assist.  To add, Martschini tallied 10 points in both February and March.  He had to become a first-line player for the Petes, especially after team captain Matt Puempel was felled by a season-ending concussion.  That, coupled with a shoulder injury to Slater Koekkoek and inconsistent team play, put the Petes on a crash course; again, they missed the playoffs.
Martschini finished the 2011-12 season with 56 points in 63 games, including 21 goals; he finished yet again third in team scoring, this time behind Yogan (78) and Quine (70).  He also showed his prowess on the powerplay for the second straight season as five of his goals came on the man advantage.
Petes fans knew that there were three players that they were going to be losing to graduation in 2012 after their team missed the postseason.  The team's three overagers — Yogan, forward Joey West and defenceman Jonathan Jasper — were leaving for sure.  Martschini, however, threw the fans a curveball.  On March 21, 2012, three days after the OHL regular season ended, Martschini signed a two-year contract with EV Zug in his homeland, the team whose system developed him into the player the fans in Peterborough had grown to love.  Remarkably, the contract is the same length as the amount of junior eligibility he had left in the OHL.
*
In the 2010 CHL Import Draft, as well, one of Martschini's teammates with EV Zug's U20 team was also selected.  The Plymouth Whalers had two picks in that draft and, with the 50th overall pick, they chose a 6′, 190-pound defenceman named Dario Trutmann.  (They also chose Rickard Rakell 41st overall in the same draft.)  A native of Küsnacht, Switzerland, Trutmann came in as a tough, two-way defenceman with great leadership, one of his best offensive seasons coming in 2008-09 when he scored 20 points, including 13 goals, in 37 games with EV Zug's U17s.  Also that season, he tallied 104 penalty minutes.  He played in two World Under-18 tournaments, including one as captain in 2010.  In 2010, after a 23-point season with Zug's under-20 team, he scored a goal in his only game with EV Zug's second-tier professional team, which plays in the fourth-highest league in Switzerland.  Trutmann also got the chance to play a game with Langenthal of the Schweiz Nationalliga B.
Trutmann made his OHL début on September 23, 2010, against the Windsor Spitfires, and he immediately showed his physical play; he got two penalties because of it, one for a check to the head and one for roughing.  His offensive game soon followed; he tallied his first OHL point, an assist, on October 7, 2010, against his good friend Martschini and the Peterborough Petes. Trutmann scored his first OHL career goal 13 days later, a powerplay marker against Scott Stajcer of the Owen Sound Attack.  Also, to show that even imports can drop the gloves, the Swiss blueliner got into his first OHL career fight in a scrappy game against Saginaw on December 12, 2010, against Spirit forward Josh Shalla.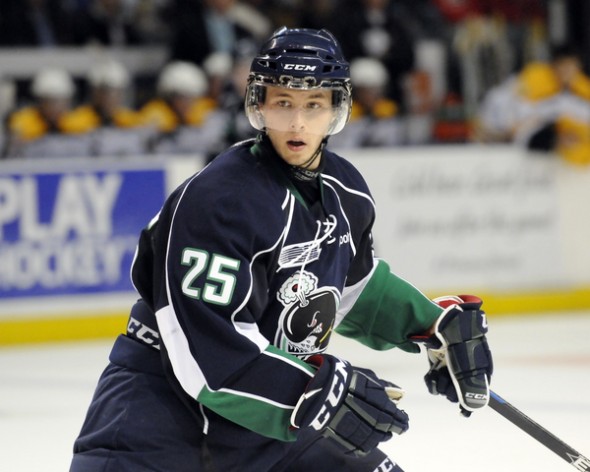 In December, since he was born in 1992, Trutmann got the opportunity to represent Switzerland at the 2011 World Junior Hockey Championships.  The year before, they finished fourth, much better than anyone had anticipated, especially because of the play of goaltender Benjamin Conz, who was named the tournament's top netminder for his efforts. Switzerland played well yet again, finishing fifth, and Trutmann tallied four assists in six games; he was named one of the three top players on the team.
When the Swiss blueliner returned to Plymouth, Trutmann had a solid remainder of the year.   He tallied five assists in 12 games in January, equaling his season total to that point in the season.  He also finished with a ranking of +11.  As well in January, Trutmann got a permanent defence partner; after Mike Vellucci experimented with different blueline combinations, he found that Trutmann had chemistry with Dylan MacDonald, who had joined the Whalers on the 7th of that month after leaving the USHL's Sioux City Musketeers.
Trutmann finished the season with 19 points (six goals, 13 assists) in 62 games; as well, Trutmann's +17 ranking was the best on the Whalers.
Plymouth made the playoffs and they faced the Kitchener Rangers in the first round.  Trutmann scored in the first game of the series, which went to seven games.  After the Whalers prevailed in Game 7, they met the Owen Sound Attack in the second round and were swept in four straight contests; the Attack eventually went on to win the J. Ross Robertson Cup as league champions. Despite his solid season, and even though he was eligible, Trutmann was overlooked in the 2011 NHL Entry Draft, watching as teammates Rakell, Stefan Noesen, Garrett Meurs and Matt Mahalak were chosen instead.  (J.T. Miller, who had been chosen by the New York Rangers out of the U.S. Under-18s, joined the Whalers after the draft.)
Trutmann returned for a second season with the Whalers in 2011-12, hoping to build upon what was a solid first year in the OHL.  The first game of the year — September 21, 2011 — was a rematch against the Attack and the Whalers were still bitter about the sweep from the playoffs. Trutmann got into a fight with one of Owen Sound's rookies, forward Devon Rymarchuk, who was playing in his first OHL career game.  In October, Trutmann had one of his best goal-scoring months, scoring three goals in 13 games that month.  As well, in October, he got a new defence partner; instead of playing with Dylan MacDonald, head coach Vellucci paired the young Swiss with third-year American stay-at-home blueliner Nick Malysa.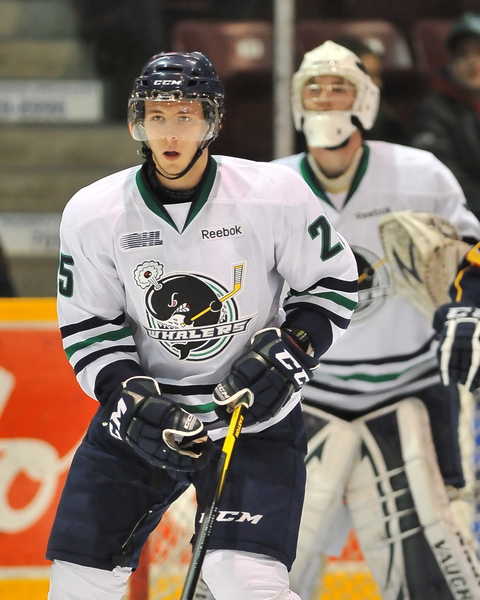 November 2011 did not show Trutmann's offensive production but it did showcase another part of his game: Tenacity.  In 12 games that month, he tallied 19 penalty minutes, four shy of his season total up to that point.  In December, he went a point per game, scoring five points in five games, before being chosen yet again to represent Switzerland at the World Juniors.  This time, he was chosen as Nino Niederreiter's successor as team captain.  Yet again, he was teammates with his dear friend Martschini.  Despite not having Conz in net, the Swiss shocked many people by finishing fourth in the tournament, thanks in part to having seven CHL players on their roster.
Upon his return to Plymouth, Trutmann had a yo-yo month to start 2012.  He tallied only three assists but he still managed to have a rating of +4 in ten games.  On the last day of January, Trutmann, who knew that he could return to the Whalers as an overager in 2012-13, decided to sign a one-year contract with EHC Biel-Bienne, a team in the Schweiz Nationalliga A.
After signing his contract with Biel, Trutmann had one of his best point streaks of his OHL career.  He got assists in four straight games in February, including a helper in each of the Whalers' games on the weekend of the 10th-12th, contests against the Knights in London, and at home against Kitchener and Saginaw.  Following that euphoria, however, his point production hit a snag.  He did not record a point in eight straight games, the contests going into March.  In addition, his defensive play took a beating in those games.  He got a negative plus-minus in all but two of those six games, registering a ranking of -5 in total in that six-game pointless skid.  His frustration was evident on the scoresheet, too, as he recorded 18 penalty minutes in 11 games in February.
Trutmann did manage to rectify things in a game against an undermanned Sarnia team on March 4, 2012.  Not only did he finally get his first point since February 12th, he also was a +4, his best single-game plus-minus ranking, as the Whalers won 5-4 on a goal by Stefan Noesen with 4:07 left in regulation.  Trutmann got two more assists in the last five games of the season to finish the season with 24 points.  Just like in the previous season, he scored six goals.  His plus-minus decreased, ending the campaign with a +10 ranking, but his penalty minutes increased, as he recorded 82 PIM in 62 games.
Plymouth again made the playoffs, this time facing the Guelph Storm, a series they have won in six games.  After only recording one assist in the first three games of the series, Trutmann scored five points in the last three, including two consecutive two-point outings.  The Whalers now face Kitchener for the second year in a row and time will tell who will be victorious.
*
Since there is very little possibility that Martschini and Trutmann will return to the OHL in 2012-13, the only remaining Swiss import in the OHL will be Tanner Richard, who will be entering his second year with the Guelph Storm after a 48-point season as a 1993-born first-year major junior player.  The Swiss contingent in the CHL from this past season, for the most part, will also be intact with Calgary Flames draft pick Sven Bärtschi being the only other definitely graduating.  (Alessio Bertaggia, Dave Sutter and Sven Andrighetto are all slated to return.)
It will be interesting to see who the Peterborough Petes and the Plymouth Whalers will either draft or trade to replace the imports they are losing.  Both were very well-loved and they are going to leave their former teams' rosters, and the hearts of their adopted communites, like Swiss cheese: Full of holes.
One can hope that Lino Martschini and Dario Trutmann will never forget not just their memorable two-year stints in the OHL once they return home to Switzerland, but they also remember that they can, respectively, always call Peterborough and Plymouth home.
Margann Laurissa is based out of Kingston, Ontario. She contributes profiles to MyNHLDraft.com on a regular basis.