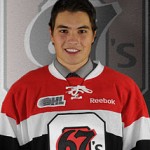 Although the Blackhawks' defense was not the greatest during the post-season (being caught out of position, failing to clear the puck), which in large part led to their second straight first-round elimination, I don't believe going with a defensive player would be their best move in the first round. However, there are a number of prospects that would fit well within the Blackhawks organization, and Cody Ceci would make a great addition to Chicago.
Ceci shows outstanding promise and has the potential to make an early impact for the organization. He not only has superior defensive skills, but has also developed a bit of an offensive game that makes him more than just a bruiser on the defensive end.
Chicago has a pretty young defense with Nick Leddy and Dylan Olsen at only 21 years old; both of them have much potential. Four others are under the age of 30, including Duncan Keith and Brent Seabrook. However, if either Leddy or Olsen doesn't live up to potential, it will be nice to know another youngster like Cody Ceci is waiting.
There is a chance Ceci will not last until the 18th pick, but if he does, he is a guy that the Blackhawks may have no choice but to snatch up.
Other defensemen the Blackhawks may be interested in
Maatta, Olli                   London           OHL
Trouba, Jacob              USA U-18       USHL
Reinhart, Griffin         Edmonton       WHL