There is plenty of debate surrounding when teams should select a goaltender at the National Hockey League Entry Draft. There are teams who have benefited greatly from selecting goaltender early. Conversely, there are teams who have kept their eye on a particular player and were fortunate enough to select him later in the draft.
These days, with the added involvement of goaltending coaches, teams have the fortune of selecting players based on the potential of what could be one day, rather than what they simply hope to get in the near future.
Now that most NHL clubs have two designated goaltending coaches, they are now more than ever able to keep track of and develop their goaltending prospects.
There are a few things that teams can do to help ensure a prospect has long-term success at the pro level:
-do not hit the panic button too early;
-allow them the opportunity to work with goaltending coaches to develop;
-provide them with the opportunity to meet and learn from goaltenders playing above them in the depth chart; and
-give them the opportunity to showcase their talent.
I think the strategy is simple: teams should select the player that they really want early and consider them a 1A option. If there is someone that they want in a later round, take them as a 1B option.
While teams may not be able to afford to pick a quality goaltender early, they certainly cannot afford not to pick one at all.
Here is my projected list of picks in this year's draft, followed by players who may find themselves taken between the middle of the draft right to the end, and the clubs that may be looking to select a goaltender this year at the draft in Pittsburgh.
(Note: the goaltenders evaluated were based on their final rankings in the NHL Central Scouting draft list.)
Top Picks
1) Andrei Vasilevski (NHL final draft rank: #1 European goaltender)
In my opinion, Vasilevski is perhaps the most 'pro' ready goaltender available in the draft and for that reason occupies the top spot. At the core of his style is a determination to stop the puck. He has good range of motion and executes the vast majority of his movements with precision. His style reminds me of younger Nikolai Khabibulin: quick, athletic and unpredictable (in a good way, of course).
Vasilevski is still a bit raw technically, showing weakness in this area overall with slightly-better-than-average rebound control. However, he has been hard at work recently refining this part of his game with regards to crease movements, secondary movements and edge work.
2) Malcolm Subban (NHL final rank: #1 North American goaltender)

Subban is the top-ranked goaltending prospect in North America for a reason: he is naturally one of the most gifted athletes available in the draft. Big, mobile and explosive, Subban puts no limit to his natural ability and allows himself to react when necessary. This makes him very tough to beat on a clear shot.
Like most top-rated goaltenders, Subban comes with international experience. He won the bronze medal winner with Team Canada at the 2011 IIHF World Under-18 Championships and is projected to represent Canada at the 2013 World Junior Hockey Championships in Ufa, Russia. If Subban does make Team Canada, the hockey world will be watching him closely to see how he mentally and emotionally handles the challenge and pressure that comes from wearing the Canadian jersey.
It is important to remember that Subban is still a raw talent because he only started playing goal at age 12. He has a long way to go and will take time to develop into a legitimate NHL goaltender. Still, he has the tools necessary to be a consistent and successful player in the world's best league.
3) Oscar Dansk (NHL final rank: #2 European goaltender)

Dansk enters the draft with a very special and unique characteristic. As a Bantam and Midget aged player, which are considered important development years for a goaltender, he played in North America for Shattuck St. Mary's. Here, Dansk spent three years learning how to adapt to the North American style of play before moving back to Sweden.
His goalie coach, Per-Erik Alcén, has worked with Jacob Markstrom, Anders Lindback and Eddie Lack. All of these goalies have a deadly combination of size and mobility, and Dansk is no different. He moves in and out of the butterfly with ease and maintains a strong net presence. Danks can play smaller than his six-foot-two frame, but it does not happen often. When he is confident in his crease, he reads the play well and can adapt to any situation. This allows him to fill the net well and manage his depth control with efficient movements.
4) Joonas Korpisalo (NHL final rank: #3 European goaltender)

One word can be used to describe Korpisalo: smooth. He moves very well for his size and carries over many traits typical among Finnish goaltenders including speed and lateral quickness. As a young goaltender, it is encouraging to see how he applies his natural goaltending instincts. In time, he will learn to be more patient in the net and know when to be more aggressive on the puck and force the play in his favour.
If Korpisalo can fill out his frame and maintain his speed and athleticism, he will be a quality goaltending prospect to watch for years to come.
5) Anthony Stolarz (NHL final rank: #4 North American goaltender)
If you are looking for a big goalie that knows how to use his size to his advantage, look no further than Anthonly Stolarz. While the North American Hockey League is not renowned for developing goaltenders, the NCAA is. Stolarz will be attending the University of Nebraska-Omaha and will push for playing time as a freshman.
Stolarz may end up taking a similar career path to the NHL like Ben Bishop. This will likely benefit him in the long run as he enters four important years of development in university and perhaps more time honing his skills in the minors. It has been noted that Stolarz has not received much goaltending specific training. As a result, he can rely too much on his athleticism and actually move himself out of position, allowing unnecessary rebounds, especially down low and when he kicks at pucks.
As a big goaltender, Stolarz will need to employ a more patient style, one that allows him to maintain consistent depth control when the puck reaches certain points on the ice and allow the puck to come to him. If Stolarz can learn to simplify his game, I think he will be a solid prospect.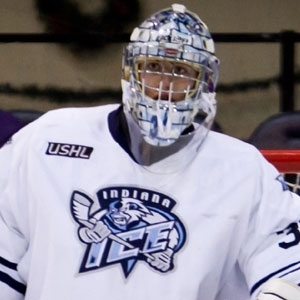 6) Jon Gillies (NHL final rank: #6 North American goaltender)
Listed at six-foot-five, 215-pounds, Gillies uses his frame to take away the top half of the net and is quick to take away the lower half when he is in the butterfly. He is athletic enough, but lacks a certain degree of the foot speed and lateral quickness required at the professional level. This should not deter people from thinking that he is a legitimate prospect. He is on USA Hockey's radar and will get the chance to compete for a spot on the 2013 National Junior squad beginning with development camp in August.
His play for the past two seasons with the Indiana Ice in the USHL have earned him the opportunity to play for the Providence College Friars against the likes of defending national champion Boston College, UMass Lowell, Boston University and Maine.
NHL teams who could benefit from drafting a goaltender in the first three rounds:  Buffalo, Carolina, Columbus, Philadelphia, New Jersey, Tampa Bay and Winnipeg.
Darkhorses
The following players are quality goaltenders who, outside of the top picks listed above, are skilled enough and able to add depth to any NHL team's goaltending depth chart. In no particular order, they are: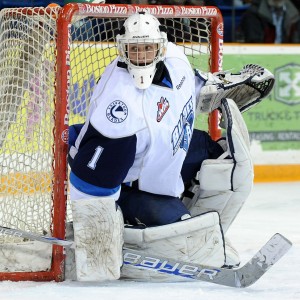 Andrey Makarov (NHL final rank: #7 North American goaltender)
Similar to Andrei Vasilevski, Makarov is very athletic and a style that is all about stopping the puck. He has a tendency to rely a bit too much on his reflexes and athleticism, dropping his hands and exposing the top corners. At times, Makarov can scramble a bit too much and open up unnecessary holes, but he has shown improvement in this area and, over time, will surely tighten up his game.
His experience at the World Junior championships showed scouts, coaches and general managers that he is able to elevate his game against top tier players from all over the world. Teams like players who compete at a high level night in and night out. Makarov does just that.
Daniel Althshuller (NHL final rank: #12 North American goaltender)
Altshuller has been considered to be one of the best goaltenders in his age group for quite some time. The first thing most people notice about Altshuller is that he moves very well for his size. However, beneath the equipment and under the mask is a very confident athlete. He is extremely economical in his movements and has maturity and poise well beyond his years.
Last season as a 17-year old with the Oshawa Generals in the OHL, Altshuller split time with veteran Kevin Bailie. For his efforts, he was named the OHL Dinty Moore Trophy Winner (best rookie goals against average). Alshuller also earned the Gold medal with Team Canada at the 2011 IIHF World Under-17 Championships.
His rank could have been higher with more playing time, but as the 12th ranked North American goaltender, he is a quality pick for teams looking to steal a goaltender between the third and fifth round.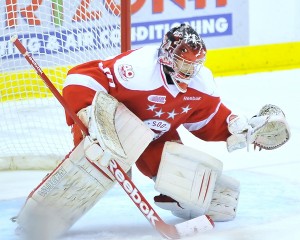 Matthew Murray (NHL final rank: #18 North American goaltender)
Murray dropped significantly from his midterm rank (second overall) to the 18th heading into the NHL draft. At six-foot-four, Murray has NHL size and is able to use it effectively from time to time.  When he is on his game, Murray transfers his weight forward and tracks the puck well. However, when he is off his game, Murray opens up a lot of holes, especially through his arms and transfers his weight to his heels, making him slower to react to the puck when moving side to side.
He still needs to work on his movement, but that should come with more playing time next year as the number one goalie for the Sault Ste. Marie Greyounds in the Ontario Hockey League.
Chris Driedger (NHL final rank: #13 North American goaltender)
Driedger has made tremendous strides since joining the Calgary Hitmen of the Western Hockey League. As he finished his midget career and began playing with the Tri-City Americans, Driedger carried over a predominantly reactionary style of play. However, his experience at with Team Canada West at the Under-17 tournament may have been one of the turning points in his career. He began to use more of his size to his advantage and gained better control of his movements. He has tremendous upside as he continues to develop as a goaltender and resume his role as the starting goaltender for the Hitmen. Driedger may go earlier than expected; however, his value as a darkhorse is part of his appeal at this point.
NHL teams who could benefit from drafting a goaltender mid to later in the draft: Chicago, Detroit, Minnesota, Montreal, Pittsburgh, Ottawa and Toronto.