Jon Gillies THW Close-Up:
Date of Birth: January 22, 1994
Place of Birth: South Portland, Maine
Height: 6'5″       Weight: 216 lbs.
Shoots: Left       Catches: Left
Position: G
NHL Draft Eligibility: 2012
For complete coverage and analysis of the 2012 NHL Entry Draft and its prospects, click here for Chris Ralph's 2012 NHL Entry Draft Guide.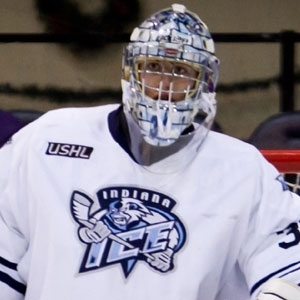 Jon Gillies will be starting his collegiate career in Providence College in July, but the prospect has much to look forward to in the next week as the 2012 NHL Entry Draft will begin on the 22nd of June. After being ranked the number six North American goalie by NHL's Central Scouting, the prospect will be in the same draft class as netminders such as Malcolm Subban, Jake Paterson, and Anthony Stolarz. While Gillies might not be selected as high as the aforementioned goalies, his overall skill set and high mental acuity make him one of the more interesting goaltenders at this year's draft.
At 6'5″, Gillies definitely stands out in the crease and on the ice. The goalie's 2011-2012 hockey season was spent in the USHL with the Indiana Ice and Gillies more than managed to make himself noticeable through his play on the ice. Gillies made apparent improvements statistically as he led the USHL in terms of wins (31), minutes played, and shots faced (over 1600) during the 2011-2012 USHL season, but the goalie saved some of his best play for the playoffs as he took the Indiana Ice to the USHL Eastern Conference Finals. Even though Gillies and the Indiana Ice weren't able to advance to the Finals, the goalie was solid through six games played as he posted a 2.84 GAA and .911 Save Percentage for the duration of the Ice's playoff run. Not only did Gillies improve upon his numbers from the 2010-2011 season with the Indiana Ice, the American goalie was able to convince everybody that he was the right choice for starting duties as he maintained very respectable numbers even though his workload more than doubled from the previous season.
While Gillies held down the starting duties for the Indiana Ice throughout the 2011-2012 USHL season, the netminder's nomination to the starter's role did not happen by mere coincidence. Gillies and Team USA might not have had the strongest of showings at the 2011 Ivan Hlinka tournament as they took fifth place in the competition, but the U18 Select team only lost one game during the tournament and Gillies saw the bulk of the action during the international event. Boosted by a strong mental composure, Gillies was handed the reigns to the starting job in Indiana and he did not disappoint.
With such a lengthy frame, it should come as no surprise that Gillies will garner a lot of attention when draft day rolls around in less than two weeks. However, a big frame is not the only thing that will make Gillies attractive to NHL teams as the goalie positions himself well, challenges shooters by playing aggressively in his crease, and utilizes a wide butterfly stance that allows him to adequately cover his crease. Furthermore, Gillies can see and play through traffic very well as the goalie's frame allows him to maneuver around opponents when they try to clog his crease and score via a deflection or screen. Some may be quick to point out that Gillies still has some weaknesses with his technique and rebound control, but the goalie is probably more than willing to improve upon aspects of his game that he feels need improvement.
Choosing to attend Providence College was a big step in the right direction as Gillies would probably have been buried on the depth chart in Northeastern behind senior Chris Rawlings. Committing to Providence College will allow Gillies the opportunity to compete for the number one starting job for the Friars and it will give him some time to further develop his game before he is NHL-ready. Much like fellow American goalie Anthony Stolarz, Gillies is a mentally strong individual that will not back down from a challenge. While there may be some questions surrounding certain facets of Gillies' game, one can certainly put their money on the American netminder to make a name for himself in the NHL as the goalie possesses the skill set, drive, determination, and mental composure to be a successful NHL players.
Scout's Honour:
"Gillies enjoyed a successful second season assuming the starting duties for the Indiana Ice, helping the team advance to the semi-finals and losing to the eventual champions; Green Bay. Gillies was among the league leaders in many statisical categories including games played (53) and wins (31). Gillies has exceptional size standing at 6'5, however, he surprisingly doesn't cover the net due to his upright stance. Gillies is a natural athlete who relies on his quickness, reflexes and athleticism. His mechanics and technique need refinement but he does a good job of getting in front of shots to minimisize his rebounds. Gillies has many tangibles that can lead to success at the next level but improving his lower body strength is a must so he can push off and move faster when going post-to-post. He did an admirable job handling his duties at the USHL but should improve his game with additional coaching as he plans to attend Providence College next season after de-comitting from Northeastern."
– David Burstyn of McKeen's Hockey
"Gillies is a huge goaltender who takes full advantage of his six-foot-five, 215 pound body. Gillies is not very agile in net, but does not necessarily have to be as he is very technically sound. He has a great glove hand and is tough to beat in the top corners of the net. It seemed like there were games this season where the flood gates would open if teams would score on him early. With two impressive seasons in Indiana, Gillies is set to make the transition to the college game and is likely take over the reins as the starter at Providence College this fall."
"Jon Gillies clearly has a huge asset that few goalies in this draft can match and that is his size. He's come a long way in the last two years in learning how to use it properly and is a fairly athletic goaltender for a big guy. He obviously takes up a lot of net and can make it disappear if he plays his angles right. The issue with Gillies and why he's slid slightly in the rankings is that he's still quite raw. There's certainly potential there, but it's kind of a 50/50 shot he ever lives up to it, though the same can be said for many prospects. The thing about Gillies is that it's all about when a team takes him. There's some risk involved due to the rawness of his game, but teams are willing to take a risk on size and he's the perfect guy for that. He's going to get quite a bit of time between the pipes at Providence College the next few years which should be a huge help in his further development. Of the goalie prospects, he's certainly one of the more intriguing guys in this draft."
– Chris M. Peters of United States of Hockey
"A leviathan in the crease, Jon is listed at 6-foot-5 and 215 pounds, but he's a solid four or five months older than Whitney and Murray. Gillies has terrific numbers in the USHL right now, and is considered the best goalie in that league. This is due to his calm demeanor, outstanding athleticism, and very high compete level."
– Justin Goldman of The Goalie Guild
Statistics:
Bio/Interview(s)/Link(s):
International Tournaments:
Participated in the 2011 Ivan Hlinka Memorial Tournament in the Czech Republic and played the majority of Team USA's games. Even though his team only finished in fifth place, Gillies more than held his own in the tournament for the U18 Select Team.
ETA:
3-4 Years
Risk-Reward Analysis:
Risk: 3/5                   Reward: 5/5
NHL Potential:
Number 1 Starting Goalie
Strengths:
* See "THW Close-Up" section above.
Great athleticism.
Plays very well with traffic in front of net.
Strong mental composure.
Very hard to beat down low.
Protects five-hole really well.
Challenges shooters.
Adept at handling the puck with his stick.
Flaws/Aspects He Needs To Work On:
Mechanics and technique could use a bit of work.
Could use some work on his rebound control.
Could also use some work on footwork and lateral movements.
Fantasy Hockey Potential:
Goaltending: 8-9/10
NHL Player(s) Comparison:
Gillies' favorite NHL player is Jonathan Quick, but he has said that he watches various netminders and styles his play after the various goalies that he does watch.
Video(s):
Off The Iron (Interesting Notes):
Chosen 160th overall by the Quebec Remparts during the 2011 QMJHL Entry Draft.
Is not related to Colton or Trevor Gillies.