Chris Calnan — THW Close-Up:
Date of birth: 5 May 1994
Place of birth:  Norwell, MA
Ht: 6′ 2″ Wt: 187
Shoots: Right
Position: Right Wing
NHL Entry Draft Eligibility: 1st time eligible 2012
*Click Here for "Notes Up Front" and the "Legend" for various topics covered below in the "Live Updated" THW's NHL 2012 Entry Draft Guide – The Next Ones home page.
Meet the NHL Scouting Combine Stud for 2012, Noble & Greenough forward Chris Calnan.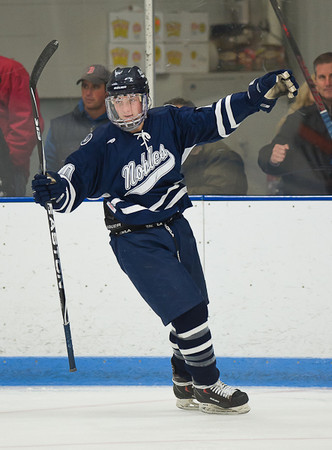 It seems each year one relatively unknown prospect takes the combine by storm, but this year Calnan pretty much demolished the field. Of the 29 strength and endurance events at the combine, Calnan placed among the top ten in 14 of them. Of those 14 events, he finished in the top five in 10 of them, a number that includes an impressive five first place overall finishes.
No other player had more than two first place finishes.
The showing has put him on the map in a big way, but it's just the icing on the cake of a great season for the former South Shore Seahawk.
Calnan scored 28-27-55 in just 29 games this past season, leading Noble in goals and helping to propel the team to the NEPSIHA Championship (a game they dropped to Lawrence Academy, 3-2).
The sensational showing got him named to the All-ISL Team, to the New England Prep All Star team, and US Hockey Report crowned him runner-up for Prep Forward of the Year. An injury kept him out of the 2012 Spring Beantown Classic, but he was clearly better by the time the combine rolled around.
Calnan still has a year to go at Noble, after which he is expected to attend Boston College. However, that all depends on what happens at the draft, as he told BostonHerald.com recently:
"I'm going to wait for the draft and see what happens. Whichever team, hopefully, takes me, they'll have the most to say about what I do next."
A clutch scorer who doesn't play nice, Calnan's physical game is always cranked to eleven, throwing his frame into corners on the forecheck and crashing and banging his way into the opposition's bad dreams. He is your ultimate team player, highly coachable and unwilling to be outworked by anyone.
Scout's Honor:
NHL Central Scouting ranked Calnan #69 among North American skaters. THW's Christopher Ralph has him ranked at #109 overall.
"Chris is an incredibly hard worker who works as hard off of the ice as he does on the ice to be the best player that he can be. Watching him play it is easy to see how athletic he is. He is a big, strong, fast player who uses his size and his speed to his full advantage. He has an excellent shot and a willingness to work to get the puck in the dirty areas of the ice." Nobles Coach Brian Day.
"Larger wing who causes problems for the opposition at both ends. A very good forechecker and shows decent enough passing and shooting abilities to think that he can ascend the ladder to pro. Has a strong wrist shot and is a good skater who has some grit to his game."
Bill Placzek. Draftsite
.
Statistics:

Bio/Interview(s)/Link(s):
International Tournaments:
ETA = 5 yrs
Risk-Reward Analysis:
Risk = 3/5   Reward = 4/5
NHL Potential:
Top 6 power forward
Strengths:
*See "THW Close-Up" section above.
Conditioning. The combine results don't lie.
Shot. Good, hard shot and a willingness to use it.
Skating. Fast, aggressive skater who makes the most of his size.
Dedication. Team-first player who won't be outworked on or off the ice.
Flaws/Aspects He Needs To Work On:
Two-way game. Already good, but to be the complete player he aspires to, he'll need to be responsible in all zones.
Fantasy Hockey Potential:
Offensive = 9/10   Defensive = 7.5/10
NHL Player(s) Comparison:
Calnan says he emulates aspects of both Milan Lucic and Nathan Horton. "Those guys bring a big, physical presence but can put the puck in the net, too … They're both enthusiastic, high-energy guys and I try to be like that when I play."
Off The Iron (Interesting Notes):
Calnan's uncle is Jeremy Roenick.
 THW's The Next Ones prospect profile template design architect: Chris Ralph