In a bit of a surprising move the Chicago Blackhawks have reassigned forward Ben Smith to their affiliate Rockford Ice Hogs. The move was surprising in that it was believed by many that Smith had solidified a slot in the Blackhawks lineup after a stellar 2011 playoffs in which he scored three goals.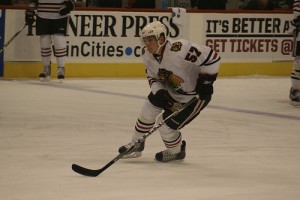 Smith had a solid camp and showed that he was still a near lock to make the 'Hawks out of camp, however in the 'Hawks fifth preseason game Smith was knocked out by an illegal check to the head from Detroit's Brendan Smith. Ben Smith suffered an upper body injury on the play (suspected to be a concussion) and began a slow road to recovery.
Smith had just been cleared for contact and it looked as though he was ready to make his return to the lineup but with the amount of one way contracts on the roster and limited play time was likely the reason for his demotion. In Rockford Smith will get a chance to play on the Ice Hogs top two lines, see time on the power play and the penalty kill.
This will not be the last time that we Smith at the NHL level because he has the grit, determination and skill to play at the NHL level. It was just a numbers game with Smith and with a long season ahead of the Blackhawks and injuries likely to pop up don't be surprised if we don't see Smith again sooner than later.