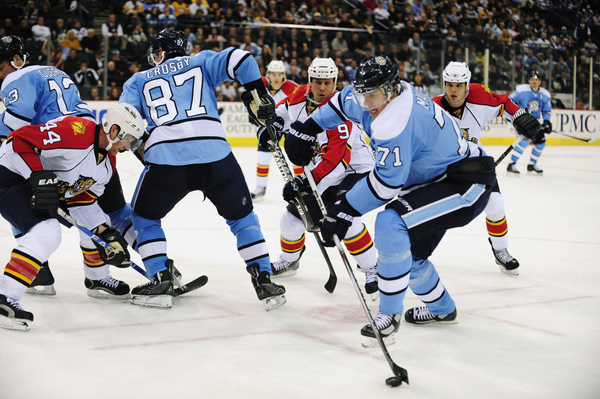 Welcome to our debut column here on The Hockey Writers kindly dubbed "Chutes And Ladders".  Riding the fortunes of a fantasy hockey team can be a lot like the original Milton Bradley game.  There are enough twists and turns to drive any normal person crazy.  So imagine what it is like for the average hockey fan who takes on a fantasy hockey league.
Take a look at even experts and beginners alike, what is the one thing in common with every fantasy league?  The answer is the ups and downs that go with every single league. First, we will lay out the biggest news item in fantasy hockey.
The Crosby Question…….
It is similar to the biggest question of every and any fantasy hockey player.  When is Sidney Crosby going to return?  It is almost like a riddle wrapped in an enigma.
As this introduction evolves, we try to answer the first question.  Crosby has been allowed to practice with contact.  This has been a story that every hockey person has been following to a variety of extents since the 2011 Winter Classic.  Thanks to many including fellow THW writer Mike Colligan, we have been a step ahead of the curve.
The best guess that has been currently projected is that Sidney Crosby may be back as soon as mid-November.  Now there is a slight possibility that it could be sooner and more likely later but as of now, this seems to be the closest to a pinpoint timeline that we or anyone has.  Other questions such as point projections are currently secondary at the moment.  Let us be honest in that respect.
Beware the injuries……..
Sometimes we have said that there are certain players where you can see an injury coming from a mile away.  That even includes some players now that used to be practically indestructible.  The reality of every single fantasy hockey player is that even our "hometown players" or "favorite old reliable" is just not the same player anymore.
Injuries really do impact a team but they can almost devastate a team to utter ruin.  It happens every year and often early in the season as well.  What one does now goes a long way in determining the fate of a fantasy team.  Here aer a few injuries that might be ones to at least be vigilant about.
Martin Brodeur (New Jersey Devils) — The goaltender is someone we never thought would be on any type of list like this but that day has come.  In game number two of his season last night, Brodeur went out with what has been termed as a tweaked right shoulder.  He did play the rest of the first period but this seems to be just the beginning considering the last two years and what he has battled as far as more serious misfortunes.  This is all since November of 2008 (Brodeur was 36).
| | |
| --- | --- |
| 2011/02/18 | Missed 5 games (sprained right knee). |
| 2011/02/08 | Sprained right knee, injured reserve. |
| 2010/12/06 | Missed 7 games (right elbow injury). |
| 2010/11/20 | Right elbow injury, sidelined indefinitely. |
| 2010/11/12 | Missed 2 games (elbow injury). |
| 2010/11/05 | Elbow injury, day-to-day. |
| 2009/02/25 | Missed 50 games (left elbow injury). |
| 2008/11/03 | Left elbow injury, early February. |
Please note the middle sequence with the right elbow injury.  Now New Jersey has to be very careful to avoid a repeat of what happened last November where Brodeur missed several more games than he probably should have.  Again, this is a similar type of injury to the elbow where it did not appear all that serious.  The goalie shook that off but at what point, do the injuries all take a cumulative toll?  If I am a Brodeur owner, I really am considering getting a "handcuff" and very quickly before others do.
Andy McDonald (St. Louis Blues) —This has to be considered a very scary proposition.  McDonald left Friday Night's game with a concussion against Dallas.  Considering, the several major concussions that McDonald has had in his career, there is a disturbing trend that he may not be long for this season or career so to speak.  Here is the concussion list that we have.
| | |
| --- | --- |
| 2011/02/04 | Missed 24 games (concussion). |
| 2011/02/02 | Concussion, day-to-day. |
| 2010/12/16 | Concussion, injured reserve. |
| 2009/11/08 | Missed 2 games (head injury). |
| 2009/11/05 | Head injury, day-to-day. |
| 2003/10/17 | Missed 3 games (post concussion). |
| 2003/10/15 | Post concussion, day-to-day. |
| 2003/10/06 | Post concussion, sidelined indefinitely. |
| 2003/06/09 | Missed the last 29 games of the regular season and all 21 games of the playoffs (concussion). |
| 2003/02/07 | Concussion, sidelined indefinitely. |
| 2003/01/29 | Missed 7 games (concussion). |
| 2003/01/21 | Concussion, day-to-day. |
| 2003/01/12 | Concussion, sidelined indefinitely. |
| 2002/03/10 | Missed 3 games (concussion). |
| 2002/03/03 | Concussion, day-to-day. |
| 2001/01/24 | Missed 7 games (concussion). |
| 2001/01/12 | Concussion, day-to-day. |
The track record of concussions is long standing and unfortunately did escalate  in nature.  There are a half dozen documented cases and probably some undocumented ones as well.  Clearly Andy McDonald faces a very uncertain future now.  Yes he may be back but then again maybe he will not.  If you have him on your fantasy team,  he will likely be put on the IR and you should do the same until further news is revealed.
Drew Doughty (Los Angeles Kings) — Unexpectedly last night a lot of things changed for some fantasy owners as Doughty literally went down after a hard hit from Zac Rinaldo of the Philadelphia Flyers.  Doughty had his head down on a textbook hit from Rinaldo that was just about right as the puck left. The video is below…..
The problem with the Doughty injury is that it is indeed a non-head injury but many believe it to be in the shoulder or collarbone area.  He will be out about 2 weeks and little more.  That has to be very good news for Doughty owners considering how down and out he looked right after the initial contact.
Michael Sauer (New York Rangers) — This has to hurt the Rangers and fantasy owners who were hoping Sauer could be a bit of a handcuff to Marc Staal owners.  Sauer was put on the IR with a sprain in the right shoulder but either the shoulder or knee is giving him some extra trouble as the Rangers did make a roster move on Sunday for a defenseman.  That has to at least tell you it may be at least a few days or maybe more.  Keep on alert as we will on this developing situation.
Jason Blake (Anaheim Ducks) — The forward may not have accumulated that many points but Blake was always a fantasy threat as far as SOG (Shots On Goal).  The injury that he suffered Friday Night was unfortunately as a skate sliced into his forearm and wrist area which caused a torn tendon.  That tear will cost Blake owners at least three months.  In the meantime, if you are looking for the SOG category, the best thing to do is search the waiver wire and click on the SOG link.  Maybe you can find a temporary fix but Blake was a good depth guy in deep leagues as well.
There are other injuries but these are the ones so far that have the most fantasy value from Week 1.
Here are the ladders…….
These are for the players who have seen their values shoot up in Week 1.  Some are waiver wire pickups but most are not.  Remember that Week 1 is a long 11 day week so some numbers are definitely going to appear inflated compared to what one normally sees.  If we had time to spotlight every excelling player, we would.  However, there is just not enough time to do so.  What we have below is some of our best.
Kari Lehtonen (Dallas Stars) — Here is a goalie who just was not expected to rack up wins early on because Dallas was thought to be a rag-tag operation.  However 4 wins, a 1.48 GAA, and a .955 save percentage will bring you much notice especially if you were not owned all that heavily in leagues.  Now Lehtonen may not do this all year but you could do worse than some of the choices out there.
John Tavares (New York Islanders) — When you follow a four point effort with another, again you will be noticed.  That may be you serving notice.  Either way, Tavares was a #1 for a reason and now he is starting to show the signs everyone thought he would.  This could have something to do with the fact that the surrounding cast is healthier than they ever have been.  The longer the New York Islanders get timely offense as far as depth, the longer Tavares will have the time and space to produce.  It really is that simple.
Johan Hedberg (New Jersey Devils) — Well this was a huge surprise as Martin Brodeur nurses a shoulder tweak, "The Moose" has been taken over.   Now Week 2 features only two Devils games but Hedberg should at least see starts in one of them.  The three wins had to be considered a big bonus plus with the Devils playing a very close to the vest style, at least most fantasy categories will not be thrown off too badly.
Phil Kessel (Toronto Maple Leafs) — Sometimes as Kessel goes, so do the Maple Leafs.  His hat trick against Montreal was followed by a three point performance against Calgary.  As the opposition gets tougher, the fantasy sledding will get rougher for Kessel but this may be the year he puts it at least mostly together.  A four game schedule this week against the likes of Colorado, Winnipeg, and Montreal (Boston is the 4th) should be reason enough to let it ride.
David Legwand (Nashville Predators) — Simply Legwand may never enjoy a better week than this one.  He had eight points including six assists for Nashville as they had a bit of an "off" week from goaltender Pekka Rinne.  The Predators are not that well known for scoring this consistently so Legwand may be a dicey proposition as a more elite fantasy producer but if you are looking for average to decent production from a deeper forward position then Legwand is likely for you.
Let's slide down a few chutes……
Drew Doughty (Los Angeles Kings) — Doughty was not doing much anyway but with him missing a week to maybe ten days definitely hurts his fantasy production for almost the rest of October.  Besides he only had 1 point in 4 games anyway.  His late signing was going to result in a slow start anyway but this injury puts a bit more of a crimp on fantasy owners.  At least he was averaging almost 2 hits a game but even that is lost now for a little while.    Depending when or if he goes on the IR, the best thing to do may be to use an extra defenseman from your bench.
Craig Anderson (Ottawa Senators) — Look Ottawa is bad but the goaltender just is not helping himself with a GAA of over 5!  That is not a misprint and neither is the .833 save percentage.  Sure he has a win but that may be the only redeemable part of his season so far.  The reality is there are backups that are better, more viable options.  One really should consider that at least.
Dwayne Roloson (Tampa Bay Lightning) — Roloson looks like he is 41 all over again.  At the very end of last year's playoffs, Roloson appeared on shaky footing except for his Game 7 swan song against the Boston Bruins.  This year has been much the same as his .500 record hides a 4.34 GAA and a .883 save percentage that seems to indicate many of the same movement problems that he had toward the end of last year.  Again, backups may be more viable options until Roloson gets it together or if he ever does for that matter.
Teemu Selanne (Anaheim Ducks) — No points for anyone on the Ducks first power play unit is the mantra from the first ten days of Week 1 is unsettling.  Regardless of what happened Sunday Night, this is a bit of an unmitigated disappointment for Anaheim, who was expected to pick up offensively from last year's hot stretch run.  Selanne has not looked very good so far either which begs the question, is his knee okay?  Weeks 2 and 3 should be looked at very keenly especially with Selanne.  The longer this funk continues for him, the more concerning that should be for fantasy GM's.  It is strange that on the last day of the week (last night) that Selanne finally had an assist, Corey Perry had a goal and assist, then Bobby Ryan had two goals and an assist.  It was a small but maybe significant leap.
Dan Boyle (San Jose Sharks) — Boyle is a concern going forward with Brent Burns on defense taking away some of Boyle's normal points.  What may be even worse for Boyle owners is the fact that San Jose's top line has been unusually sloppy in the early going with does impact Boyle somewhat directly.  Again, keep an eye on this for Weeks 2 and 3 but if this continues, there are a quite a few alternatives on the waiver wire.
Well that wraps up week 1 ladies and gentlemen.  Now is the time to ask questions because every week from here on out until the playoffs is just seven days.