More than two months after the start of the CHL season, the NHL has yet to begin the 2012-13 season and now the whole season is on the brink of being completely wiped out. As a result, disappointed fans from all-around the world are desperately looking for quality hockey and had to turn their attention to other leagues such as the KHL, the AHL or the CHL to fulfil this need.
For Montreal Canadiens fans, the options to see their favorite players excel on the ice are limited, the Hamilton Bulldogs being one option. One of the other interesting options is to closely follow the development of the organization's young prospects playing in the Quebec Major Junior Hockey League (QMJHL), the Ontario Hockey League (OHL) or the Western Hockey League (WHL), all part of the Canadian Hockey League (CHL).
After years of poor drafting, the Canadiens' scouting staff, led by Trevor Timmins, has finally managed to restock the organization's prospects pool. Below you will find a list of the talented prospects worth watching in the CHL this season.
Olivier Archambault, Drummondville Voltigeurs (108th overall pick in 2011)
The 19 year-old left winger is off to a good start for the surging Drummondville Voltigeurs who are 7-2-1 in their past ten games. Through 29 games, the 5'11", 190-lb forward has recorded 13 goals and 15 assists for 28 points. After missing most of last season with a concussion, Archambault is trying to be more consistent on a well-balanced offensive team.
In his last ten contests, Archambault has been red-hot, notching 6 goals and 7 assists for 13 points with a -1 plus/minus rating. Blessed with great speed, a great hockey sense and soft hands, Archambault really needs to concentrate on the defensive aspect of his game as he is -26 in 139 junior games. The Le Gardeur native will need to get stronger physically over the summer and improve his defensive play without the puck.
Charles Hudon, Chicoutimi Saguenéens (122th overall pick in 2012)
After suffering a high ankle sprain, causing him to miss six games earlier this season, the talented left-winger has recorded 17 goals and 18 assists for 35 points in 25 games to go along with a solid +7 differential with Chicoutimi. The diminutive winger will be a strong candidate to make Team Canada at the 2013 World Junior Championship in Ufa, Russia, later this month following a very good performance for Team Canada at the Canada-Russia Challenge in early September.
In his past ten contests, Hudon has been blazing hot with 7 goals and 8 assists for 15 points despite the Saguenéens' struggles in their Maritimes trip where they only won one of their four games. Earlier today, Hudon was officially invited to participate in Team Canada's training camp.
https://twitter.com/KidHud_10/status/275660354053341184
Alex Galchenyuk, Sarnia Sting (3rd overall pick in 2012)
Now fully healthy, the Sting's new captain has been dynamite so far this season for the Sarnia Sting. The skilled pivot is blessed with awesome offensive skills, an over-the-top hockey sense and great skating abilities. Despite a slow start this year, the super-talented American is currently ranked 3rd in the OHL in scoring after missing most of the 2011-12 season because of a severe knee injury.
After 28 games, Galchenyuk has recorded 20 goals and 29 assists for 49 points with a +8 goal differential, on pace for an excellent 122-point season. In his last twelve games, the organization's top prospect has recorded 12 goals and 16 assists for an astounding 28 points. So far, the Canadiens are very pleased with Gally's development and they are eagerly looking forward to see him in a Habs uniform in 2013-14 (if the NHL lockout ever ends).
Beautiful penalty-shot goal from Alex Galchenyuk against the Windsor Spitfires.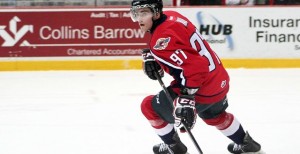 Brady Vail, Windsor Spitfires (94th overall pick in 2012)
The 18 year-old centreman is off to a strong this season with the Windsor Spitfires, having recorded 11 goals and 16 assists for 27 points in 29 games. However, known mostly as a defensive specialist, Vail's production dropped off since November, notching only 5 goals and 2 assists for 7 points in 13 contests. Playing mainly one a shutdown line, Vail has been working very hard to improve his offensive numbers this season, especially after a good showing at the Habs rookie camp this past summer. The 6'1", 195-lb prospect needs to be more consistent and pay a better attention to the details that made his game so good earlier this season.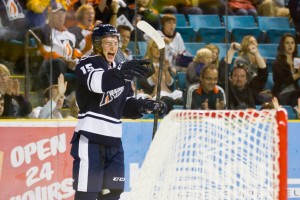 Tim Bozon, Kamloops Blazers (64th overall pick in 2012)
Playing for the #2 ranked team in the WHL, the Kamloops Blazers, Bozon has faltered down the stretch after a strong start. After 30 games, Bozon has scored 16 goals and 23 assists for 39 points with an excellent +20 rating. His former linemates JC Lipon and Colin Smith are currently ranked 1st and 2nd in scoring with 55 points apiece. However, in his second campaign in the WHL, the 18 year-old native of Lugano, Switzerland, has hit a big wall since the beginning of November, recording only 2 goals and 6 assists for 8 points in 13 games.
As a result, head coach Guy Charron made some changes to his line-up and moved Bozon to a line with centre Charles Inglis and right-winger Mitch Friesen. Bozon will have to work harder and play with more consistency down the stretch to regain Charron's confidence and get more playing time.
Darren Dietz, Saskatoon Blades (138th overall pick in 2011)
The physical defenseman, who was off to a solid start for the Saskatoon Blades, has seen his offensive production falter since November, recording only 1 goal and 4 assists for 5 points in the last 12 games. Over the season, the 19 year-old rearguard, has recorded 7 goals and 8 assists for 15 points in 27 games. Despite that good production, the talented blue-liner really needs to work on his defensive game, which is seriously lacking this season, as shown by his dismal -19 plus/minus differential.
Dietz, an excellent power play specialist, is blessed with a Shea-Weber slapshot from the blue line and a great hockey sense to support the attack. Despite his recent under-par defensive play, the Blades are relying on Dietz and Duncan Siemens to log big minutes following a rash on injuries on their blue-line.
Dalton Thrower, Saskatoon Blades (51st overall pick in 2012)
A teammate of Dietz, Thrower, 18, has been a major disappointment this season for the Memorial Cup hosts. Suspended four games already (one team-based incident for "playing by his own rules" and the other incident for a check to the head against Lethbridge), Thrower has only 1 goal and 5 assists for 6 points in 13 games. The talented blue-liner is currently sidelined with an upper-body injury since early November. As a result of the injury, Thrower, who is day-to-day, missed a family affair against his younger brother Josh, a blue-liner with the Calgary Hitmen on Friday.
Follow me on Twitter for more updates on the Canadiens and hockey in general.