One of Team Canada's future stars to keep an eye on is defenceman Chloe Primerano. At just 16 years old, she has already gotten her first opportunity to represent her country on the international stage and looks to be one of the best U18 female players in the country. Whether it was leading Team BC at the Canada Winter Games to their first-ever gold medal while also leading the tournament in points or impressing at Vancouver Giants training camp for a second straight year, the 11th grader has shown just how special a player she can be.
Another Invite To Vancouver Giants Training Camp
During the 2022 Western Hockey League (WHL) draft, the Giants made Primerano the first-ever female skater to be selected in a Canadian Hockey League (CHL) draft when they picked her in the 13th round. While some may have questioned the selection, she proved them wrong very quickly, as she did not look out of place in her first camp. A year later, she returned to Giants camp faster and stronger, once again showing that she has no problem fitting in and competing against strong competition from her age group.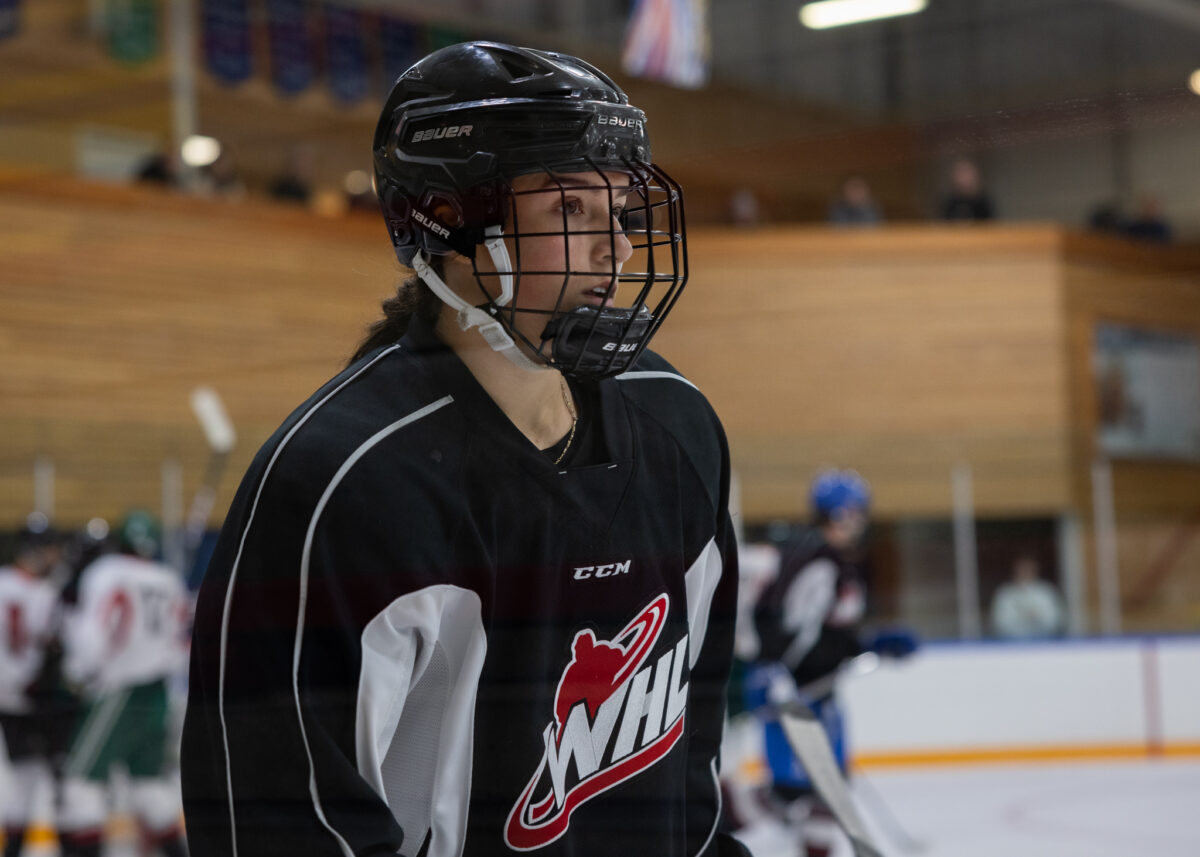 "I think just being stronger and faster and being a little bit more comfortable out here the second time around," said Primerano when asked about her experience at Giants camp this year. Her goal for this year's camp was simple, "Just do my best and show everyone that I belong here." While questions still remain on whether or not she will play a WHL game in the future, one thing that is certain is that she has left a positive impression not just on her teammates but also on Giants general manager Barclay Parneta.
Team Canada Comes Calling
As mentioned, Primerano made her Team Canada debut this year, playing at the Summer Summit and in the three-game U18 Select Summer Series versus Team USA. One of the youngest players on the team, she was arguably Canada's best defenceman in the three-game series, showing just how mobile and dangerous she is with the puck on her stick. Looking back at the series, she stated that "it was a really good experience getting to play with some of the best players in the country," and that, overall, it was a great experience.
Related: United States & Canada Women's Olympic Hockey Rivalry Revisited
---
Latest News & Highlights
---
The next step in Primerano's Hockey Canada journey will be the Under-18 World Championship set to take place in Switzerland from Jan. 6-14, 2023. While she hasn't officially made the team, it is hard to imagine a scenario where she isn't representing Canada at the tournament. A dynamic player, there is little doubt that this is just the start, as she should be part of Team Canada's Women's Team for years to come.
Signing With CAA
Back in May, it was announced that The Creative Artists Agency or CAA would be advising Primerano throughout her junior career. One of the most powerful agencies in hockey, led by Pat Brisson and J.P. Berry, they have compiled a superstar client list that includes Sidney Crosby, Elias Pettersson and Dougie Hamilton. While they are not officially her agent yet, as the National Collegiate Athletic Association (NCAA) does not allow players to have agents, CAA will continue to work with her, helping to manage scholarships and any other needs that may arise.
"It was pretty cool when he reached out to me and asked about repping me," she said when asked about CAA representing her. "I was kind of in shock of it when I saw that text."
Being part of the agency also meant that she had the opportunity to attend CAA's annual summer hockey camp in Los Angeles back in July. There, she not only had the chance to work with some of the best prospects in hockey but also Jim Hughes, who has helped with the development of some of the top players currently in the NHL. "They help a lot, and I think them having that camp too out in LA. I think that really helps as you get to play against some of the top guys in North America."
Related: Kraft Hockeyville Win Will Help Grow Girls' Hockey in Sydney
Working with CAA also gives Primerano the opportunity to be repped by the same company that reps one of her favourite current NHL players, Quinn Hughes. Outside of being a big Vancouver Canucks fan, she tries to model her game after his and, based on the results, looks to be doing a pretty good job of it. The hope is that she will continue to get these opportunities which should help her with not just her on-ice performance but also off-ice as she gets set to start visiting colleges in the next few months.
What Is Next For Primerano?
Primerano will again play for RINK Hockey Academy Kelowna's U18 women's team this season. Last season, as a 15-year-old, she finished fourth in league scoring with 48 points in 30 games while also taking home league MVP. As mentioned, she is also expected to be part of Team Canada at the U18 World Championship and go on tours of NCAA colleges, all while also managing her 11th-grade school year. The 2023-24 campaign is shaping up to be a busy season but also one that should showcase just how talented she is.
---