The Boston Bruins have dealt the rights to pending free agent Carl Soderberg to the Colorado Avalanche for a 6th round pick, according to ESPN's Pierre LeBrun.
Bruins announce they've dealt rights to pending UFA Carl Soderberg to Colorado for a sixth round draft pick

— Pierre LeBrun (@Real_ESPNLeBrun) June 25, 2015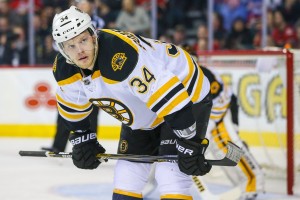 On Thursday, the six-day period opened where pending free agents are allowed to discuss deals with other teams and it was
speculated earlier on Thursday
that Soderberg and/or his agent were quite busy, with LeBrun reporting that there were seven to eight teams expressing interest in Soderberg.
Perhaps the Avalanche felt they've got a good chance with the 29-year-old center to move a late draft pick to gain negotiating rights to talk with Soderberg, who LeBrun, earlier in the day, said was hoping to get around $5 million a year on a new contract.
With Colorado's negotiations with Ryan O'Reilly going poorly, the team may have decided that they need a depth guy with scoring upside like Soderberg. They'll also have extra space under the cap to outbid other teams on Soderberg, since this move makes it look like a foregone conclusion that they will trade O'Reilly before the start of the season.
They're currently sitting with $13,399,406 of available cap space, according to General Fanager. That's with three UFAs and three RFAs on the roster who have not or will not re-sign. They've got wiggle room as they start to fill out their 23-man roster.
UPDATE:
The Avalanche were indeed one of the teams who reached out to Soderberg's agent today, per LeBrun.
The Avs were one of several teams that had reached out to Soderberg's agent today when the UFA window interview window opened

— Pierre LeBrun (@Real_ESPNLeBrun) June 25, 2015
Avs and Soderberg's agent JP Barry have already begun contract talks

— Pierre LeBrun (@Real_ESPNLeBrun) June 25, 2015
RELATED: 2015 NHL Draft Guide: The Next Ones
[catlist categorypage="yes" numberposts=3 excludeposts=this]
Dustin Nelson writes about news and the Minnesota Wild for The Hockey Writers.