As you all may or may not know, there's a pretty significant change coming to NHL Hockey. The new expansion team, The Las Vegas Golden Knights, will begin their inaugural season in 2017.
This means every team will have to submit player protected lists to Vegas by Saturday, June 17. Some organizations are more vulnerable than others, and the Colorado Avalanche could come out with some of the least damage done.
The expansion draft rules are here and fairly complex. Basically each team will have two options. They can protect seven forwards, three defenseman and one goalie OR eight skaters(forwards/defensemen) and one goalie.
Erik Johnson is the only player on the Avs who is automatically counted as protected because of his NMC (No-Move Clause.) That's one selection used already with Johnson, but what about the rest of the roster and what protection option do the Avalanche choose?
Let's take a closer look at the possible Avalanche protected list starting with the defense.
Defensemen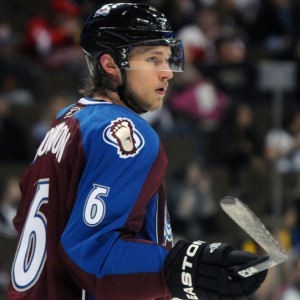 When you look at the entire picture, it only makes sense to choose the first option of protecting seven forwards, three defensemen and one goalie.
The player exposure requirement rules state that every team must expose a minimum of "one defenseman who is a) under contract in 2017-18 and b) played in 40 or more NHL games the prior season OR played in 70 or more NHL games in the prior two seasons."
In Colorado's case, the defensemen who meet this requirement are Johnson (already protected) Tyson Barrie, and Mark Barberio. They are the only three defensemen the Avs have under contract for 2017-18 as of right now. And since Colorado must expose one of them, it's obvious and very unfortunate that player is Mark Barberio.
On a positive note, huge news came in today that Francois Beauchemin's contract with one year remaining was bought out. This means Colorado now needn't worry about having to protect him as well, which was the case before because of his NMC. Had Beauchemin not been bought out, the Avs would have been forced to protect him AND Johnson.
Now the Avalanche will have much more flexibility.
Since Barberio unfortunately becomes the odd man out here, the Avalanche would be protecting Barrie, Johnson, and Zadorov. Therefore it's wise to select the first option (7F, 3D, 1G.)
Forwards
Let's start with the big guns up front. Matt Duchene, Gabe Landeskog and Nathan MacKinnon will surely be amongst those seven forwards.
The next forward that shouldn't be exposed is recently acquired Sven Andrighetto. Having put up 16 points in 19 games since joining the Avalanche, it's hard to imagine the organization leaving him to the vultures.
Blake Comeau, Mikhail Grigorenko, Rocco Grimaldi, Matt Nieto and Carl Soderberg should form the next group of possible forwards to add to the protected list, but only three can be saved. Grimaldi is the least experienced of the bunch, so I doubt Vegas uses their selection on him, thus not really worth protecting.
Within the rest of that group, Grigorenko is worth protecting because of his high-end skill and potential. The very nice waiver grab in Nieto is a solid bottom-six forward with skill and grit in his game, enabling him to move around the lineup. He too should be kept around.
We are now at six forwards, with Comeau and Soderberg almost coming to a coin toss.
Soderberg could potentially bounce back, but has quite the contract ($4.75 million until 2020) to go with that unknown. Comeau, though a solid two-way forward, is losing speed but comes at a much cheaper $2.4 million cap hit and only for one more season. Plus, he's a right-handed shot which the team severely lacks giving him the nod ahead of Soderberg.
Moving on to goaltending!
Goaltenders
Goaltending contains the most difficult decisions in my eyes, though perhaps it won't become an issue at all.
On one hand you have the veteran Semyon Varlamov who can be amongst the very best in the NHL. However, Varlamov also carries a $5.9 million cap hit to the team and has struggled to stay healthy and will become a UFA in 2019.
On the other hand, you have the young up-and-coming Calvin Pickard who has just come off a very impressive showing for Team Canada at the IIHF World Championships and just continues to improve. Pickard has a cap hit of $1 million until 2018, when he becomes a RFA.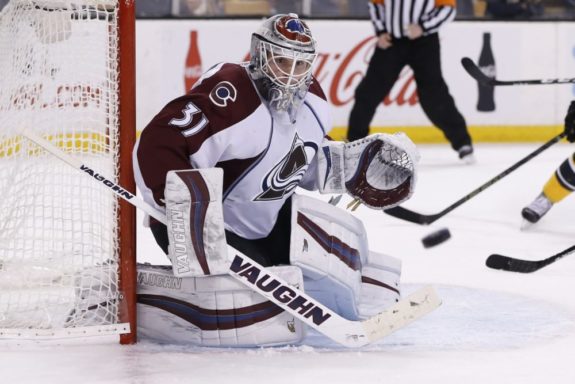 If I were Joe Sakic, I'd be protecting Pickard because of his age and improvement. Although Colorado shouldn't have to worry much about losing either goaltender.
Vegas has some very nice options at that position, including Stanley Cup winner Marc-Andre Fleury most likely, along with Philipp Grubauer, Joonas Korpisalo, Antti Raanta, Malcolm Subban and others.
Final Protected List
Here is how my protected list shakes out: Andrighetto, Comeau, Duchene, Grigorenko, Landeskog, MacKinnon, Nieto, Barrie, Johnson, Zadorov and Pickard.
Maybe some Avalanche fans would do things a little differently — let me know in the comments section below!
Sebastian Noble is currently in his third year with The Hockey Writers covering the Colorado Avalanche and Florida Panthers. Liverpool, England, and of course Colorado Avalanche & Florida Panthers supporter. You can follow him on Twitter @SebastianHNoble