As Grand Rapids Griffins forward Mitch Callahan raised the Calder Cup Tuesday night, it was a familiar feeling. For Callahan, being a champion isn't exactly new. The 2017 Calder Cup victory marked his third championship in nine years.
Callahan, 25, has spent six seasons in Grand Rapids, winning two Calder Cups as an American Hockey League champion. Both times, the Griffins defeated Syracuse in six games to capture the AHL championship.
Callahan scored a goal Tuesday with Syracuse netminder Mike McKenna out behind the net. Callahan totaled four points in six Calder Cup Final games, part of a 16-point performance in 19 playoff games.
.@Mcally15 🔥#CrushTheCrunch #GoGRG pic.twitter.com/AchlXoTIBf

— Grand Rapids Griffins (@griffinshockey) June 14, 2017
The win topped off a regular season in which Callahan registered 16 goals and 27 assists for 43 points in 66 games. He notched a pair of game-winning goals, eight power-play tallies and was one point shy of his AHL-best.
His 2017 playoff performance was the best of his AHL career; in 2013, he registered 11 points (6-5) in 24 playoff games, with two goals and three assists in six games as the Griffins captured the championship.
Success With Kelowna Rockets
Prior to his time with the Griffins, Callahan was a champion in the Western Hockey League. He and the Kelowna Rockets captured the Ed Chynoweth Cup in six games in 2009, in his rookie season. Then 18, Callahan notched one assist and eight penalty minutes in the championship series. The Rockets reached the Memorial Cup Final, falling to the Windsor Spitfires. Callahan registered one assist in three games on a team that included Tyler Myers, Jamie Benn and Mikael Backlund.
The introduction to the WHL didn't take long. He quickly stepped into an enforcer role and received 20 fighting majors in 18 games over the course of the regular season. Following his rookie season, Callahan was drafted 180th overall by the Detroit Red Wings. Post-draft, the winger completed two additional seasons in Junior before moving up.
Callahan's Development
The Whittier, California native grew physically and developed his game during his time with the Rockets. He stayed gritty, but his offensive side also developed. He nearly doubled his point production from his rookie WHL season (27) to his sophomore year (47) and helped lead the team to the top of the B.C. Division in his third and final Junior season in 2010-11.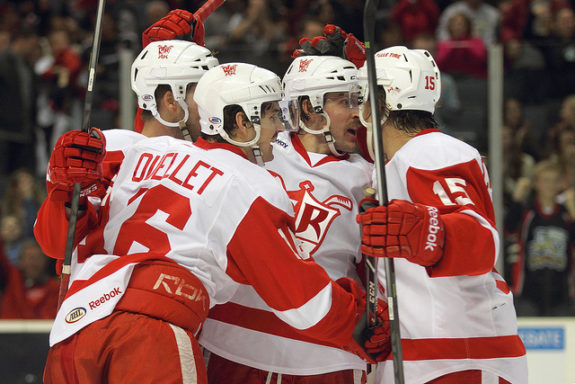 That season, Callahan finished second on the Rockets with 23 goals, and added 31 assists, for a career-high 54 points in 62 games. Moreover, he also captured a bronze medal with Team USA at the IIHF World Junior Championships.
In his three seasons in the WHL he developed as a gritty player who didn't shy away from a fight – he was handed 51 fighting majors over that time. Quietly over the years, however, he's toned down the fighting and the offensive side of his game has developed as a result.
Onto the Pros
Following Juniors, Callahan made his way to the AHL. He appeared in 48 games in his first season due to injuries, registering nine points. A whopping 103 penalty minutes proved that Callahan maintained an edge to his game in the shortened season. He found his legs over the next few seasons including the 2013 Calder Cup championship season where his point production doubled, and also made his NHL debut on March 25, 2014.
Callahan returned to the NHL for four games with the Red Wings this season, coming up after Detroit traded Steve Ott to the Montreal Canadiens.
Callahan's gritty side and growing offensive ability helped shape him into a well-rounded player. He's put on roughly 20 pounds which also brings him up to the professional level.
Detroit has re-signed Callahan to a one-year deal each of the past two summers. Even so, they'll once again have to decide whether or not to let him walk in free agency this year. At any rate, Callahan will keep grinding in hopes of securing a long-term spot in the NHL.