The Colorado Avalanche can finally wave goodbye to their horrendous, dreadful and ultimately heart-breaking campaign of 2016-17.
In fact, I just got sick on my keyboard solely from thinking of it.
From the Patrick Roy saga, key player injuries, intense trade rumors, to the complete collapse in consistency, the Avalanche had a season to forget.
Farewell to the Cursed Season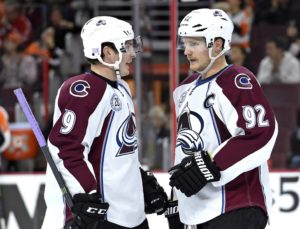 The year was extremely horrid. Every bad bounce or call that was there to potentially happen, did. Nothing could go right it seemed.
It will go down in team history as the 'cursed season'.
No one expected them to compete for the Stanley Cup, but many, myself included, thought it was completely within the realm of possibility for the Avalanche to grab one of the wild-card positions. Some thought they'd miss out on the playoffs yet again, but to this extent? Not a soul would have made that bet.
Now it's time to wave goodbye to 2016-17 and concentrate on the bright future.
Incoming Wave of Young Talent
General Manager Joe Sakic wants the team to get younger and faster — we are now seeing that plan start to unfold. He decided to make multiple moves bringing the average age and speed of the team to much more desirable numbers.
Since bringing in the young guns, and thus getting what the front office desires, the Avs have really improved their play. This will really be an exciting team to watch again starting next year.
Currently, there is a wave of nice talent working their way through the ranks. Exhibit A is Mikko Rantanen (age 19), who started the year injured but slowly became one of Colorado's most dangerous players — as a rookie.
Trade acquisition Sven Andrighetto (24), from the Montreal Canadiens, skated with Rantanen and Nathan MacKinnon, and notched 16 points in the 19 games he played. The chemistry of that line was plain to see during the last two months or so and definitely gives fans hope for times ahead.
Two other key rookie forwards made their NHL debuts for the squad in the forms of JT Compher (22, acquired in the Ryan O'Reilly deal) and Tyson Jost (19, 10th overall pick in 2017).
Nikita Zadorov (22, also from the ROR deal) was cementing himself as a powerhouse on the back-end before a season-ending injury set him back. This kid has everything you'd want — he is a punisher on the ice with great skating ability. I can't imagine how he's going to look when fully developed.
Aside from those mentioned above, there are a number of other young players knocking on the Avalanche door. Chris Bigras, Will Butcher, AJ Greer (ROR deal), Rocco Grimaldi, Anton Lindholm and Duncan Siemens will be ones to keep your eyes on in particular.
Butcher is the most intriguing, as he may be the closest to being NHL ready, and the fact that Colorado needs help on defense. He just hoisted the National Championship with Denver University AND the Hobey Baker Award while serving as the team's captain. That sounds pretty awesome right? Well, Butcher hasn't signed a contract yet, and causing some concern about his future in Colorado.
If Butcher chooses to pull a Jimmy Vesey and become a free agent instead, that would be a big blow to the organization. It would be a clear indication that there is something wrong, either with the player or the team. We'll hope it doesn't come to that though.
Either way, the Avalanche are looking pretty solid for the future. This incoming talent is exactly what playoff teams need in order to be successful as it provides solid depth across the board.
An Exciting Summer Ahead
Not only should Avs fans be pumped over the summer ahead because of the potential number one overall pick, there will also be some interesting buzz surrounding potential blockbuster trades and big free-agent signings.
Avs finally have some cap space for free agency. That extra money coupled with their young budding stars will equate to a much stronger, more exciting and overall better team in all aspects.
You couldn't really get much worse!
Besides waiting for the NHL Draft, fans can also look forward to the IIHF World Championships, which I will be covering more in-depth in the near future. So far, the Avs have a pretty big group of players making the trip to compete for their respective countries.
Team Canada will have Tyson Barrie, Matt Duchene, MacKinnon and Calvin Pickard. Rantanen will be back at it with Finland. Carl Soderberg and Gabe Landeskog are suiting up for Sweden, while Compher gets the call for the USA.
The excitement all starts tonight April 29, with the NHL Draft Lottery at 7:30 PM ET in Toronto, which will determine the order of the first fifteen picks. Get ready!